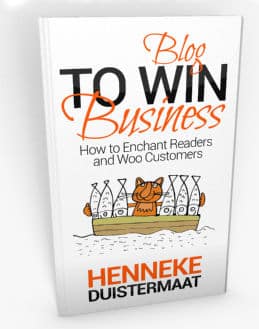 Exclusively available as Kindle book from Amazon
Don't have a Kindle? You can read Kindle books on your PC, Mac, tablet, or smartphone. Download the free Kindle reading app for PC, Mac, iPad, smartphone or tablet.
No Amazon website in your country? Use Amazon.com
.
Praise for the book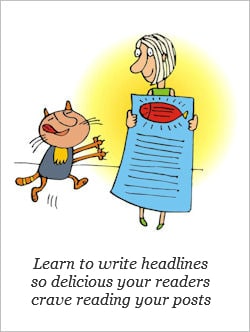 "Henneke does it again! This IS the business blogger's survival guide. Keep this ammo on your bookshelf if ever you find yourself in a lurch."
~ Sean Work, Director of Inbound Marketing, KISSmetrics
"Henneke's book will answer every question you have, give you countless shortcuts, and light a fire under your butt to start cranking out hot blog posts. It'll also make you hungry."
~ Barry Feldman, Feldman Creative
"Henneke's book might be the most useful guide on business blogging ever written. I highly recommend it to anyone who's blogging to promote their company."
~ Jon Morrow, CEO and Founder of Boost Blog Traffic LLC
What will you learn?
Blog to Win Business teaches you how to write blog posts your customers love to read and share. This practical book takes you through the various elements of blog writing: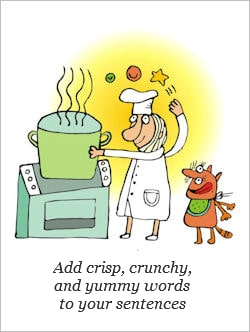 Write lip-smackingly good headlines that entice people to read your posts
Position your blog as a must-read resource and voice of authority
Generate an endless stream of ideas for blog posts your customers crave to read
Make your blog more engaging by describing your ideal reader
Develop a unique voice to stand out in a sea of me-too blogs
Captivate your readers with your blog opening
Inspire your readers with your final paragraph
Create a natural flow to hypnotize your readers
Seduce Google to send you relevant traffic
Would you like to learn how to blog and grow your business?
This guide is written for beginning business bloggers, but even experienced bloggers might be surprised how much they can learn from it.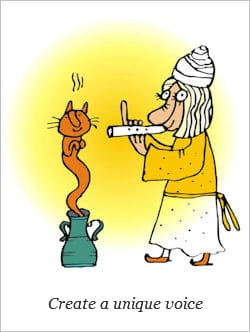 "I wasn't sure that I needed a book on business blogging, but this book went into details that I hadn't even thought about – like how to craft the last sentences of a blog post so that your readers remember your main idea. I'll be referring back to this book every time I write a post."
~ Sue Anne Dunlevie, StressManagementDecoded.com
"I love this book, because it's practical, down-to-earth stuff that I can use."
~ Lynne Hunter, LowSelfEsteemandBodyImage.com
"Henneke is articulate and funny. If you are new to blogging, get this book. It will save you time and stop you from feeling overwhelmed." ~ Elle Solange, ElleSolange.com
"Henneke mixes her unique voice and humour to deliver a book full of practical advice. This is one of the few books I have read cover to cover." ~ Robert Kramers, e-koncept.co.nz
Also available from other Amazon stores:
Australia, Brazil, Canada, France, Germany, India, Italy, Japan, Mexico, and Spain.
Don't have a Kindle? Download the free Kindle reading app for PC, Mac, iPad, smartphone or tablet.