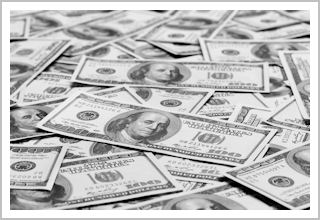 People don't want to pay so much.
Customers don't understand the value.
Sounds familiar?
It's one of the biggest problems many small business owners face: How do you get paid what you deserve?
Before starting my own business, I spent a lot of my time fighting with sales teams. I always wanted prices to go up, they always wanted prices to go down.
I won't bore you with math today. But when you're selling a product, you're almost always better off selling a smaller volume at a higher price than a large volume at a lower price.
And if you deliver a service, then the best way to raise your income is to increase your fees. Unless you want to work even more hours and have even less time for your family, your friends, and for holidays.
But how can you raise your fees?
One way is to specialize in a specific niche, such as web design for interior designers or for e-commerce stores. Or if you're an online marketing coach, you could target car dealerships or sports clubs or charities.
When you have specific knowledge about the needs and wishes of a specific customer segment, you can charge more for your services.
But even without specializing, you can use a few copywriting tricks to get more money for your services.
Let's see …
1. Use the power of imagination
You know that feeling when you're planning a holiday?
You imagine yourself cycling through the Pyrenees. You smell the delicious French cheeses you'll have for dessert each evening, when resting your tired legs. That sense of adventure. You can't wait to go.
Or if you prefer: Imagine yourself at the beach. Feel the sun warming your skin. Taste the delicious sweetness of a cocktail. You feel calm and relaxed. You can't wait to get away.
The more you think about your holiday, the more tempting it becomes. That's the power of imagination.
How does that help with your copywriting?
You become a lot more valuable when prospects start thinking about buying an experience rather than a plain service. Your reader needs to imagine what it's like to work with you.
Copywriting guide:
Use sensory or emotional words to add sizzle to your text, so your readers can visualize or feel what it's like to work with you.
2. Provide specific details
That's true. But that doesn't mean it needs to be short. Because you need to tell people exactly why they should spend so much money on your service or product.
Take for instance Apple's web copy. They explain how the glass inlay of the iPhone is assembled into the aluminium housing. They describe the exact materials used. Even if readers don't understand what anodized 6000 series aluminum is, they'll still be impressed by this detail.
Apple tells you how many people tested the newly designed earphones. Each specific detail shows how the iPhone is manufactured with care and expertise. Each detail raises the perceived value of the product.
If you want to charge a premium for your services, then you need to explain why exactly you're worth more money. Be as detailed as possible without being unwieldy. Specifics are fine. Repetitive phrases and unwieldy sentences are not.
Copywriting guide:
Explain details to show your authority and your expertise. Talk about your specific skills. Show how your specific experience helps your customers.
3. Show your value
Your product isn't valuable. Your service isn't valuable.
The only thing that IS valuable, is what your product or service does for your customer. How does it make your customer happier, richer, or healthier?
The most frequent reason for unsuccessful advertising is advertisers who are so full of their own accomplishments (the world's best seed!) that they forget to tell us why we should buy (the world's best lawn!). ~ John Caples
Don't think about your hourly fees. Think about the value you offer your customers. What problems do you solve and what glitches do you avoid? How much is that worth? How much more money can your customer make because of the help you're offering?
Copywriting guide:
Don't just describe the specifics of your service, translate each detail into the benefit you offer to your customers.
4. Draw analogies
Are you the Ford, the Mercedes, or the Ferrari in your industry?
Analogies can quickly explain the difference between high and low quality. And high and low prices.
5. Educate your customers
When you sell to people, they raise their defenses. Nobody wants to be sold to.
But when you educate people about your service, then you can almost effortlessly captivate their attention.
How should they choose a web developer? Why do they need WordPress? How can they evaluate different quotes? What's the difference between working with you or working with someone else?
Sometimes people tell me, that I'm giving away too many valuable tips on this blog. I disagree. The more tips I share, the more people want to work with me. That's my experience so far.
Copywriting guide:
Don't expect people to understand automatically why they should pay more for a better service. Don't expect them to know the difference between high and low quality. Start a blog and share your expertise so you can educate your prospects and explain why they should pay more.
The truth about high-value copywriting
To escape the low-price monster, you need to stand out from your competition. You need to demonstrate your value. You need to show why people should be desperate to work with you.
Show why your service isn't run-of-the-mill. Do what you love doing and show your passion. Add a large dose of personality.
Remember: You can charge more, when people want to work with you, because of who you are.