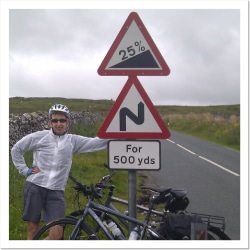 A Dutch polder.
It's boring for cyclists, because it's flat and everything is straight.
Sure. It has its beauty, but it's not a good cycling trip.
It's the same for your sales copy. Features, specifications, and even benefits are boring. Because they're like a flat ride. Straightforward. With only positives. And nothing grabs your reader's interest.
So you need a mountain to create excitement.
How?
Introduce a problem.
Because a problem grabs your reader's attention. Makes his heart rate go up, and gets him excited. And that makes him pay attention to how you solve that problem.
So talk about the hassle you prevent; the headaches you cure; and the glitches you avoid.
It will make your copy more persuasive and more fascinating.
Like a mountain in a Dutch polder.