How To Write Persuasive Sales Copy
Would you like your readers to take a specific action?
Maybe you'd like your readers to sign up to your newsletter? Or to download a white paper?
Or to leave a comment, follow you on Twitter, or like you on Facebook?
Or to buy something?
What does writing sales copy mean?
Sales copy is the text you use to persuade your readers to take a specific action. This copy may be used in sales emails, on web pages or in sales brochures.
The ability to write irresistible sales copy is the most important marketing skill you can learn. Even for visual channels like YouTube you still need to write a compelling headline to get people to view your video.
Do you need to write business emails, direct mail letters, website copy, social media updates, or advertising copy? Or do you just approve copy written by others?
You need to understand the techniques that make copy more persuasive; and you need to know which copywriting mistakes turn readers off.
copywriting = direct-response writing = writing sales copy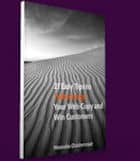 >
Get your FREE ebook
21 Tips to Turbocharge Your Web Copy and Win Customers
EXTRA: Weekly Writing Tips

Sales copy often conjures up images of yellow highlighters, CAPS, bold text in red, and lots of exclamation marks!!! But sales copy doesn't have to be pushy, sleazy, and aggressive.
Good sales copy is:
Engaging: it focuses on reader benefits;
Clear: it is easy to read and easy to understand;
Concise: sales copy doesn't use more words than necessary;
Persuasive: it encourages a reader to take action.
Sales copy is good if your readers take the action you want them to take.
Sales copy vs web copy: what's the difference?
Web copy is glanced at. Not read.
Usability guru Jacob Nielsen suggests web visitors are foraging for information like wild animals are foraging for food. But how do you persuade a wild animal to take a certain action?
Learn more in this article: 9 Simple tips for writing persuasive web copy
How can you learn to write compelling sales copy?
Below follow 12 free articles to help you improve your copywriting skills. Let's start with the most important copywriting lesson you ever learn…
Want to learn more?
Sign up to the Enchanting Marketing newsletter to receive more copywriting and content marketing tips (it's free!):
About the author of this tutorial: Henneke Duistermaat is a marketer and copywriter; and the founder of Enchanting Marketing. She's on a mission to stamp out gobbledygook and to make dull companies charming. She helps companies win business with engaging e-newsletters, blog posts, and persuasive web content.