Voice in Writing:
How to Stand Out in a Sea of Grey Content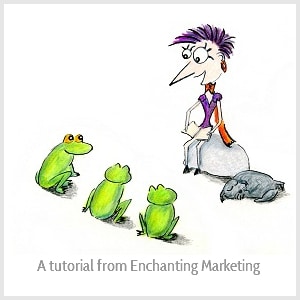 Let's be honest.
Does your content really sound like you? Do readers recognize your writing?
A strong voice helps your content stand out; it pulls reader closer to you because they feel like they know you. When they read your emails, blog posts, or sales pages, it's like they hear your voice.
Engaging readers with a unique voice may sound like an impossible task, but it's not as difficult as you might think.

What is a writer's voice?
When reading, we get a sense of a writer's personality. This is what we refer to as voice. Word choice, sentence length, and rhythm help define your voice.
Strictly speaking, voice is not the same as tone. Just like when you talk, the tone of your writing can vary depending on your mood and your audience. A press release for a new product, for instance, brims with enthusiasm and excitement, while an email apologizing for a service disruption is more humble. The tone is different, but the voice remains the same.
A brand voice is the sense of personality or company culture we notice in the communication from one company. It's like the collective voice of everyone representing the brand, and it's often referred to as tone of voice.
While a writer's voice usually evolves organically, a brand voice is carefully planned and described in its brand guidelines.
Why voice is important
Online competition is fierce. A search on Google for web developer, for instance, generates 14,500,000 results; a search for financial adviser generates a whopping 53,900,000 results, and when you search for online marketing coach you get 40,900,000 results.
How can you stand out?
Your voice humanizes your content and makes readers feel like they're getting to know you. When your voice resonates with potential clients, they want to work with you because of who you are. Your competition becomes irrelevant because no one sounds like you.
A unique voice helps you stand out from your competition.

The "Secret" Ingredient that Turns Casual Blog Readers Into Avid Fans
Not sure why your voice matters? Read this article and learn why personality and voice are the secret ingredients of popular blogs.

How to find your voice
You might think your voice is innate, but finding your voice through self-exploration is a hard and long-winded process.
A faster way to develop your voice is to imitate your heroes. As bestselling author Austin Kleon suggests: "Steal like an artist."

How to Steal, Swipe and Imitate to Create Your Own Unique Blogging Voice
Steal techniques from different writers and blend them together to create your own unique voice. This article explains how.


The Easy-Peasy Method for Finding Your Writing Voice
The key to developing a strong voice is to cut away the monotony, the boredom, the wordy sludge hiding your message. This article explains what makes a voice strong, and it includes 4 examples of different writing voices.


How to Be Unique (Even If You Don't Feel Special)
Does uniqueness feel out of reach? Like a level of specialness that mere mortals like you and I won't achieve? Learn how you, too, can stand out in a sea of sameness.

The two key elements of a writer's voice
What do you need to look for when developing your voice?
The two articles below explain the two main elements influencing your voice: word choice and rhythm.

How to Arouse the Magic of Sensory Words (Even in Business Writing!)
Sensory words help you write with warmth, drawing your readers closer to you. They add personality and flavor to boring content.


Rhythm in Writing: How to Make Your Words Swing and Swirl
Writing can stutter and stumble. Writing can flow softly, whispering. Writing can hop and skip, making readers smile.


How Punctuation Influences Your Writing Voice
This article shows you how to play with the four main punctuation marks to change the rhythm and tone of your writing.

Creative writing exercises to find your voice
How to Put That Zing-Kapow in Boring Business Content
Want to turn humdrum business writing into sparkling content? Nurture a sense of play with these three creative writing exercises for business writers.

Simple writing tricks for making your voice stronger
Does your writing still feel a little feeble? Or a little too boring?
Check the two articles below and learn how to make your voice more powerful and more conversational.

5 Ways to Make Your Words More Powerful (and Get Readers to Listen, Act and Buy)
Do you ever wonder how you could sound like a real authority and get people to listen to you? Learn these 5 simple tricks to add power to your words.


How to Write Conversational Content and Make Your Readers Deliriously Happy
A conversational tone of voice pulls readers closer to you—it's like having a one-one-one conversation, as if you're writing only for them. Want to learn how?


How to Write With So Much Passion That Readers Beg to Hire You
Passionate speakers are fascinating. They create an intense focus on their words. Learn how to write with passion in this article. You know that your enthusiasm is contagious, don't you?

Use metaphors to create a unique voice
Metaphors are one of the most powerful tools in your writer's toolbox.
Metaphors help you communicate your ideas. They allow you to touch on the same topics multiple times. Without boring your readers.
Metaphors can also draw readers closer to you, because they give a glimpse of who you are.

How to Use the Persuasive Power of Metaphors
Check out this introduction and learn what metaphors are, how to generate them, and which mistakes to avoid.


How to Make Your Message Sticky (So Readers Remember It Forever and Ever)
Generic metaphors make your message boring. In this article, you learn how to use details to make your metaphors more personal, more interesting, and more sticky.


14 Metaphor Examples: How to Paint Vibrant Pictures With Your Words
Get inspired by these 14 examples and learn how to make your metaphors work.

Become a voice of authority in your industry
Do regular readers know what you stand for? Do your ideas pull your readers closer to you?
Having a strong voice is not just about how you write, it's also about how you connect with your community and about what you write: your ideas, your mission, the themes in your work.

No Authority Yet? Here's a 5-Step Plan to Become Seriously Influential Online
When you become an authority, clients come knocking on your door. You can choose who you want to work with, and increase your fees. But how do you develop authority when starting out?


How to Be Interesting (Even When Life Seems Boring)
One of the biggest hurdles I faced when starting my business, is that I felt I wasn't interesting enough. Why would people read my writing week in week out?


How to Engage and Delight Your Readers (So They're Begging for More)
Want to turn readers into fans? A strong and authoritative voice isn't the only requirement. This article explains the principles for building a thriving community.

Enjoyed this? Your friends and followers might also like it. Click to share:
A publication from Enchanting Marketing