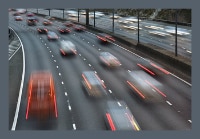 Someone arrives at your home page. In a rush. Impatient.
He doesn't know what you do. He hasn't a clue who you are. He wants to know quickly whether he's in the right place, because he might be better off checking the other search results.
What will he notice on your home page?
Usability expert Steve Krug compares a website to a billboard along the highway. Your web visitor is speeding past at sixty or eighty miles per hour.
*v-roooomm*
That was Michael Schumacher passing by. What did he notice?
A headline in a super-large font like Fast food restaurant.
An image of a burger.
Possibly a little more information like open all day and 100% beef.
The required action: Turn right after 10 miles!
Michael Schumacher decides in a second whether he'll stop to have a burger or not. Your web visitor makes a quick decision, too.
What has your home page told him while he's speeding past – ready to press the back button?