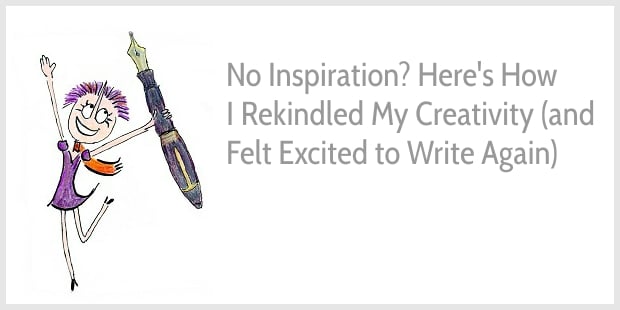 A blip in inspiration.
When did it last happen to you?
I have a notebook full of blog post ideas.
Most are ideas I'd love to write about.
But, recently, somehow, I couldn't quite get myself to start writing.
Know the feeling?
When I lack inspiration to write, my first call is to review my creative input. What am I reading? What am I listening to?
An output problem is often an input problem, as Austin Kleon suggests.
But it's not always that simple …
This time, I was ignoring my inner voice
A month or so ago, I listened to an old interview with the late John O'Donohue, an Irish poet and philosopher.
The conversation was about beauty as well as inner and outer landscapes.
I had listened to the conversation before. But this time, I heard an idea that kept humming around in my mind:
(…) there is a place in you where you have never been wounded, where there is still a sureness in you, where there's a seamlessness in you, and where there is a confidence and tranquility in you.
Isn't that reassuring?
No matter how wounded we feel, how much pain we endure, there's always a place in us that's untouched, unblemished.
I imagined that untouched place as a shy part of my soul. It doesn't shout; it whispers. It doesn't show off; it hides.
I wondered whether this is the part of me that's still able to look at the world with a childlike wonder. The part in me that's open-minded. The part that encourages me to follow my curiosity.
Is it where my inner voice resides? The voice that whispers what really matters to me?
Our inner voices often get drowned out …
The world is so noisy.
And we're so busy.
In the past, at school, teachers told us what's important. They presented reading lists. They told us what to pay attention to and why certain works of literature were so good.
Now, we listen to influencers, our peers, or perhaps family members. Algorithms tell us which books and articles to read, which videos to watch, which podcasts to listen to, and who to follow on social media.
When do we allow ourselves to ignore all those voices? When do we pick up the courage to rewild our attention and read something that's not on the must-read lists?
When do we encourage ourselves to follow our own hunches, to explore, and discover what interests us?
Give yourself permission to explore
Until illness forced me to slow down a few years ago, I wasn't listening to my inner voice. I was too busy to tick off items on my to-do list, to keep up with my peers, and to climb the career ladder.
Slowing down made me realize how carefully I have to listen to hear my inner voice, to know what hunches to follow.
Slowing down also helped me learn how to coax my inner critic who prefers the seemingly safer route of following other people's suggestions.
Verlyn Klinkenborg teaches creative writing at Yale University. He suggests we give ourselves permission to just notice what we notice. We don't need someone else's permission:
What if you pay attention to the pattern of the way you notice the world around you? What if you pay attention to the perceptions that you have and the character of them, and trust their validity?
When you notice something, when something piques your interest, your inner voice tells you to pay attention. Will you listen?
We're often told to follow our passion
But passion isn't always available.
Passion is a bright fire that can burn out.
And what then?
Curiosity is more sustainable. Elizabeth Gilbert suggests curiosity is "our friend that teaches us how to become ourselves:"
(…) curiosity is an impulse that just taps you on the shoulder very lightly, and invites you to turn your head a quarter of an inch and look a little closer at something that has intrigued you.
Are you paying attention when curiosity taps you on your shoulder?
Or are the hints drowned out by busyness and fear?
I feel like I've been extraordinarily lucky
Somehow, when I quit my job, I just followed my curiosity because I wasn't sure what to do. I didn't know what I was passionate about.
I learned how to write because good writing fascinated me. I shared what I was learning, and, slowly, I gained an audience who was interested in what I wrote.
But maybe that's just how it works?
When you follow your curiosity, you write with enthusiasm about your discoveries, and then there'll be others who're interested, too.
Enthusiasm is contagious.
Of course, if you're writing for clients, you can't always write about what you like.
And if you write for your own business, there's the need to fulfill your audience's needs, to write the articles that gain likes, comments, and shares.
But while that may make good business sense in the short term, it doesn't always make good creative sense.
We need to find a balance. Sometimes, we have to ignore the algorithms, and write what our inner voice tells us to write—to follow our curiosity, play with ideas, travel along barely visible paths, and discover new perspectives.
That's how we stay inspired and productive.
The one thing I've learned
My inner voice knows how to keep my creative soul happy.
I just have to listen, and then grant myself permission to follow my inner voice, to follow my curiosity.
That's how I got to writing this post.
When I felt resistance to picking up the next idea from my list with blog ideas, I realized I wanted to write something different first.
My inner voice had been telling me all along.
Why do you think that quote from John O'Donohue kept humming around in my mind?
Happy writing, my friend. I already feel excited about writing my next post 🙂
Reader Interactions