Learn how to captivate, educate, and inspire your readers
~~ A self-paced, online course ~~
Average rating: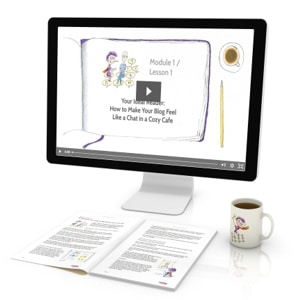 How confident are you about your writing skills?
Most of us are unhappy with our writing.
We've learned how to write at school. If we're lucky we learned how to spell and avoid grammar mistakes.
But we weren't taught how to engage our readers, how to keep their attention, how to persuade and inspire.
You can learn how to write well.
You can learn how to write a blog to engage prospects, boost your authority, and ultimately win more business.
And you know what?
Learning to write better is surprisingly straightforward …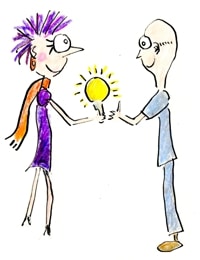 First, you need to understand and practice the foundation of good writing: empathy for your reader.
Next, learn how to think as a writer—learn how to shape, simplify, and flesh out your ideas, so you can communicate with more clarity and power.
Finally, become more persuasive—learn how to keep readers spellbound, write more vividly, and inspire action with your words. This requires a basic understanding of reader psychology and an ability to create a hypnotic flow.
When you understand who your readers are and how to engage them, your writing voice becomes stronger and more personal. Readers will start to trust and respect you, and they'll act on your advice. That's how you'll become more influential.
This is no ordinary writing course
This is a practical course that helps you implement the lessons so you'll become a better, more confident writer. You'll learn how to write enchanting blog posts, step by step:
Learn blogging techniques
Short video tutorials (+ transcripts) show you the techniques that engage, educate, and inspire readers.
Practice your skills
Annotated examples and guided activities teach you how to spot (and fix!) weaknesses in your writing.
Improve your blog
Flexi-templates help shape your ideas and structure your blog posts.
Get feedback
In a live webinar, I'll answer your questions and provide feedback on blog posts; the next workshop is on 21 October 2021.
This course is based on my coaching experience helping writers and non-writers share their ideas with more ease and joy.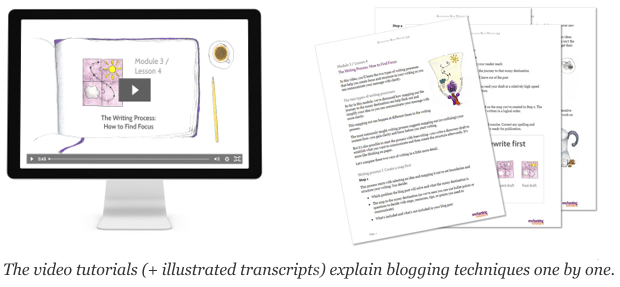 Course overview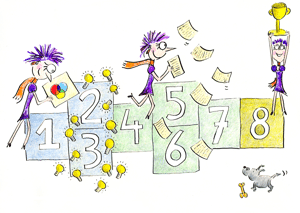 The Enchanting Blog Writing course consists of 8 modules.
Each module includes video tutorials (with illustrated transcripts) and guided activities to practice your learning.
You'll also get answers on frequently asked questions such as: What if your ideas don't feel original? What is the ideal blog post length?
Module 1: Build your blog on a solid foundation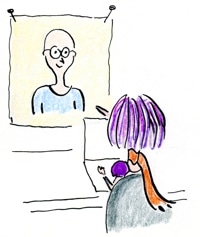 Learn how to become more empathetic and make your writing feel more personal
Determine the purpose of your blog so you can select the right blog post ideas to build your authority
Module 2: Generate and select great blog post ideas
Explore the 4 categories of good ideas, discover more ideas, and make each blog post resonate strongly with your audience
Learn how tiny ideas translate into valuable blog posts that help build your authority
Kindle your enthusiasm for your blog by selecting the right ideas for you, your business, and your readers
Module 3: Flesh out and simplify your ideas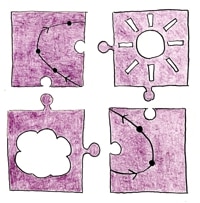 Learn how to think like a writer so you can communicate with more clarity and power
Discover the 3 methods for shaping your ideas and mapping out your blog posts so you can write faster
Explore the two approaches to the writing process that help you find a clear focus for each blog post (and avoid unwieldy, muddled, and sloppy writing)
Module 4: The anatomy of an enchanting blog post
Adopt each of the 4 roles of enchanting bloggers so you can galvanize readers and make them enthusiastic about your advice
Apply the 3-part enchanting structure that keeps readers captivated
Use the flexi-templates for structuring blog posts—the templates are flexible, so they stimulate rather than limit your creativity, and they help you get your thoughts on paper faster
Module 5: Engage readers with your opening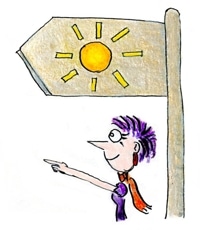 Apply a simple formula for captivating your readers with your opening and make them eager to read on
Discover how to set the tone in your opening so your relationship with readers starts on a good note
Learn how to write a first line faster (and stop chasing readers away with an average opening line)
Module 6: Educate readers with gusto
Apply the 4 types of glue that keep readers engaged, even if blog posts become long
Follow a simple structure for communicating a single tip more vividly—you can apply this structure to social media updates, too
Use quotes to boost your credibility (and without interrupting the reading experience—which happens more often than you might think)

Write irresistible subheads so blog visitors stop scanning and start reading your blog
Fine-tune your writing process so you can write more vividly, more quickly
Module 7: Inspire readers with your final words
Inspire readers with your final paragraph—the most neglected part of blog posts
Write a memorable last sentence so readers feel fortified and inspired by your writing
Module 8: Become a productive blogger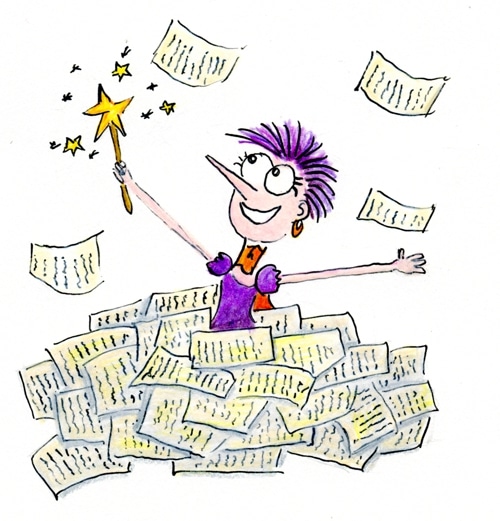 Follow a simple 3-part checklist to make your blog posts more enchanting
Plan how to keep up a regular blogging schedule
Develop X-ray vision so you can fine-tune your writing skills
Sound like a lot?
Yep, it's a lot. But you'll work step by step so you won't feel overwhelmed. The video tutorials are to the point and short (5 minutes each); the activities reinforce what you've learned with real life examples; and the cheat sheets provide helpful reminders.
The Enchanting Blog Writing course boosts your confidence as a writer and marketer because it demonstrates how to write better blog posts, and you cultivate your X-ray vision so you can spot and fix weaknesses in your writing.
Who the Enchanting Blog Writing course is for …
This course is for anyone who'd like to engage, educate, and inspire their blog readers.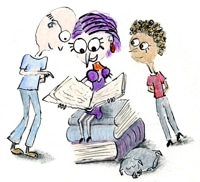 Whether you run a niche e-commerce site or small agency, whether you're a consultant, coach, online teacher, personal trainer, interior designer, freelance writer, content strategist, or other service provider, this course helps you write more compelling blog posts, so you can engage your audience and grow your business.
About your tutor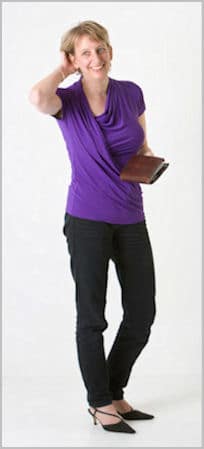 Henneke Duistermaat is an irreverent writer on a mission to stamp out gobbledygook.
She has authored the 5-star rated book Blog to Win Business, and she's written guest posts for popular sites such as Copyblogger, Shopify, and Kissmetrics.
In 2012, Henneke wrote her first viral hit How to Write Seductive Web Copy Like Apple which continues to generate business inquiries (9 years later!).
Henneke quit her corporate marketing job in 2012 and founded Enchanting Marketing to help small business owners and freelancers find their voice and share their ideas with gusto.
The Enchanting Marketing blog has become a thriving community and Henneke was recognized as a Top 50 Content Marketer based on research by Express Writers and BuzzSumo (2018).
Henneke knows how to engage and inspire readers, and she's an excellent teacher.

~Brian Clark, founder of Copyblogger
What you'll get
The Enchanting Blog Writing course includes: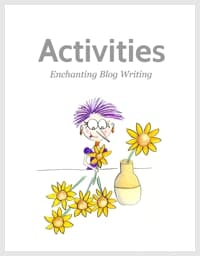 25 illustrated videos and transcripts that teach you how to write blog posts step by step—plus 8 cheat sheets for quick reference
32 activities that test your newly acquired knowledge and help enhance your X-ray vision, so you can spot how to improve a blog post
Examples Book with Blog Inspiration—a PDF swipe file with blog post examples, openings, final paragraphs, and blog post sections to inspire you and help structure your writing
FREE bonuses
Live Workshop
The next workshop will be held on Thursday 21 October 2021; in this workshop, I give feedback on blog posts.
3 Recorded Workshops
This includes one Q&A session (59 mins) in which I answer common blogging questions and 2 recorded workshops in which I give feedback on blog posts (68 mins and 64 mins) so you can learn how to take the leap from good to great writing.
Companion Email Series
Receive reminders on essential blogging tricks, get re-inspired to dip back into the course, and feel supported throughout the course.
This course is designed for busy people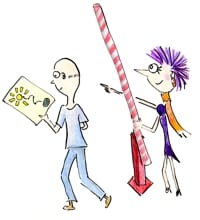 The course is self-paced and you'll get life-time access, so you can learn at a pace that works for you.
The videos are short (around 5 minutes each) so you can pop into the course and keep momentum going—even if you're busy.
The course comes with an online learning outline where you can tick off the videos you've watched and the activities you've completed, so it's easy to keep track and hold yourself accountable.
The Enchanting Blog Writing course
Learn how to captive, educate, and inspire your readers
$297
Or pay in 6 monthly installments of $59:
30-day moneyback guarantee
The prices are in US dollars. Sales Tax or VAT may apply. Your enrollment is processed by Teachable, Inc. You can pay by credit card, debit card, or PayPal.
What students say about my teaching …
The Enchanting Blog Writing ecourse is based on my personal experience coaching writers and non-writers. This ecourse contains more detailed guidance, more examples, and more activities than earlier programs because I've learned what slows down students, what questions they have, and what stops them from making progress.
This is what previous students have said about my teaching:
Since the course, I see writing and blogging in a completely different light. I know WHY a blog post works or doesn't work … and how to fix it. I can evaluate the difference between waffle and content that creates change. My writing is more powerful. And the engagement on my posts has shot up.

~ Kathy Keats, High Performance Coach and Suburban Shepherd
The class allowed me to find a compelling voice. One that my readers will resonate with. Who knew? Writing for someone else is so much easier and more fun than just writing. It even seems that thinking and writing with my ideal reader in mind taught me a great deal about the topic itself. It's amazing how that works.

~ Louise Rasmussen, Research Scientist at Global Cognition, LLC
The course has helped me overcome the anxiety of writing in English, which is a foreign language for me. I received compliments on an article I published while following the course, which showed me how fast I progressed with my writing. Thanks to Henneke's enchanting teaching, I now have a smooth process for publishing my blog posts; and I rediscovered the pleasure of writing.

~ Thuy Pham, Business and Technology Strategist
I've been blogging for a couple years. My blogs were OK, but I knew they could be a lot better. Since joining Henneke's course, I'm more confident in the structure and content of my posts. Every part of a post has a purpose.

~ Chris Conner, Content Marketing Strategist
The modules broke the writing process into bite-sized chunks, so I never felt I was choking or biting off too much at once. Each module contains a Cheat Sheet that breaks down the task into little steps. So when I feel stuck on a post opening, I can reference the Cheat Sheet for writing openings and get my mojo back.

~ Jessica Blanchard, Registered Dietician and Yoga Teacher
I liked that we worked out a blog purpose at the beginning of the course. It helped me to maintain the message of my brand. My blogging now comes from a place of giving and generosity, which brings magic into my business. My content is no more robotic. My writing now has my voice, and I can share my teaching with ease and joy.

~ Sampada Chaudhari, Business & Career Transition Coach
What students say about this course
Robert Malone
This course offered me my eureka moment.

I had been trying to master writing blog posts for nearly three years. I had taken many of the most popular online blogging courses. But they didn't get me to the point of knowing how to do it.

I was frustrated and at the point of giving up.

Then, I received a email from Henneke promoting her blogging course and I signed up for it.

It was what the doctor ordered. The course was plain and concise, easy to follow and understand. I finally got it. I am now confident writing blog posts.



After reading Henneke's blogs for a year and buying her book on blogging, I was so impressed, I signed up for her blogging course.

It's a steal for all the information it contains, especially the detailed examples, videos, and transcripts. I also loved how she helps students deconstruct other blog posts to see what they're missing or what makes them strong.

Even though I'm a published writer, I found the course super helpful and my blog posts contain more meat and substance than ever before. Thank you, Henneke for your expertise!

-- Stacy S. Cohen


Susanna
Having already taken two of Henneke's previous courses, joining the Enchanting Blog Writing Course was a no-brainer for me.

Henneke's courses have helped me form a consistent writing habit, understand the building blocks of approachable, effective writing, and make it appealing to my reader.

She has a unique teaching style and breaks down complex topics into graspable non-scary steps that make it easy for students to know what's essential in writing that others would want to read.

The compact lessons taught me what I needed at the right pace. The companion emails gave me the right amount of push and energy to keep momentum in my writing, and the workshops are invaluable opportunities for "stealth learning:" When others ask questions that I didn't know I needed to ask.

In the workshops, Henneke dissects blog posts, unfolds what's most important, and suggests several approaches to take your writing to the next stage. I hadn't realized how valuable it was to see critiques on other people's writing. After each workshop, I'm so much wiser, and I feel that I can keep writing for days on end.

And, it's not only about the content itself; I learned so much from Henneke's approach as a teacher, her constant valuable support, and consistent, constructive point of view. I learned to treat my writing with compassion, give myself permission to be a learner, and evaluate my writing to refine it one step at a time.

The Enchanting Blog Writing Course is perfect for anyone who wants to learn what makes excellent writing for the web; I highly recommend it.



The course is easy to follow. I love that it taught me how to write faster by following formulas that remove a lot of guess work when writing a post.

I write about historic food, and I've just given the Henneke treatment to a blog post. I included the first few lines in an email to my subscribers, and it had the best click through rate I've ever had. And many more people read my post than usual.

I was SO uncertain about spending SO much money on an online course, but, do you know what? It's been worth every penny. Thank you so much for this course.



I purchased this course because I wanted to make by blog posts more relevant to my readers. The course is packed with actionable information - more than I expected!

My biggest takeaway? Tiny ideas. Rather than write in general terms take one small idea and make it useful to the reader. I have discovered a long list of small ideas that I had previously thought of as too small for a post so now have about 40 topics that I can use.

Basically the course helped me focus my business and realize that I have all the information that I need to write about. Life seems much simpler and more manageable.



Dylan Ball, Vocal Coach
I've done a couple of writing courses in the past and I have loads of ideas. But I get overwhelmed and I'm not good at structuring my writing. So I still felt stuck.

After reading Henneke's blog for a few months, I purchased the Enchanting Blog Writing course because I like the way her blog posts read and because I hoped the course would give me some direction and motivation to sort out my blog.

Henneke's teaching is simple, yet detailed, and I love the huge number of examples in this course. I had not realized how powerful examples are. The examples help teach what Henneke calls X-ray reading so I can now see how others write their blog posts, and I'm starting to create my own blogging voice.

Many courses promise to give step-by-step guidance but still leave you wondering what to do next. Henneke's course is different.

At the end of the course, I knew what to do. I've just created my first post of over 3,000 words, and it didn't feel like a daunting task. I know what to write in the opening. I know what to write in the closing paragraph, and I know what to put in the sections in between.

Oh, and Henneke really cares that you succeed. She gave me personal encouragement throughout the course.

Not only does Henneke love teaching, she is really good at it. Take this course and see for yourself!

Thank you, Henneke. I'm super-grateful for this course.

It's amazing.

Dyl 🙂
I finally feel inspired to launch my blog. I've already written 4 blog posts since starting this course.

There were many questions in my mind about how to write articles that get read and shared. Henneke's simple 3-part-structure gave me clarity so I can start to write – and generate traffic for my business.

If you want to write blog posts faster, you will love this course.



Frequently asked questions
Is this course suitable for beginners?
Yes, the course is suitable for anyone who writes (or wants to start) a blog. Whether you're a beginner or a more experienced blogger, you'll learn how to engage, educate, and inspire readers so you can grow your audience and build your authority.
Will this course work for my niche?
If you're writing to share your ideas and to educate your readers, then it's almost certainly a Yes. However, the course is not suitable if you want to share news or gossip. If in doubt, email me: [email protected]
My blog is not in English. Will this course work for other languages?
This course is based on the psychological principles that make people eager to read your blog. These principles work across languages and cultures. However, you may find you need a little more time to go through the course and to apply what you learn in your language.
I want to write a non-fiction book. Will this course help?
You can write book chapters in the same way as blog posts. So, the course will help share your ideas in a non-fiction book and engage your readers, too.
Will I learn how to write for search engines?
This course does not include specific guidance on keyword research. However, the teaching is compatible with writing for search engines as you learn how to write for a clearly defined audience about specific topics. When you answer readers' questions in your blog posts, help them achieve their goals, and solve their problems, then you have a chance to get your posts ranked in Google.
How long will the course take?
The course is self-paced so you can go as fast or as slow as you like, and you can dip back in at any time to reinforce your learning or to find fresh inspiration. At a steady pace, you'll probably take between 8 to 16 weeks to watch the videos (or read the transcripts), complete the activities, and apply the lessons to your blog.
How long will I have access to the course material?
You get life-time access—you'll keep access to all course material for as long as the course is available.
Are video transcripts available?
Yes, illustrated transcripts are available for all video tutorials, so you can choose to watch a video or read its transcript (or do both).
Can I pay with PayPal?
Yes. You can pay with any major credit card, debit card, or PayPal. All payments are in US dollars. All orders are processed by Teachable, Inc.
Can I get a refund?
Yes, you can try the course completely risk-free. If you decide the course is not for you, then you get your money back within 30 days.
The Enchanting Blog Writing course
Learn how to captive, educate, and inspire your readers
$297
Or pay in 6 monthly installments of $59:
30-day moneyback guarantee
The prices are in US dollars. Sales Tax or VAT may apply. Your enrollment is processed by Teachable, Inc. You can pay by credit card, debit card, or PayPal.