Learn how to write click-worthy headlines so you can get more blog readers. Plus get oodles of inspiration for your blog posts.
~~ A self-paced, online course ~~
Average rating: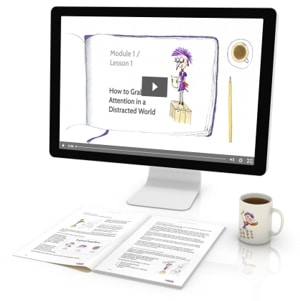 Do you ever wonder why you click some headlines?
And why you ignore most headlines?
In the old days of print advertising, David Ogilvy suggested that if 100 people read a headline only 20 will actually read your advert or article.
And now?
According to WordPress, 70 million (that's 70,000,000!!!) new blog posts are published every month.
As bloggers, we're in a tough competition for reader attention. If 100 people see your headline on social media, you're lucky if 2 click through.
Headlines are a key driver of traffic to your blog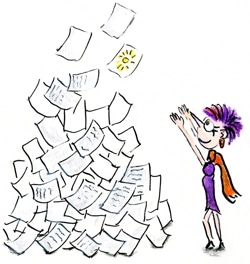 People often decide to read or ignore your blog post by reading only the headline:
In social media streams, good headlines grab attention and make people curious to learn more.
In Google search results, good headlines suggest you offer the information people are looking for and that's why they click a link to your website.
As email subject lines, good headlines prompt subscribers to open your enewsletters, increasing the number of readers for your blog.
At the top of your blog posts, good headlines encourage people to start reading your posts.
So, good headlines are an essential tool in growing your blog readership.
This course teaches more than just headlines …
The skills you'll learn in this course apply to writing anything from blog posts to emails and even sales pages.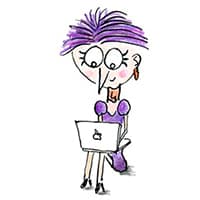 You'll learn how to:
Engage readers more strongly
Shape and sharpen blog post ideas so your writing becomes more focused
Ignite your creativity
Make your writing lean and lively
This course also helps you adopt a more playful attitude to writing so you become more creative, have more fun, and feel prouder of your writing.
Learning to write enchanting headlines will make you a better writer overall.
This is no ordinary writing course …
This course is based on my personal experience coaching writers and non-writers how to write more engaging headlines.
You'll learn how to grab attention, how to arouse curiosity, and how to write (almost) irresistible headlines:
Learn what makes headlines go viral
Short video tutorials (+ transcripts) show you why some headlines linger in the dark corners of the internet while others go viral
Establish a solid headline practice
Discover a 3-step process for writing better headlines
Practice your headline skills
17 guided activities teach you how to evaluate and improve your headlines
Discover shortcuts to viral headlines
Learn how to use a swipe file to save time and jump-start your creativity—a swipe file with 344 viral headline examples is included
This is a practical course that encourages you to exercise your writing muscles so you become a more confident and creative writer.
Module 1: Become a headline apprentice
In the first part of the course, you'll learn how to evaluate and appreciate good headlines.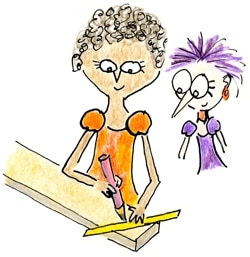 You'll learn:
The 3 essential ingredients that make headlines stand out in a distracted world
How to (ethically!) "steal" headlines
The best tricks to write How to's with flair so you can captivate more readers
3 proven ways to create attention-grabbing list posts
How to spot a headline's wonky legs
Module 2: Become a good headline writer
In the second part of the course, you'll learn how to ignite your creativity and establish a solid practice for writing better headlines.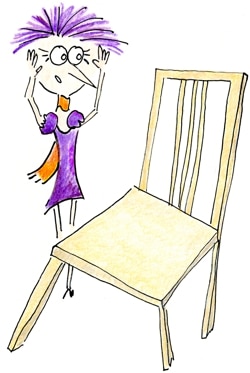 You'll learn:
3 steps to writing mouth-wateringly good headlines
6 ways to make your headlines more specific (and why specificity is the #1 way to get more clicks and readers)
How to add drama and power to your headlines
The Change-the-Scene technique for getting more creative with words
The 3 Golden Rules that help you adopt the right mindset to engage your audience
5 ways to get unstuck and reignite your creativity
Module 3: Become a headline master
In the last part of the course, you'll learn advanced seduction techniques for headlines.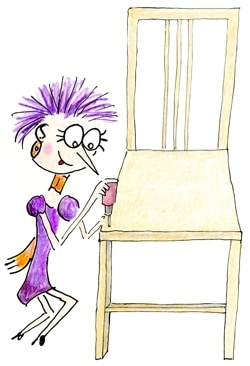 You'll learn:
How to grab readers' attention lightning fast
Two methods for making your headlines strong, lean, and lively
How to arouse curiosity, without creating spammy clickbait
15 advanced formulas to get more ideas for blog posts which your audience will crave reading
This course also answers questions such as: What's the best length for headlines? Which headlines are good for search engines? How do power words influence your personal brand? Does an ideal number of list items exist?
This is a practical course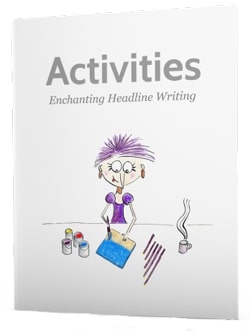 You'll learn and practice, step by step.
The video tutorials are to the point and short (around 5 mins each). The activities reinforce what you've learned with real life examples; and the cheat sheets provide helpful reminders.
The Treasure Trove with Headline Inspiration will stimulate your creativity and encourage new ideas for many years.
About your tutor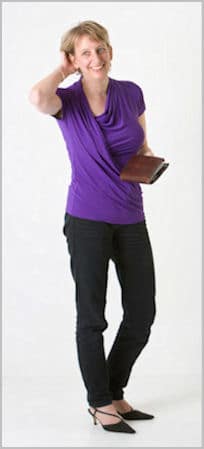 Henneke Duistermaat is an irreverent writer on a mission to stamp out gobbledygook.
She has authored the 5-star rated book Blog to Win Business, and she's written guest posts (and headlines!) for popular sites such as Copyblogger, Shopify, and Kissmetrics. In 2012, she wrote her first viral hit How to Write Seductive Web Copy Like Apple which continues to generate copywriting inquiries.
Henneke quit her corporate marketing job and founded Enchanting Marketing in 2012 to help small business owners and freelancers find their writing voices.
Henneke knows how to engage and inspire readers, and she's an excellent teacher.

~Brian Clark, founder of Copyblogger
Who the Enchanting Headline Writing course is for …
This course is NOT written for news and gossip sites, and you won't learn how to write spammy clickbait. However, if you'd like to inspire and educate your blog readers, then this course is for you. This course will help boost your creativity, write better headlines, and get more readers for your blog.
The examples in the course come from a variety of niches, including parenting, self-help, marketing, personal finance, lifestyle, business, and food. No matter what your niche is (or even if you're not quite sure yet), this course will provide inspiration and help you become a better writer.
What you'll get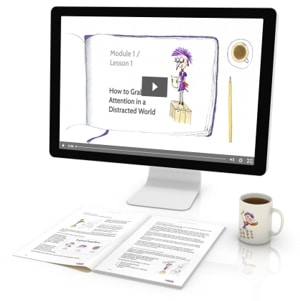 The Enchanting Headline Writing course includes:
14 illustrated videos and transcripts that teach you how to write headlines step by step—plus 3 cheat sheets for quick reference
17 activities that test your newly acquired knowledge, fine-tune your headline writing skills, and help establish a solid headline practice
The Treasure Trove with Headline Inspiration–a PDF swipe file with 344 viral headline examples, plus guidance on how to apply similar formulas to your own blog so you'll never run out of ideas again
The Power List with Wordy Inspiration—a PDF with 1,290 power words to jump-start your creativity and add drama to your headlines
Plus two FREE bonuses
Recorded Enchanting Headline Workshop
Learn how to sharpen your headlines. In a one-hour webinar, I discuss and rewrite headlines submitted by 29 course participants.
Companion Email Series
Receive reminders on essential headline tricks, get re-inspired to dip back into the course, and feel supported throughout the course.
The course comes with an online learning outline where you can tick off the videos you've watched and the activities you've completed so it's easy to keep track and hold yourself accountable.
The course is self-paced, so you can learn at a pace that works for you, and you get lifetime access.
Jump in now to get inspired
Learn how to write enchanting headlines so you can attract more blog readers
$117
Or pay in 3 monthly installments of $44:
30-day moneyback guarantee
The prices are in US dollars. Your enrollment is processed by Teachable, Inc., and VAT may apply.
What others say about this course
Wow! I didn't realize that there was so much involved in writing good headlines. Henneke explained the process clearly and simply. Just two points among the many she offered - be specific and use power words - have helped me improve both my writing and my thinking.

Now I am ready to have fun with my headlines.

Thanks Henneke. Onwards and upwards!


Sally Cowan
Hi Henneke, this has been an amazing course. I've written blog posts before but never realised how weak my headlines were until now. I love your structural approach and all the extra materials (the treasure trove is worth the cost of the course alone!) but also very grateful for how you've made it so much FUN!!
Celine
I was looking to up my blogging game and thought writing good headlines was the right place to start. This course was structured in a way that motivated me to continue and it provided actionable tips. It had a perfect mix of videos and activities. The downloads will be helpful as I continue to practice my skills. I would recommend this course to my friends and colleagues. Thank you, Henneke!
Frequently asked questions
Is this course suitable for beginners?
Yes, the course is suitable for any blogger who wants to get more readers for their posts. Whether you're a beginner or a more experienced blogger, you'll learn how to grab attention with your headlines and make people eager to click through.
Will this course work for my niche?
If you're writing to share your expertise, build your authority, and educate and inspire your readers, then it's almost certainly a Yes. However, the course is not suitable if you want to write clickbait titles for a gossipy blog. If in doubt, email me: [email protected]
My blog is not in English. Will this course work for other languages?
This course is based on the psychological principles that make people want to click and read more. These principles work across languages and cultures. However, you may find you need a little more time to go through the course and to create a list of power words in your language.
How long will the course take?
The course is self-paced so you can go as fast or as slow as you like, and you can dip back in at any time to reinforce your learning or to find fresh inspiration.
At a steady pace, you'll probably take between 3 and 6 weeks to watch the videos (or read the transcripts), complete the activities, absorb the lessons, and practice your skills. Like with all writing, the more you practice, the better you'll get. Recommendations for establishing a solid headline practice are included.
How long will I have access to the course material?
You get life-time access—you keep access to all material for as long as the course is available.
Are video transcripts available?
Yes, illustrated transcripts are available for all video tutorials, so you can choose to watch a video or read its transcript (or do both).
Can I pay with PayPal?
All orders are processed by Teachable and they accept major credit cards and PayPal for one-off payments. Unfortunately, for the payment plan, only credit card payments are available. All payments are in US dollars.
Can I get a refund?
Yes, you can try the course completely risk-free. If you decide the course is not for you, then you get your money back within 30 days.
Jump in now to get inspired
Learn how to write enchanting headlines so you can attract more blog readers
$117
Or pay in 3 monthly installments of $44:
30-day moneyback guarantee
The prices are in US dollars. Your enrollment is processed by Teachable, Inc., and VAT may apply.