Learn how to write click-worthy headlines so you can get more blog readers. Plus get oodles of inspiration for your blog posts.
~~ A self-paced, online course ~~
Average rating: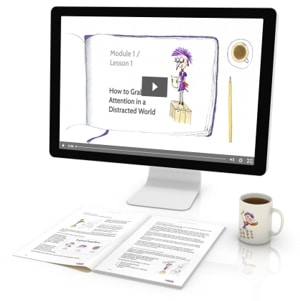 Do you ever wonder why you click some headlines?
And why you ignore most headlines?
In the old days of print advertising, David Ogilvy suggested that if 100 people read a headline only 20 will actually read your advert or article.
And now?
According to WordPress, 70 million (that's 70,000,000!!!) new blog posts are published every month.
As bloggers, we're in a tough competition for reader attention. If 100 people see your headline on social media, you're lucky if 2 click through.
Headlines are a key driver of traffic to your blog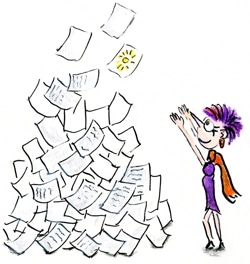 People often decide to read or ignore your blog post by reading only the headline:
In social media streams, good headlines grab attention and make people curious to learn more.
In Google search results, good headlines suggest you offer the information people are looking for and that's why they click a link to your website.
As email subject lines, good headlines prompt subscribers to open your enewsletters, increasing the number of readers for your blog.
At the top of your blog posts, good headlines encourage people to start reading your posts.
So, good headlines are an essential tool in growing your blog readership.
This course teaches more than just headlines …
The skills you'll learn in this course apply to writing anything from blog posts to emails and even sales pages.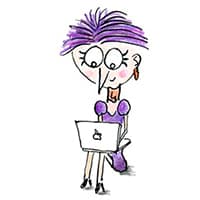 You'll learn how to:
Engage readers more strongly
Shape and sharpen blog post ideas
Make each blog post more focused
Ignite your creativity
Make your writing lean and lively
This course also helps you adopt a more playful attitude to writing so you become more creative, have more fun, and feel prouder of your writing.
Learning to write enchanting headlines will make you a better writer overall.
This is no ordinary writing course …
This course is based on my personal experience coaching writers and non-writers how to write more engaging headlines.
You'll learn how to grab attention, how to arouse curiosity, and how to write (almost) irresistible headlines:
Learn what makes headlines go viral
Short video tutorials (+ transcripts) show you why some headlines linger in the dark corners of the internet while others go viral
Establish a solid headline practice
Discover a 3-step process for writing better headlines
Practice your headline skills
17 guided activities teach you how to evaluate and improve your headlines
Discover shortcuts to viral headlines
Learn how to use a swipe file to save time and jump-start your creativity—a swipe file with 344 viral headline examples is included
This is a practical course that encourages you to exercise your writing muscles so you become a more confident and creative writer.
Module 1: Become a headline apprentice
In the first part of the course, you'll learn how to evaluate and appreciate good headlines.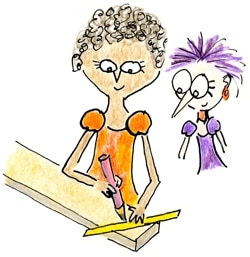 You'll learn:
The 3 essential ingredients that make headlines stand out in a distracted world
How to (ethically!) "steal" headlines
The best tricks to write How to's with flair so you can captivate more readers
3 proven ways to create attention-grabbing list posts
How to spot a headline's wonky legs
Module 2: Become a good headline writer
In the second part of the course, you'll learn how to ignite your creativity and establish a solid practice for writing better headlines.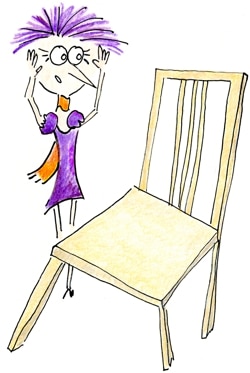 You'll learn:
3 steps to writing mouth-wateringly good headlines
6 ways to make your headlines more specific (and why specificity is the #1 way to get more clicks and readers)
How to add drama and power to your headlines
The Change-the-Scene technique for getting more creative with words
The 3 Golden Rules that help you adopt the right mindset to engage your audience
5 ways to get unstuck and reignite your creativity
Module 3: Become a headline master
In the last part of the course, you'll learn advanced seduction techniques for headlines.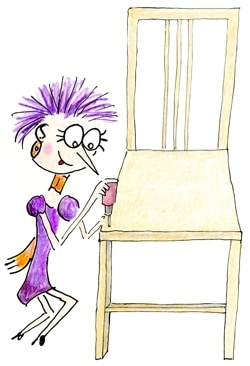 You'll learn:
How to grab readers' attention lightning fast
Two methods for making your headlines strong, lean, and lively
How to arouse curiosity, without creating spammy clickbait
15 advanced formulas to get more ideas for blog posts which your audience will crave reading
This course also answers questions such as: What's the best length for headlines? Which headlines are good for search engines? How do power words influence your personal brand? Does an ideal number of list items exist?
This is a practical course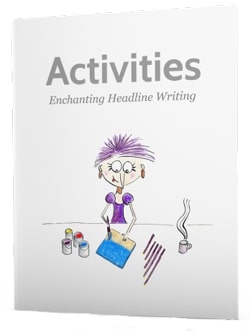 You'll learn and practice, step by step.
The video tutorials are to the point and short (around 5 mins each). The activities reinforce what you've learned with real life examples; and the cheat sheets provide helpful reminders.
The Treasure Trove with Headline Inspiration will stimulate your creativity and encourage new ideas for many years.
About your tutor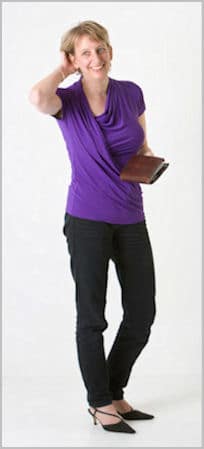 Henneke Duistermaat is an irreverent writer on a mission to stamp out gobbledygook.
She has authored the 5-star rated book Blog to Win Business, and she's written guest posts (and headlines!) for popular sites such as Copyblogger, Shopify, and Kissmetrics. In 2012, she wrote her first viral hit How to Write Seductive Web Copy Like Apple which continues to generate copywriting inquiries.
Henneke quit her corporate marketing job and founded Enchanting Marketing in 2012 to help small business owners and freelancers find their writing voices.
Henneke knows how to engage and inspire readers, and she's an excellent teacher.

~Brian Clark, founder of Copyblogger
Who the Enchanting Headline Writing course is for …
This course is NOT written for news and gossip sites, and you won't learn how to write spammy clickbait. However, if you'd like to inspire and educate your blog readers, then this course is for you. This course will help boost your creativity, write better headlines, and get more readers for your blog.
The examples in the course come from a variety of niches, including parenting, self-help, marketing, personal finance, lifestyle, business, and food. No matter what your niche is (or even if you're not quite sure yet), this course will provide inspiration and help you become a better writer.
What you'll get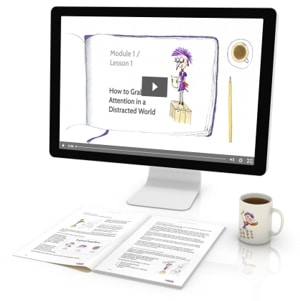 The Enchanting Headline Writing course includes:
15 illustrated video tutorials and transcripts that teach you how to write headlines step by step—plus 3 cheat sheets for quick reference
17 activities that test your newly acquired knowledge, fine-tune your headline writing skills, and help establish a solid headline practice
The Treasure Trove with Headline Inspiration–a PDF swipe file with 344 viral headline examples, plus guidance on how to apply similar formulas to your own blog so you'll never run out of ideas again
The Power List with Wordy Inspiration—a PDF with 1,290 power words to jump-start your creativity and add drama to your headlines
Plus two FREE bonuses
Recorded Enchanting Headline Workshop
Learn how to sharpen your headlines. In two one-hour webinars, I discuss and rewrite over 60 headlines submitted by course participants.
Companion Email Series
Receive reminders on essential headline tricks, get re-inspired to dip back into the course, and feel supported throughout the course.
The course comes with an online learning outline where you can tick off the videos you've watched and the activities you've completed so it's easy to keep track and hold yourself accountable.
The course is self-paced, so you can learn at a pace that works for you, and you get lifetime access.
Jump in now to get inspired
Learn how to write enchanting headlines so you can attract more blog readers
$117
Or pay in 3 monthly installments of $44:
30-day moneyback guarantee
The prices are in US dollars. Your enrollment is processed by Teachable, Inc., and VAT or Sales Tax may apply.
What others say about this course
Marcus Klug
I have always lacked a systematic approach to writing convincing headlines. Henneke's course fills this gap. The whole thing reminds me of a successful cooking course.

First it's about the basic knowledge and then about refining the ingredients to bring more sophistication into your cooking.

The basic ingredients are something like: "What is the promise of your headline? How can you make your headline more specific? How do you bring in more emotion and drama?"

And finally, it's down to the nitty gritty: mastery. Benefits are not everything. Do you also know the real problems of your readership? Where are there opportunities to cut and edit. In a way, this is the second look at your headline - along with curiosity triggers.

You'll learn all that in this great course! With lots of practical exercises, examples and templates guaranteed to get you started! Especially helpful is the bonus: 2 recorded headline workshops on top, where you can deepen your knowledge from the course even further!
I bought the course because I'm starting a new blog about career change that I believe will enhance many lives. It matters greatly to me that I reach people stuck in ruts because I can help them. I need to write good headlines to reach those in need of help.

The course exceeded my expectations in terms of both the quality and depth of the information. The authority of the delivery and the teaching methods enhanced my understanding and inspired me. I found the 3-step formula very effective.

I found the instruction on "power words" particularly helpful for enhancing headlines as well as story content.
I love blogging, but I know often my headlines can let me down. So getting some training from an expert was a no brainer.

This course is full of info, ideas and tips, and if I ever struggle for inspiration, I now have somewhere I know will help me.

Thank you.
I am only a third of the way through this course - but I needed to come up with some bullet points for a Book Sales Page. Reading that the best bullet points are made from headlines I opened up the pdf "Treasure Trove of Headline Inspiration" and worked my way through the 344 headlines and found 39 of them that I could adapt as bullet points for my project. Previously I had come up with ten or so rather lame ones but now I am excited that I can use five or so of the best that work for this project and really improve my sales page. Whooeee!

Of course now I am also fired up to finish this headline course and then use the Treasure Trove pdf to plan a Year's Worth of Blog Posts. I had worked through the Blog Course previously but now adding the Headlines Course to my learning path I am going through it again and getting even more value.
Lorraine Hawkins
This was a very comprehensive and informative course. I've already been able to implement the knowledge I've gained to create more exciting headlines for my blog posts and client projects. It's important to note that you need to practice the techniques presented to make the lessons stick.
S Simeck
I was looking for a course to help our internal agency writers add more life to our headlines and more clicks on our content. So far, everyone is really enjoying the course. We love that it's self-paced. I'm already seeing much improved headlines! And we're all in love with the "purple lady."
I have taken other writing courses but I was still unclear on how to really write a great headline. This course took care of my burning desire to learn the mechanics behind headline writing.

The first golden nugget for me was the variation of headline formulas. It allows me to be more creative where before I was stuck trying to write inside a formula that felt boring to me and I would suppose to the reader as well. It feels awesome to have more freedom.

Also, I don't dread writing headlines any more. I really did dread it. Now I enjoy taking the keyword and building from there, and being playful with the whole process. Being playful was the second golden nugget from this course.

This course has made a big difference in my writing headlines plus my headlines are getting less boring and more concise as I practice and play. Which is a beautiful thing. Thank you, Henneke, for such a great course.
Joan Warren
I used one of the headline ideas from this course for a Facebook advert. It generated the best response I've ever gotten. Thank you for the inspiration! Plus it may be the only course I have ever really enjoyed.

Sean Allen
I joined the Enchanting Headline Writing course to learn how to capture the attention of readers so they would read my article. I learned the "science" behind writing a headline and proper ways to write them. I also found that the type of headline I choose sets the tone and improves the precision of my writing. So, this course has helped me to improve my skill in persuasive article writing.

Jon
As a graphic designer who manages multiple catalogs and websites, I have my hands on a lot of copy. Being able to elevate the text to a higher levels of reading enjoyment and allow viewers to digest information with ease is vital. I took this course to help write better headlines, hoping it would give me some skillset for working with the different product a brand offers, but have gotten so much more. The use of power words and lists and how-tos are all valuable across multiple forms of writing, not just headlines. Thank you, Henneke, for offering this beneficial tool at such a great value!


Suzanne
What a joy to learn headline writing skills from the master herself. Every word of the course was carefully crafted and every skill taught was spot on. Thank you Henneke. I will use these valuable skills frequently.

Julie Younkin
I purchased Henneke's headline writing course to write creative headlines faster. The course is full of invaluable information, samples, and activities that gave me the push I needed. The lesson on the 3 Simple Headline Formulas was specifically beneficial to me because it provides a framework for creativity. I highly recommend this course for bloggers and content marketers that need to get unstuck from writing mundane headlines.

Grace C Wolbrink, Social Worker / Storyteller
This course teaches you how to steal like a pro, sharpen your headline skills and tame your inner critic. The webinar ignited participant collaboration to clarify and spice up many blog headlines. Thank you, Henneke, for your over-and-above-the-letter support.




Alanna
I bought this course because I wanted to improve in 2 important areas of my business: blogging and email marketing. Before buying, I knew that good headlines entice people to click and read your content, so I wanted to focus on my headline skills first. This course was very complete and definitely delivered. My favorite section was on front-load headline structures. What could be more relevant in our super-distracted, space limited, and mobile reading world? Thank you, Henneke, for the work you put into this course. It was very useful.

Ted Greenhough
Henneke is just so darn smart! What was a mystery becomes immediately simple and obvious. I love that she gets straight to the point as if she's reading my mind. I couldn't be happier with how much I've improved from this course.



I regularly got stuck in general How-to questions for my headlines. The course gave me a lot of headline formulas that help me find more concrete entrances to write my blogs. Henneke is very precise in her written instructions - and her drawings give it the whole a playful touch. She is very helpful on the way - and easy to reach out to.



Petra Navel
Henneke's headline writing course is a hands on course for writing headlines. I learned a lot of new and creative ways of generating headlines for blog posts. Her material is structured and well thought through. The cheat sheets and treasure trove book are very useful for practice. I can strongly recommend this course. It is a lot of fun.



Anne
This is a terrific course. I can progress at my own pace and move forward or backward for reinforcement. I also appreciate Henneke's emails. They're always a gentle nudge to get back to work!



Dyan Robson
This course was fantastic and worth every penny!

I really liked that the videos were short and informative with lots of clear examples. Reading (vs listening to the audio from a video) is how I learn best so those transcripts were super helpful. I can also go back and reread the PDFs as much as I like.

I also appreciated that there were lots of activities to help you practice what you learned. They also helped inspire tons of potential blog post ideas to write about, which I loved! I came away with a huge list of new blog post ideas and I plan to revisit this course whenever I need a bit of inspiration of what to write about next.



I purchased this headline writing course because I needed to learn what I was doing wrong, why my editor always wanted me to redo titles and had suggestions that seemed off (which also made me second-guess my content). I needed to be able to say to myself, "This is a good title, so it's more about this editor's personal preferences."

This course taught me how to use specificity in titles and it renewed my courage. I've realized that sometimes, what sounds like an inviting title to me, is not in line with the rest of the world's experience. One thing that surprised me was that my editor's standards are passé. I am okay with that; I now can create titles that exceed expectations. From this point onward, we should both be pleased.

The confidence I've gained from this course is liberating. I no longer creep into a writing project with trepidation, but now attack title-writing with gusto. Thanks, Henneke, as always!



Lesley Smith
I joined the course because I wanted to learn about how to write great headlines.

My expectations were soon shot to pieces. As I started the course I immediately realised how much more underpinning goes into creating a great headline with a strong structure than I had realised.

I've already started using the knowledge gained from the course (and I've not finished the course yet!) to create both the 'Title' and 'Chapter Headings' for a non-fiction book I am writing.

So far the content has been specifically useful to me in building my confidence that I have captured the right enchanting headlines for my book.

Throughout the content Henneke has used examples that offer interesting and current topics to read. This was a lovely and unexpected surprise, it made the course a real pleasure and look forward to doing. Alongside the text Henneke has provided some cartoons which really help anchor points home, (there are many insights).

I've enjoyed this experience and learnt so much. I highly recommend anyone thinking about doing the course to jump straight in.


How Henneke's Course Brought Out My Inner Dragon...

I'd been looking at headline courses for a while because writing headlines has always been my weak spot. I was over the moon when Henneke introduced her course. I trust Henneke. I like the bite-sized lessons, the choice of video or reading the transcript and of course Henrietta! I am learning a lot about how the way you think about the words (and numbers) you use can make or break a headline. I don't dread headline writing anymore. Now I feel like a dragon ready to breathe out fire and slay the enemy!

If you don't believe me, try the headline course for yourself.


This course taught me how to write irresistible headlines---a must-have skill for anyone who'd like to have more readers and customers.

What I love about this course is that Henneke shows how to get attention without using clickbait or scummy marketing tactics; and she teaches without fluff. The course is to the point, actionable and full of templates that save you time. Even better, it's fun. I've taken plenty of courses but Henneke's courses are the only ones I enjoy working through.

If you have a blog or podcast, this course will help you get more readers and customers. I can't recommend it enough.



Thank you for such an amazing course. I've been enjoying it so far and even though I've only studied the first module, I've already learnt so much!

I feel more confident writing headlines, and it's not just that, I also seem to have found my voice/personality in my writing. I used to feel stuck but I'm finding that my writing is flowing so much better now 😀

I also really enjoy the emails you've designed for this course. They are great, succinct reminders. For example, I was writing a couple of blog posts recently and your problem-solution-headline email was my go-to formula.

Taking the course has also given me that much-needed confidence to start writing up the sales pages and webinars for an upcoming e-course I'm launching too!

It's hard to find good writing courses (believe me, I've looked) and even harder to find ones that are affordable and still offer great value. This course is it. Thanks a lot, Henneke! 🙂


I used to suck at writing headlines. I'd just write a couple of boring variations and then black out. I just couldn't understand what kind of sorcery it takes to write a good one.

Turns out, it's not sorcery.

There is a method to writing great headlines every time - the one I found in Henneke's course. I now have a system that makes creating a great headline, an email subject or a section subhead so easy.

I put lots of effort in creating my content. It feels great that I can now create better headlines and more people will read my content.


Enchanting Headline Writing is broken down into easily digestible chapters filled with examples, tips and techniques. I completed the program with a stronger understanding of what makes a terrific headline and why. Will be implementing what I learned in my own magical newsletter!



Wow! I didn't realize that there was so much involved in writing good headlines. Henneke explained the process clearly and simply. Just two points among the many she offered - be specific and use power words - have helped me improve both my writing and my thinking.

Now I am ready to have fun with my headlines.

Thanks Henneke. Onwards and upwards!


Sally Cowan
Hi Henneke, this has been an amazing course. I've written blog posts before but never realised how weak my headlines were until now. I love your structural approach and all the extra materials (the treasure trove is worth the cost of the course alone!) but also very grateful for how you've made it so much FUN!!
Celine
I was looking to up my blogging game and thought writing good headlines was the right place to start. This course was structured in a way that motivated me to continue and it provided actionable tips. It had a perfect mix of videos and activities. The downloads will be helpful as I continue to practice my skills. I would recommend this course to my friends and colleagues. Thank you, Henneke!
Frequently asked questions
Is this course suitable for beginners?
Yes, the course is suitable for any blogger who wants to get more readers for their posts. Whether you're a beginner or a more experienced blogger, you'll learn how to grab attention with your headlines and make people eager to click through.
Will this course work for my niche?
If you're writing to share your expertise, build your authority, and educate and inspire your readers, then it's almost certainly a Yes. However, the course is not suitable if you want to write clickbait titles for a gossipy blog. If in doubt, email me: [email protected].
My blog is not in English. Will this course work for other languages?
This course is based on the psychological principles that make people want to click and read more. These principles work across languages and cultures. However, you may find you need a little more time to go through the course and to create a list of power words in your language.
How long will the course take?
The course is self-paced so you can go as fast or as slow as you like, and you can dip back in at any time to reinforce your learning or to find fresh inspiration.
At a steady pace, you'll probably take between 3 and 6 weeks to watch the videos (or read the transcripts), complete the activities, absorb the lessons, and practice your skills. Like with all writing, the more you practice, the better you'll get. Recommendations for establishing a solid headline practice are included.
How long will I have access to the course material?
You get life-time access—you keep access to all material for as long as the course is available.
Are video transcripts available?
Yes, illustrated transcripts are available for all video tutorials, so you can choose to watch a video or read its transcript (or do both).
Can I pay with PayPal?
Yes. You can pay with any major credit card, debit card, or PayPal. All payments are in US dollars. All orders are processed by Teachable, Inc.
Can I get a refund?
Yes, you can try the course completely risk-free. If you decide the course is not for you, then you get your money back within 30 days.
Jump in now to get inspired
Learn how to write enchanting headlines so you can attract more blog readers
$117
Or pay in 3 monthly installments of $44:
30-day moneyback guarantee
The prices are in US dollars. Your enrollment is processed by Teachable, Inc., and VAT or Sales Tax may apply.