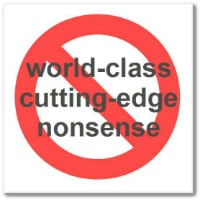 Banned words?
Yep. Forbidden. Prohibido. Interdit.
Why?
Because these words are just filler – padding sentences without adding meaning.
These words waste your reader's time; and squander precious pixels.
Innovation. If you have to point out you're innovative, then you probably aren't.
World-class. Pretty meaningless unless you're a world-record holder like Usain Bolt.
Breakthrough or groundbreaking. Seriously? Or are you exaggerating your contribution to mankind? Have you discovered the God particle?
Market-leading. Which market are you leading? And do your customers care?
Cutting-edge or state-of-the-art. Come on. Do you have nothing better to say?
Don't undermine your credibility with gobbledygook. Instead: Be specific. Use metaphors. Or simply shorten your sentence.