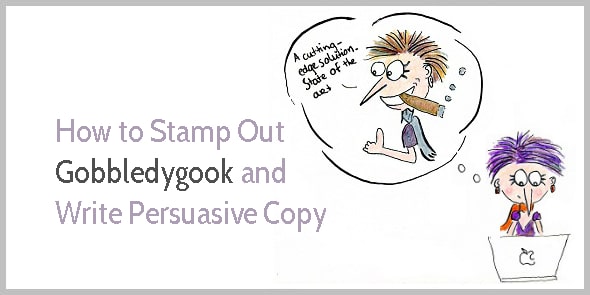 Hannah Meadows wakes up in a panic.
It's wrong. It's totally wrong. I've messed up.
During the previous days, Hannah had reread her collection of copywriting books. She studied sales pages to figure out what makes content sleazy, and what makes it persuasive.
Yesterday, late at night, she decided she had to stop procrastinating. She grabbed a bowl of salted peanuts, and poured a glass of whiskey to loosen up and make her words flow.
And yes, at last, her words flowed.
But were the words right?
In her nightmare, Hannah tries selling her new ecourse to passersby on Oxford Street. She tells them how fantastic the course is. That the videos follow industry-standard formats. And there are cutting-edge quizzes.
As the early sunrays peek through a gap between her curtains, Hannah wonders whether she's losing her soul. Why does she impersonate a pushy salesman when writing her copy? Why is her copy full of gobbledygook?
What is gobbledygook?
In marketing, gobbledygook refers to catchphrases so overused they've lost their meaning. They make your writing sound hyped up. A tad untrustworthy.
In 2007, David Meerman Scott published The Gobbledygook Manifesto (pdf), in which he berates marketers and PR people for using gobbledygook. Based on an analysis of 388,000 press releases, he lists the most commonly used gobbledygook phrases including "flexible," "robust," "world class," "scalable," "easy to use," "cutting edge," "mission critical," "market leading," "industry standard," "turnkey," and "groundbreaking."
Gobbledygook sneaks into our pages when we forget who we are, when we forget why we're in business (to help!), and when we write for a faceless crowd rather than our favorite clients.
Gobbledygook makes a writing voice sound corporate rather than human. And what's worse, gobbledygook doesn't help buyers understand why they should buy from you.
How to spot gobbledygook
These three questions help you determine what's gobbledygook:
1. Can you interpret this word in different ways?
Think about, for instance, the word "market-leading." What does market-leading really mean? How do you define the market? And in what way are you leading it? I could easily claim to be the Dutch market leader in business writing education for solo service providers in the English language. But how meaningful is that?
Phrases like "high-quality product" and "excellent customer service" are also difficult to interpret. How do you visualize excellent customer service? A call center guy with a smile in his voice? A call center girl who actually solves your problem? Support by email 24 hours a day?
You and I can visualize service excellence in many different ways. And the same is true for phrases like "industry-standard" and "best-in-class"—they lack specificity.
When phrases lack specificity, they're often gobbledygook.
2. Does the word sound hypey?
When is something truly "groundbreaking?" When is a new feature truly "innovative," "world-class" or "awesome?"
If you've discovered a cure for cancer, go ahead and call your research groundbreaking. If you're the first person to land on Mars, yep, that's pioneering.
But if you've polished your product or fine-tuned your service, let customers do the talking for you. Get testimonials and ask them what they think of you and how your service has changed their life.
To avoid gobbledygook, be clear about what your product or service does for your customers, and illustrate with specific examples. Skip hyperbole.
3. Would you use the word in a conversation with a friend?
I don't know about you, but when I talk to a friend about what I do, I don't tell them I teach pioneering classes on business writing. I explain I teach business people how to write more persuasively; or I might say I help business people become more confident writers, and I help them find their voice so they can attract the right audience to their business.
When we're among friends, we tend to use real words. We don't use words to impress, but to express our ideas.
To eliminate gobbledygook, choose meaningful words and be so specific that readers can picture your content.
Fun tools
Want to write to impress and bamboozle your readers?
Use the gobbledygook generator from the Plain English campaign to add gobbledygook to your content. To impress your soccer friends, try their dedicated football gobbledygook generator.
Prefer to write gobbledygook-free content?
Try Unbounce's Dejargonator (a chrome extension) to spot marketing speak in any online content.
Examples: How to turn gobbledygook into persuasive copy
Persuasive copy is specific, and it helps readers understand what you can do for them.
To turn hypey content into persuasive copy, follow these two steps:
Make your feature concrete. For instance, how can your reader visualize high-quality service? What's new and different about your groundbreaking app?
Think about your favorite reader, and ask yourself: What does this mean for her? Why does this help her?
Here's an example of gobbledygook:
Pioneering software from the market leader. Schedule your social media updates with our award-winning all-in-one app.
Why is this snippet gobbledygook?
The only real information in this fragment is that this app helps you schedule social media updates—this is fine as a feature, but the text doesn't explain why this matters to readers. Moreover, the text features buzzwords like "pioneering," "market leader," and "award-winning all-in-one app."
Here's an alternative:
Save time with our new app. Schedule all your social media updates in one go.
Why is this better?
The text is benefits-driven; "save time" is a powerful benefit.
The feature is clear: "schedule all your social media updates in one go."
It's plain English without gobbledygook.
Here's another example of gobbledygook:
Make your life awesome with our world-class widgets
Why is this sentence gobbledygook?
Because it doesn't tell us anything. We can't visualize it. The only thing this sentence tells us is that it's about widgets. So, let's imagine what this widget might do for us:
Get more email subscribers with our drag-and-drop signup forms for WordPress
Why is this better?
The text is benefits-driven; "get more email subscribers" is a specific benefit.
The feature is clear: "drag-and-drop signup forms for WordPress."
It's plain English without gobbledygook.
How to Write Persuasive Copy
Using gobbledygook is a sign of laziness, a lack of creativity, a way to bamboozle readers.
To write honest sales copy, give readers a real reason to buy from you and use concrete language.
Don't impersonate an imaginary sales person.
Instead, tell people how you help them, and skip the phrases that don't sound like you.
Be your good self.
Helpful. To the point. And engaging.