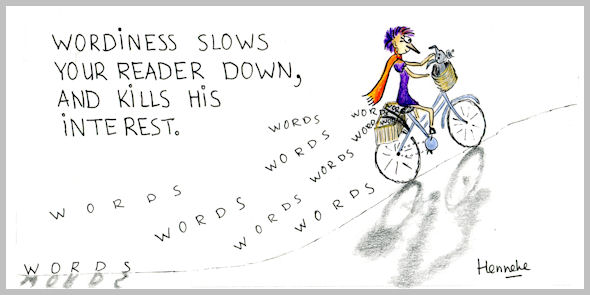 I bet you know someone.
Perhaps the girl next door.
Whenever you meet her she keeps rambling on so much you can hardly follow her story.
And then there's the guy, who's always trying to win a game of bullshit bingo. How much nonsense can you listen to?
Of course, you are a different kind of communicator.
You focus on your listener, or reader.
You try hard to be concise.
You edit your content.
You polish each word.
But could it be that a dash of wordiness sneaks into your blog post? Could your web copy suffer from a bout of verbosity?
It's easily done.
The web is full of words without meaning. Messages buried under wordy sludge. Content so dense that it turns readers away in disgust.
How do you know whether your messages come across loud and clear? How do you know whether wordiness might be sabotaging your communication?
Let's have a look at the 4 types of wordiness.
Avoid each type of wordiness, and your sentences become concise and clear, your message becomes stronger. And more people will listen and follow your advice.
Sound good?
Wordiness type #1: Sentence bloat
Imagine sitting down for a good meal.
With a friend you haven't seen for a while.
The food is delicious but you hardly taste it. Because the talking is even better. You're mindlessly gobbling up your food, and before you know it you've eaten too much.
When you're writing, you might get in a flow. You write word after word. Sentence after sentence. Paragraph after paragraph.
You feel excited. But your readers are less happy.
You've stuffed your sentences full of words, making them difficult to digest. You're rambling on without realizing it. Your long sentences are wearing your readers down.
This type of wordiness is easy to cure:
Write your first draft and edit it as usual.
For this exercise, add an extra white line after each sentence, so that each sentence stands on its own.
Look for your longest sentences and chop them in two, and cut unnecessary words.
Read each sentence aloud, and ask yourself: Does it add meaning? If it doesn't, scrap it. If it adds meaning, can you find a way to shorten it?
Combat wordiness. Make each sentence, and each word count.
Wordiness type #2: Indulgence in complex words
I recently traveled around Andalucía for a few days.
The best food I tasted was usually simple.
Espeto de sardinas–barbecued sardines. Gambas al ajillo–prawns fried with garlic and chilies. Choco a la plancha–grilled squid, seasoned with only salt and garlic plus a squeeze of lemon juice. That's all.
When we write, we often complicate our language by using too many spices or fancy cooking methods.
To keep your language fresh and simple:
Imagine phoning your ideal reader. Or perhaps you'd like to picture yourself meeting in a tapas bar.
Read your content aloud. Does your ideal reader laugh at your inflated language? Does she shake her head because you sound like a windbag? Or does she appreciate your words? Does she nod along because she gets what you're talking about?
If she slams down the phone or laughs at you, rephrase and simplify your language. Pay attention to words that sound posh, exaggerated, or foreign.
Don't spoil your message with fancy words. Keep it fresh and tasty. (tweet this)
Wordiness type #3: Paragraph density
Picture a plate of mashed potatoes piled as high as possible.
It doesn't look appetizing, does it?
Paragraph density has the same problem. No matter how good your sentences, no matter how valuable your ideas, your web visitors don't want to start reading. Because your blog design turns them off.
This type of wordiness is the easiest to solve:
Before you hit publish, check what your blog post looks like on screen
Eliminate text blocks that are longer than 6 lines
Introduce bullet points, subheadings, and one-sentence paragraphs to add more white space. See how I've done that in this blog post?
Your blog post should look like nouvelle cuisine—lots of white space, and bite-sized content that keeps people snacking.
Wordiness type #4: Lack of clarity
When you start cooking, you have a recipe in mind.
You know how you want to delight and impress your dinner guests.
When you write content—whether it's a blog post or a sales page—you also need to decide how you want to please your readers. Can you describe your message in one sentence?
Sometimes I can't communicate a message because I haven't discovered its essence yet. And when I don't know the essence, how can I communicate it well?
You can find the essence of your writing in several ways:
Write to bring clarity

When your idea is fuzzy, freewriting can bring clarity. Write as fast as possible to uncover unexpected ideas. Then reverse-outline your post. What are key thoughts in your writing? And how can you create a logical flow? What's relevant and what's irrelevant? You can usually throw away the first few paragraphs as you were just warming up.

Get away from your computer

Take a sheet of paper and try to sketch out or scribble down your ideas. Getting away from your computer often unlocks creativity, and it can help you prioritize your messages.

Read more

Do you really understand what you're writing about? Can you dig deeper by reading more? I don't mean reading a few blog posts. I'm talking about reading one or two books. For my first Copyblogger guest post, for instance, I read 6 books before I started writing the post.

Lift the curse of knowledge

Sometimes we know our subject too well. We focus on details without communicating the bigger picture. We assume readers understand concepts, but they don't. We use phrases that baffle beginners. This is when we suffer from the curse of knowledge–we lose our ability to explain our ideas to beginners.

The only way to defeat the curse of knowledge, is by listening to your readers. Encourage them to ask questions. Get on the phone to hear their thoughts. Learn what they're struggling with, and pay attention to the phrases they use.
When you're editing your content, step in the shoes of your reader. Does he understand your key message? Or are you distracting him with details that don't matter?
Each piece of content should communicate one simple idea. Scrap every word that distracts. (tweet this)
The truth about wordiness
Being concise is hard work.
Writing in simple words is more difficult than it seems.
Chop funny asides when they're irrelevant. Kill your darling sentences when they're distracting. Slaughter your favorite words when your reader doesn't know them.
Above all, don't write to show off your intelligence, your vocabulary, or your knowledge.
Write to delight and please your reader.
Be good.
PS Special thanks to Val Manchuk who gave me the idea for this post.