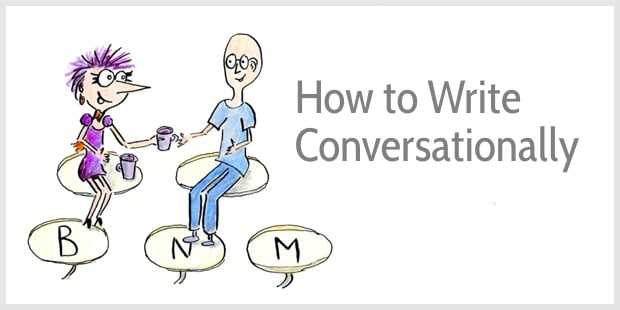 Gosh, Helena thinks.
She's reading her draft post.
And she doesn't like the tone of her writing at all.
Why is it so hard to engage her readers?
Sigh.
Helena is an expert in climate change, and she'd like to write in a conversational tone …
As if she's explaining climate change to a friend while sipping an ice tea at the town plaza. The pigeons are strutting around her, bobbing their heads and pecking at the crumbs on the pavement.
But, somehow, her writing always sounds too academic, too formal, too difficult, too stuffy, too boring.
What can she do?
How to write conversationally
Some say …
Just write like you talk.
But it doesn't always work like that.
Yes, when you write a quick email or social media update, it's possible to jot down your thoughts as if you're actually chatting on the phone.
But when writing long-form content or when you're still figuring out your ideas, writing in a conversational tone is more challenging. A draft often sounds writerly, and you have to massage it until it becomes more informal.
As Elmore Leonard suggested:
If it sounds like writing, I rewrite it.
Want to know how?
How to edit a writerly text
To turn a formal text into a friendly conversation, follow 3 steps:
Take out the writerliness

Turn your writing into a conversation

Add an air of casualness (optional)
Shall I show you?
I. Take out the writerliness
The basis of conversational writing is a simple text so readers can follow your ideas with ease:
Here are some examples …
1. Eliminate complicated sentences
Complicated sentences are a sure sign of writerliness.
So, keep your sentences simple and mostly short. The occasional long sentence is fine—as long as each sentence is easy to read.
For instance, Elizabeth Strout uses a conversational tone in her book Lucy by the Sea, and she doesn't shy away from a long sentence:
He was seventy-one years old then, but he, kind of, I think, must have been plunged into some sort of midlife crisis, or older man crisis, with the loss of his much younger wife moving out and taking their ten-year-old daughter, and then his half-sister's not wanting to see him and his finding out that his mother had not been who he'd thought she had been.
When I read Strout's sentence, it's almost like I can hear her talk. Can you, too?
The sentence above is easy to read because it starts with its core (he was seventy-one years old) and then expands. Moreover, filler phrases (kind of, I think) add a casual tone.
So, the key to conversational writing is not to keep all your sentences short but to keep your sentences simple. Communicate your ideas tiny step by tiny step.
2. Avoid the passive voice
Pay attention to everyday conversations, and you'll note that most sentences use the active voice:
I went to the shops to get the groceries. I cooked a colorful stirfry with lots of veggies and prawns. We had dinner together.
The passive voice feels more writerly, less natural:
The groceries were purchased by Henneke. A colorful stirfry was prepared, and dinner was eaten.
I wouldn't say that. Would you?
So, if you want to sound less writerly, try to avoid the passive voice.
3. Replace writerly words
Only use jargon if you're writing for an expert audience who use that jargon themselves, too.
Otherwise, please …
Skip the posh words and gobbledygook.
Use everyday words instead.
For instance, jeans manufacturer Hiut Denim describes what they do in short sentences, using simple words:
We make jeans. That's it. Nothing else. No distractions. Nothing to steal our focus. No kidding ourselves that we can be good at everything. No trying to conquer the whole world. We will just do our best to conquer our bit of it. So each day we will come in and make the best jeans we know how.
Note the everyday expressions above: That's it; no kidding ourselves; we will just do our best; our bit of it.
Not sure which words to use?
Think of a face-to-face conversation with one of your favorite readers. What words would you use then?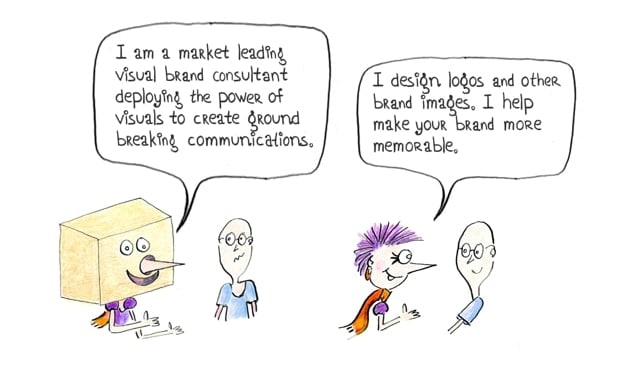 4. Use transitional words often
Soooo …
When we talk, we use transition words to string our thoughts together.
Those transition words tend to be simple: When, if, and, but, or, because, so.
However, when we try to impress with our writing, we use more writerly transitions such as: Therefore, in contrast, additionally, furthermore, nonetheless, thus, subsequently, in conclusion.
Copywriter Gary Halbert is known for his conversational style, and the casual phrase anyway is one of his favorite transition words. It makes his writing sound as if he's chatting to you. This is from his book The Boron Letters:
So anyway, today I'm going to start by telling you about a little trick that will improve your copywriting.
And:
Anyway, a couple paragraphs back I wrote: "and if you can find a way to use it, you can dramatically increase your sales volume."

Now, compare that to this: "and if you can find a way to use it, you can make yourself a bushel of money!"

Isn't that a lot more powerful? You bet! The words "dramatically increase your sales volume" do not even begin to conjure up the visual imagery of "a bushel of money."
Transition words create flow and help readers follow your text from one sentence to the next.
Moreover, if you choose simple transition words and use them often, your text will sound more conversational.
II. Turn your writing into a conversation
The 4 techniques below are the essence of conversational writing:
Here's how …
5. Remember who you're writing for
Good writing is a conversation with your reader.
And to make your conversation meaningful, remind yourself who you're writing for. Who are they? What do they want to know? What's their reaction to your writing?
When they shake their head because they disagree, you can counter their objections. When they don't understand a phrase, you can replace or explain it. When a question pops up in their mind, answer it.
It can be hard to write a first draft with your reader in mind. Just formulating your thoughts is challenging enough.
So, once you've written that draft, try distancing yourself a little from yourself as the writer. Try not to be too precious about your words, and read them through the eyes of your reader. How can you make your text clearer and more engaging?
The better you can imagine your reader's reaction, the more engaging your conversation with them will be.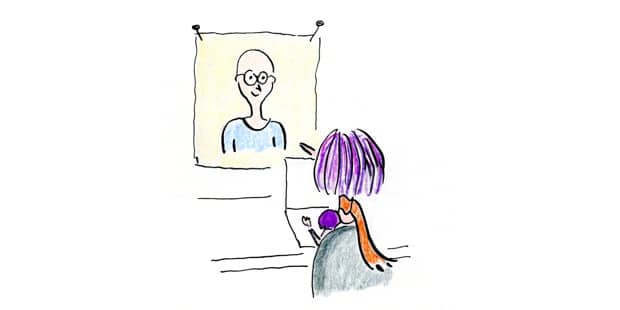 6. Address your reader
In a face-to-face situation, you talk a bit about yourself, right?
And you also address the person you're talking to?
Well, it's the same in conversational writing. You address your reader with the word you, and you talk a little about me.
For instance, Mark Manson's blog reads like a conversation with his readers because he addresses readers directly. This is from a blog post about feelings:
Look, I know you think the fact you feel upset or angry or anxious is important. That it matters. Hell, you probably think that because you feel like your face just got shat on makes you important. But it doesn't. Feelings are just these … things that happen.
If you want to have a conversation with your reader, don't create a monologue. Use the words you and your more often than the words me, my, and I.
7. Ask questions
Questions are probably my favorite conversational writing technique. For instance, here's how I open a blog post on editing a sentence:
Do you ever wonder how others edit their writing?

Me, too.

So, picture my delight when I came across a fabulous example of revision …

By a bestselling author!
And I start the sales page for the Enchanting Copywriting course like this:
Do you ever find yourself staring at a blank sheet?

Struggling to find the right words to sell without feeling sleazy?

You're not alone.

Persuasive writing is probably one of the most precious skills anyone in business can possess.

But at school, we've not learned the art of persuasion. We've not learned how to write compelling content. We've not learned how to sell without feeling pushy.
Want to engage your readers?
Ask questions. Ask them whether they're struggling with the problem you're helping them solve. Or ask them whether they'd like to achieve that aim you can help them with.
Of course, asking questions only works if you understand your reader and if you know what's bothering them and what they're dreaming off.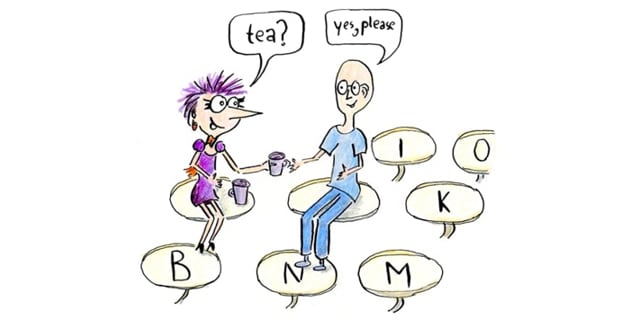 8. Add personal comments
I discovered this trick for conversational writing only recently …
Add a personal comment between parentheses.
This technique is not widely used but it works like a dream.
The following snippet is from the memoir It's Okay to Laugh (Crying is Cool Too) by Nora McInerny Purmort:
This is for people who have been through some shit—or have watched someone go through it. This is for people who aren't sure if they're saying or doing the right thing (you're not, but nobody is).
Above, McInerny Purmort first addresses her readers as a crowd (This is for people who …); it sounds less conversational.
But then she adds a comment between parentheses, addressing her reader directly (you're not, but nobody is). That's when it feels she's talking with you.
As we've seen so far, to write conversationally, first edit your text so it's simple and clear.
Next, turn your writing in a conversation with your reader: Know who you're having a conversation with, address them with the word you, ask them questions, and if you like, add personal comments between parentheses.
Lastly, there's one more optional step …
III. Add an air of casualness
Not all conversational writing needs a casual tone.
So, think about your readers. What's the right tone for a conversation with them?
Then, try the following techniques:
Let me show you some examples …
9. Use contractions
Contractions merge two words together. It's what we do when we speak all the time.
For example:
You are -> You're
I am -> I'm
How is -> How's
I would rather -> I'd rather
It is -> It's
I have not -> I haven't
Using contractions is probably the most common and easiest technique for informal writing.
10. Try interjections
For more casualness, try interjections such as Phew. Duh. Whoah! Yay! Yikes. Ugh.
I occasionally use interjections in my writing:
What's the most boring punctuation mark?

I used to think that award should go to parentheses. They seem to smell like math exams in sweaty classrooms. Ugh.
Or:
Has it happened to you, too?

In your mind, you've composed your next article. Perhaps while walking your dog or on your commute.

You feel excited, because you know exactly what you want to write, and you think your readers will love it. Yay!
Even Apple uses interjections sometimes. For instance, when they write about the iPhone 14:
Water resistance. (Phew.)
Interjections are shortcuts to expressing emotions.
Use them in moderation.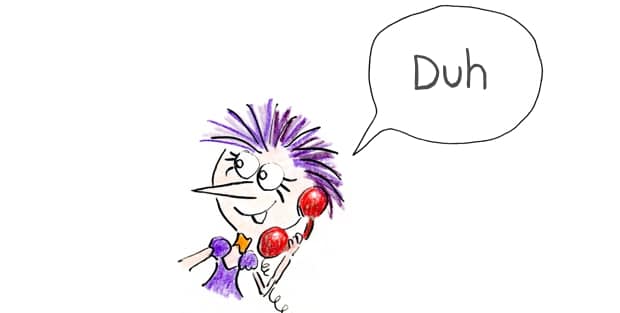 11. Use filler words
When we talk, we use filler phrases to give us time to think or to add emphasis.
Filler phrases include: I mean, you know, actually, so, yeah, well, sure enough, here's the thing, why bother, hang on, like.
Here's how Sara Gibbs ends her book Drama Queen: One Autistic Woman and a Life of Unhelpful Labels:
Right . . . Well, it's getting late and I've got to get dinner on. Ah, crap, you're never going to believe that. You know I'm not the one who cooks dinner. OK, uh . . . I think my cat is asking for me. No? I have to go; my husband's on fire. God. Fine, you've got me. I have no idea how to end this book. I'm as good as getting out of conversations as I am at instigating them. I will leave you with these words – which I recently blurted out before hanging up on a confused GP's receptionist: 'K, love you, bye!
As Tony Hoagland points out in his book The Art of Voice, filler words can be key to creating a voice that connects. They can create a sense of warmth, of companionship. A voice sounds more real.
But, of course, filler words make your writing less concise. And, as you can sense in the snippet by Gibbs above, a lot of filler words make writing exhausting to read.
So, think about what works for you and your audience. And, also, read your writing aloud. Does it flow naturally or does it become exhausting?
It's up to you to find the balance between being concise and being more chatty.
12. Add gestures
Your keyboard doesn't allow you to put hand gestures into a text.
Or does it?
< shrugs shoulders >
So, this is the trick:
You can put hand gestures or facial expressions between angled brackets.
< raises eyebrows >
It's like putting emoticons into words.
Angled brackets can also be used to < checks notes > create a pause in your writing. Here's Ann Handley in a recent newsletter:
You think you have a handle on a problem or a situation or a topic. You sit down to write: hands hover over laptop, claws ready to clack the keys, itching to go! Let's GO!

< seconds pass >

< is it a minute already? >

Your mind wanders.
Putting gestures or other comments between angled brackets can add personality to your writing. But always consider: Is this the right tone for the conversation you're having? Or do you prefer a more concise conversational style?
Oh, and if you don't like angled brackets, you can use *asterisks* instead.
Or, if you want to create a pause, just adding an ellipsis (…) is a neat trick, too.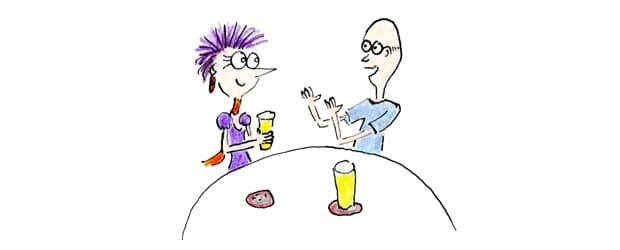 13. ALL CAPS
I'm a little hesitant to mention this technique.
Because it should be used sparingly. Very sparingly.
ALL CAPS is a bit like shouting.
But the thing is this: When we talk, we can whisper, or shout, or sing.
And we can't do that in our writing.
So, how can we emphasize our words instead?
My preferred method is to choose stronger words: Emotional words (such as despair, joyful, enchanting) or sensory words (such as dazzling, gloomy, prickly, sweet).
But sometimes, you may want to use ALL CAPS for extra emphasis.
For instance, Ramit Sethi occasionally uses ALL CAPS on his sales pages, like here:
There are tons of books, courses, and articles about confidence. "How to be confident at work!" "How to stop being shy on dates!", "How to make everybody at a party love you!" The list goes on and on. The #1 piece of advice in all these materials is: "Just be yourself!"

VOMIT.
And Joe Tracini also uses ALL CAPS occasionally in his memoir Ten Things I Hate About Me:
I'm scared. Terrified, really. I'm scared of what you'll think of me, because even though I don't know you, I don't want to disappoint you, and I am desperate to be liked by EVERYBODY AT ALL TIMES. (Seriously. If I'm in a shop and I think the person on the till doesn't like me, I will spend the rest of that day thinking I've ruined their afternoon, then worrying and wondering about how I could've been a better customer.)
Used sparingly, ALL CAPS can mimic the emphasis you'd add to a couple of words when talking. It's like raising your voice.
Moreover, research indicates that putting one or two words in ALL CAPS makes it easier to understand something at a glance.
BUT …
Using ALL CAPS for longer texts reduces readability.
So, be careful: ALL CAPS can quickly be too much, and your writing tone becomes shouty.
14. Elongate your vowels
Pleeeaaaase, explain to me …
Why do we drag out our vowels?
Elongating vowels creates a more casual tone by mimicking our intonation when we talk. You may think this technique is only for teenagers on social media but even Apple uses it on their website:
The looongest battery life of any iPhone. Ever.
And Wil Reynolds writes in a blog post about SEO and AI disruption:
SEO has been "dead" or "dying" since before I got started in 1999.

Mayyyyybe it's just an industry that changes a lot.
I sometimes elongate vowels on Twitter, too:
Pleeease …

Don't tell me to write like I talk.

In writing, you can't use hand gestures & facial expressions.

So, writing has to be stronger than spoken language.
You can also lengthen certain consonants. Dammmmmnnn. What a messss.
So, this is an interesting technique, most commonly used on social media. Elsewhere, use in moderation or not at all. There is a risk your tone becomes unprofessional.
Always consider who your reader is and what tone is appropriate for your conversation with them.
How casual should your writing be?
Your objective is not to make your writing as conversational and casual as possible.
Think about the topic you're discussing with your reader.
Consider your reader's reaction and what feelings crop up when they're reading your text.
Also, think about the context. Social media tends to be most casual, email comes next. And blogs tend to be more conversational than books but that's also a matter of personal preference.
Sometimes, simple and clear writing is your aim.
Sometimes, you want to go a step further and turn your text into a conversation or make the tone more informal.
How casual is your conversation with your reader?
Cup of tea? Slice of cake?
PS This is a completely refreshed and expanded version of an article originally posted on January 14th, 2014. The new version was published on August 29th, 2023.