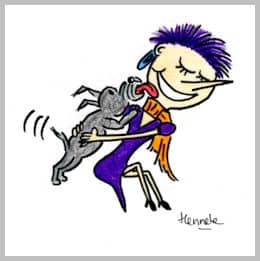 Let's face it.
How many people get excited when they receive your email?
How many are rushing to read your email as soon as their email pings and they see your name popping up?
Yep, your mother, your best friend, and your sister are all super happy when your email arrives to invite them for a day out.
But what about your clients and prospects? Are they also happy with your emails and blog updates?
Let's see how you can make them more excited …
Stop writing to everyone
When I write an email to the 2,722 subscribers on my list, my email becomes boring, generic, and drab.
You can't write to a faceless crowd of subscribers. You start lecturing. You get on your soap box. You write phrases like Thank you to those of you who commented on my last post instead of Thank you so much for your comments on my last post.
Writing to a crowd kills your voice.
You start sounding like that stuffy schoolmaster who's telling everyone off; or you become like that irritating marketer who keeps repeating the same message over and over again.
Instead of thinking of all the people on your list, think of your favorite reader only. Imagine her opening your email. Picture her chuckling at your jokes and nodding along as she agrees with your points.
Paint her picture or find a matching photograph. Give her a name. That's the only way she becomes real enough to write to her. And that's when you can forget about all the others on your list.
You only write to her.
Your emails immediately become more engaging; and most people on your list will feel as if you're emailing them personally; and if they don't, they probably shouldn't be on your list.
How to write conversational content
Conversational content makes your reader feel you're talking WITH him — NOT talking AT him. You're engaging him in your conversation. He's hearing your voice.
You might think that writing conversational content requires you to record yourself talking and then typing out your text. But have you ever seen a full transcript of an interview?
It's full of wishy-washy words, grammar mistakes, and sentences that haven't been finished. Nobody speaks correct English when they talk. That's normal.
Writing conversational content doesn't mean you write as you talk. Instead: you edit your text so that it doesn't sound like writing.
If it sounds like writing, I rewrite it. ~ Elmore Leonard
Creating conversational text means writing a shitty first draft and then editing that crappy draft to make it more conversational. Let's see how.
Unlearn the stuff you learned at school
Conversational writing is simple and easy to read.
You don't want your blog posts and emails to sound like *yawn* business reports or academic essays:
Slaughter the passive voice. Rather than write You're loved by me (passive), write: I love you (active). Rather than write Your email will be answered (passive), write: I'll answer your email within 24 hours.
Kill long paragraphs and dense blocks of text. To enter a conversation you need to give your reader time to breathe – that's what white space is for. Use it generously.
Hack long sentences in two; and stop worrying about starting your sentences with And, Because, or But. Because it helps keep your sentences short and easy to read.
Feel free to use contractions like they'll, he's, and we're, because these sound more informal.
Send difficult words to the naughty corner and throw a party for simple words.
Following high-school rules makes your text drab and dull. Be a rebel and break writing rules. Set yourself free and play.
Read your copy aloud. If it still sounds like writing, then chop a few more sentences in two, break up a few paragraphs, and bin more gobbledygook.
Once you've unlearned drab business writing, you only need to apply 2 essential tools to have tea and chat with your readers.
Essential tool of conversational writing #1
Good salesmen and good conversationalists have a lot in common: they talk less about themselves and more about their listeners.
To make your text engaging, check how often you've used the words I, we, me, and us. Now, count how often you've used the word you.
Don't blabber on about me, myself, and I. Engage your reader by addressing him with the word you.
Essential tool of conversational writing #2
We've all met the type of girl (or guy!) who can't stop talking … about celebrity gossip, her love life, and the weather forecast for the coming weekend.
Well, that's no conversation, is it?
A good conversation includes questions.
Have you noticed how I've included questions in this blog post?
When your reader is gliding through your text on auto-pilot, a question slows him briefly down as his brain starts thinking about the answer. Questions make your readers pay attention and give them the feeling you're having a conversation.
Sleazy salesmen use exclamation marks. Good conversationalists use question marks.
Conversational writing is not just about HOW you write
You listen well, you ask questions, and you give your readers space to breathe.
But the conversation is missing something, isn't it?
Each time you "chat" with your reader and drink a cup of tea together, give them a slice of your best home-made cake.
A virtual slice of cake is a tip your readers can implement today or tomorrow. Make sure your cake … eh … tip is so good, that next time your readers see your email popping up, their mouths start watering – they crave reading your next post.
Special thanks to Kerstin Castle who gave me the idea for this post.