Sensory language spices up your writing and allows readers to experience your words as if they're living your story.

How to use sensory details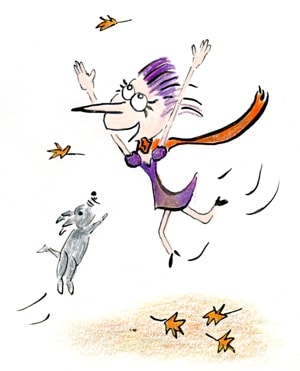 Aarggh …
A thumping headache.
Does it ever happen to you?
You should work, but you can't. You don't want to deal with your to-do list, an overflowing inbox, an incessant stream of tweets.
You find your walking boots and get out.
The smell of rain lingers in the air. A gentle breeze soothes your aching head. You watch the sun rays play with the golden leaves.
Can you picture the scene?
That's because of the sensory details
You might think that sensory words are for poets and novelists. For creative spirits. Not for serious business people like you and me.
But that's not true.
Using sensory language can help you captivate your audience—a business audience, too. Sensory language helps readers experience your words, almost as if they're present, right in the middle of your story. What's more, sensory details add personality and flavor to boring content, helping you stand out in a sea of grey voices that all sound the same.
Shall I explain?
The science behind sensory words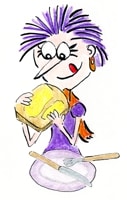 Sensory words are more powerful and memorable than ordinary words because they make your reader see, hear, smell, taste, or feel your words.
When reading non-sensory words, your brain processes text. But when you read sensory words different areas of your brain light up. Your brain processes sensory words as if you taste a sweet cake, as if you see a dazzling display of colors, as if you feel a rough texture.
And we also know from research that when we can hold a product the desire for the product increases. Might we be able to increase desire simply by using sensory words so people can imagine holding our products?
Sensory words can even boost sales. Research into menus suggests that describing dishes using sensory words makes more people buy them.
So, sensory words are truly magic.
What are sensory words?
Sensory words are descriptive—they describe how we experience the world: how we smell, see, hear, feel or taste something.
Words related to sight indicate colors, shape, or appearance. For instance: gloomy, dazzling, bright, foggy, gigantic.
Words related to touch describe textures. You can use them to describe feelings and abstract concepts, too: gritty, creepy, slimy, fluff, sticky.
Words related to hearing describe sounds. For instance: crashing, thumping, piercing, tingling, squeaky. Often these words mimic sounds—that's when they're called onomatopoeic.
Taste and smell are closely related. Most taste and smell words are easy substitutes for bland words like good, nice, or bad. For instance: zesty, tantalizing, sweet, stinky, stale.
Motion is sensory, too. By using active words or describing movement, you help your readers experience your words. For instance: vibrating, soaring, mind-boggling, staggering, bumpy.
You can create a multi-sensory experience in your writing. Here's an example from Benjamin Myers' book The Offing:
Sitting here now by the open window, a glissando of birdsong on the very lightest of breezes that carries with it the scent of a final incoming summer, I cling to poetry as I cling to life.
Within one sentence Myers shares a visual detail (the open window), an auditory detail (a glissando of birdsong), a sense of motion and touch (the lightest breeze), and a sense of smell (the scent of the incoming summer).
But sensory words are not just for novels …
How to appeal to the senses in business writing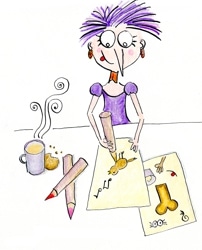 In business writing, we don't need to write sentences as poetic as Myers' sentence above.
We can add a touch of poetry by using one or two sensory words—to make our writing more vivid and to shape a stronger writing voice.
You can find opportunities to use sensory words almost everywhere—in headlines and email subject lines, on your About page, in product descriptions, business emails, or e-newsletters.
For instance:
A headline without sensory words:
5 Tips for Turning Boring Information Into a Practical Tutorial
With sensory words:
5 Tips for Turning Drab Information Into a Tantalizing Tutorial
A business email without sensory words:
Unfortunately, I'm currently too busy to take on new projects.
With sensory words:
Unfortunately, my schedule is jam-packed; and I'm unable to squeeze in new projects.
A product description without sensory words:
These long-lasting cabinets are made from the best material, guaranteed for 10 years.
With sensory words:
These cabinets remain squeak-and-creak free. That's guaranteed for 10 years.
A bio without sensory words:
Irreverent copywriter on a mission to eradicate gobbledygook and to make boring business blogs interesting.
With sensory words:
Irreverent copywriter on a mission to stamp out gobbledygook and to add sparkle to business blogs.
A sentence without sensory words from a blog opening:
Imagine your writing is slowing readers down.
With sensory words:
Imagine your readers trudging. Their shoes feel heavy. Squelch. Sploosh. Squelch. Sploosh.
Sensory details inject a dose of personality into your writing. They make your writing stand out, and help readers picture the scenes you're describing.
Amplify your words with sound symbolism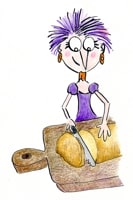 There's a little-known category of words that can make your writing even more expressive.
You may have heard of onomatopoeic words?
Onomatopoeic words express a sound such as to squeal, whoosh, or boom!
But there's a different, more subtle category of words. Words with sound symbolism are associated with a specific sensory experience. For his master's thesis, James Harbreck studied such words and found that their usage has been increasing over the last two centuries.
Harbreck mentions examples like:
Words starting with gl– are associated with light, such as glint or glimmer
Words ending with –irl or –url often relate to circular or spiral motion or shape such as curl, swirl, whirl, or twirl
Words ending with –ump tend to be associated with roundness or heaviness, such as lump, clump, hump, or rump
According to Harbreck, words with sound symbolism (more here) are used more regularly in fiction than non-fiction.
But we can change that.
We can use such words to make our writing glitter and glow more brightly.
The truth about captivating your audience
You can use the same words every business writer uses.
It's a quick way to write a lot of text. But you sound the same as everyone else, and the noisy internet machine drowns out your words. Your message gets lost.
So, try to release your inner poet and pick your words with care and precision.
Make your readers crave your next article.
Get them to fall in love with your writing, and get them to fall in love with your voice.

A list of 75 sensory phrases
Sensory language #1: Visual words
Visual words allow you to paint vibrant (or gloomy) pictures.
What are you seeing? What's the size? What's the light like? What are the colors?
Examples of visual words:
Gigantic
Teeny-tiny
Bulky
Glitter
Sparkling
Shimmering
Shiny
Glowing
Crooked
Hazy
Shadowy
Gloomy
Drab
Murky
Dull
Knotty
Vibrant
Sensory language #2: Tactile words
Tactile words allow readers to sense the silky-smoothness of your words.
How does something feel when you touch it? What's the texture? The temperature? How does the humidity or pressure of the air feel?
Examples of tactile words:
Fluffy
Gritty
Rough
Smooth
Slimy
Sticky
Creepy
Crisp
Hairy
Chilled
To stifle
Woolly
Crisp
Sensory language #3: Auditory words
Auditory words allow readers to hear what's happening.
How does someone's voice sound? What kind of sounds are made? Is it loud or soft?
Examples of auditory words:
Buzz
Hubbub
Humming
Faint
Deafening
Squeaky
Earsplitting
Serene
To sizzle
To hiss
To shriek
Snappy
Boom!
Roaring
Thundering
Crunchy
Sensory language #4: Words related to taste and smell
Words related to taste and smell help you turn a bland text into lip-smackingly tasty writing.
What kind of aroma is there? Is it natural or artificial? Strong or subtle? Pleasant or repulsive? And does something taste sweet, sour, savory, salty, or bitter?
Examples of words related to taste and smell:
Bland
Rotten
Fragrant
Stale
Juicy
Stinky
Gooey
Bitter
Yummy
Lip-smackingly
Pungent
Zesty
Sweet
Spice
Sensory language #5: Motion words
When you use strong verbs to describe motion, readers experience the motion as if they're there, too.
Is the car swerving? Is the flight turbulent? Is the sea choppy?
Examples of motion words:
Soaring
To resonate
To breeze through
Staggering
Blown away
Paralyzed
Eye-popping
Gobsmacked
Shocking
To grab
Jaw-droppingly good
Turbulent
Choppy
Swirling
To wriggle