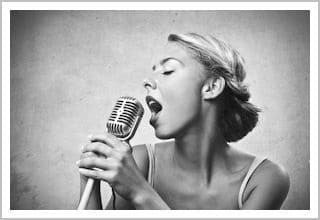 Of course you don't write stuffy, boring essays.
You don't want to sound like a corporation. You want to sound human. You want to sound like you.
You avoid gobbledygook. You write short sentences. You include stories to keep your readers awake. You write with passion.
When you write with a strong voice, it's so much easier to connect and engage with your audience; and to write blog posts that get shared and commented on.
But does creating your own blogging voice seem hard?
It shouldn't be so difficult. You just have to know how to steal from different blogging styles and blend them together to create your own unique voice.
Let me explain…
Last Saturday it was a raining
It was cold, grey, and windy. A miserable day.
Instead of going on a bike ride, I decided to prepare my favorite curry.
It takes me about five hours to prepare and cook Beef Rendang; and it fills the house with a wonderful aroma that reminds me of holidaying in the Far East. Forget the dreary weather. Relax and think of colorful food markets; long, lavish lunches; and cycling through plantations. I could almost feel the sun warming my skin.
The first time I made Beef Rendang was about 11 years ago. I found a recipe in a rather bland-looking paperback. I'm not good at following orders, so I cooked my own interpretation – fewer chilies, more coriander and cumin, no potatoes.
When you develop your blogging voice, you follow a similar process.
Nobody is born with a style or a voice. We don't come out of the womb knowing who we are. In the beginning, we learn by pretending to be our heroes. We learn by copying. ~ Austin Kleon (tweet this)
Find a blogger you like. Don't outright copy what he (or she) is writing, but study his copywriting techniques:
Why do his opening paragraphs entice you to read a post?
How do subheadings compel you to read on?
What's the overall writing tone of his blog posts? Why does he speak so strongly to you?
What makes you smile? Or nod in agreement? When do you sigh because he understands so well how you're feeling?
How long are the posts? How are they structured?
How short are the paragraphs and sentences?
Does he have any favorite words?
Does he use metaphors? How does he share details about his life?
Are his blog posts inspirational, entertaining, or useful, or a mix?
How do his closing paragraphs make you feel better or encourage you to take action?
Create your own swipe file with favorite openings, conclusions, metaphors, paragraphs, and words. Read your swipe file, analyze it, and read it again and again.
When I started blogging, I analyzed how Jon Morrow writes. But no matter how hard I tried, I failed to imitate him well. Some of his writing just doesn't sound like me so I adapted and polished my writing in my own way.
No matter how hard you try, your imitation of someone else's blogging voice won't be perfect. Embrace this lack of perfection, because it's the start of developing your own voice.
I've cooked Beef Rendang many times
Each time I cook it, it evolves a little. I've followed suggestions from different recipes – like adding a cinnamon stick and palm sugar, which tasted great.
In 2010 I cycled along the west coast of Malaysia and had the opportunity to taste various versions of Beef Rendang. It became almost an obsession to try to understand what was different about it. More lemongrass? More garlic? More galangal? Or less ginger?
To develop your blogging voice you need to find two or three voices you like. How do these voices differ from your first blogging hero? What do you like so much about them? How can you integrate some of their techniques into your blogging style? Study the writing techniques of a small selection of bloggers and add examples of stuff you like to your swipe file.
Once you start mixing different styles, something magical happens. You start hearing your own voice. You learn what makes you different. That's when you start creating your own distinct voice.
Your own unique blogging voice
Having a strong blogging voice is about voicing your opinions, being a leader, and a strong dose of personality.
Stop worrying whether people might think you're crazy. Let your personal quirkiness shine through.
Feel free to be different, eccentric, or even a bit weird. Because that's how you connect, and engage, and grow your blog following.