Proper punctuation is both the sign and the cause of clear thinking.

~ Lynne Truss (Eats, Shoots & Leaves)
Yeah, yeah.
But who really cares about punctuation?!?
Writing is hard enough. You must think about writing proper sentences, choosing the right words, and avoiding spelling mistakes. Who has time to worry about commas and full stops?
Isn't worrying about commas and semi-colons for grammar freaks and pedantic teachers? For poets and writers with too much time to ponder away?
I was working on the proof of one of my poems all the morning, and took out a comma. In the afternoon I put it back again.
~ Oscar Wilde
In the past years, I've come to understand that I've been wrong about punctuation. These humble marks in our writing matter more than I thought.
Punctuation changes your voice. We can sound more excitable. Or authoritative. Or empathetic. We can build suspense. Make readers stop, or get them to rush ahead to the next paragraph …
Want to know how?
The most powerful punctuation mark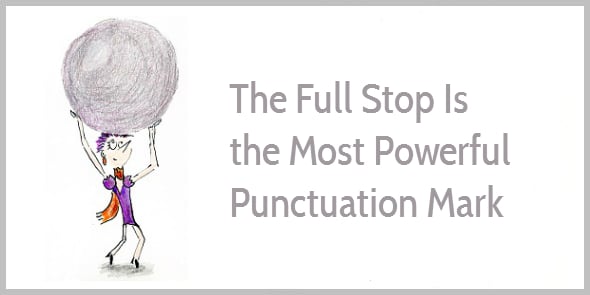 It's an easy mistake to make.
Many writers think the exclamation mark adds power to their voice. But that's untrue. The real power comes from full stops.
For instance, read this final paragraph aloud:
Your job as a blogger is not simply to write tutorials, to share tips, facts, and advice.

A useful tip that's not implemented is like a riveting book that's never opened. It's forgotten and useless.

Instead of acting solely like a blogger dishing out your tips, become a mentor for your readers, a chief of your village, a leader of your tribe. Fire up your tribe and jump-start their actions because your readers are waiting for you.
It fizzles out a little, doesn't it? It doesn't make you feel excited about your blogging journey.
Here's an alternative version with more full stops:
Your job as a blogger is not simply to write tutorials.

Your job is not to share tips and facts and advice.

A useful tip that's not implemented is like a riveting book that's never opened. It's forgotten and useless.

You're not simply a blogger. You're a mentor for your readers, a chief of your village, a leader of your tribe.

Come on. Fire up your tribe. Jump-start their actions.

Your readers are waiting for you.

Using more full stops is the easiest way to invigorate your words. To add stress to specific phrases. To become more authoritative and inspirational.

But be careful. Don't use full stops all the time as it would make the rhythm of your writing too monotone.

How to add a soft pause

If the full stop is a sign of power and authority, then the comma is a quiet whisper, creating a soft pause rather than an abrupt end.

The comma makes your text flow softly—like a lullaby of undulating sentences disappearing into the distance, sometimes turning into a wild river when a multitude of commas is used in one sentence.

Here's an example of a sentence with 15 commas:

It was the best of times, it was the worst of times, it was the age of wisdom, it was the age of foolishness, it was the epoch of belief, it was the epoch of incredulity, it was the season of Light, it was the season of Darkness, it was the spring of hope, it was the winter of despair, we had everything before us, we had nothing before us, we were all going direct to Heaven, we were all going direct the other way—in short, the period was so far like the present period, that some of its noisiest authorities insisted on its being received, for good or for evil, in the superlative degree of comparison only.

~ A Tale of Two Cities, by Charles Dickens

If you replace all commas in the above sentence with a full stop, then the whole atmosphere of the sentence changes and the text becomes difficult and monotonous.

Play around with commas and full stops in your writing. Notice how it changes your voice.

My favorite punctuation mark

You may think that writing is a monologue. You are the writer. You share your thoughts.

But empathetic writers engage their readers with questions.

How?

Here's an authoritative opening paragraph without question marks:

Most bloggers wish they'd gain more email subscribers when they publish guest posts.

You might work hard to establish connections with editors and share your most valuable tips in your guest posts. But if you ever feel disappointed with your guest post performance, then follow the tips below to get more email subscribers.

Here's the more empathetic version with questions:

Ever wanted to know how you can gain more email subscribers when you guest post?

You work hard to establish connections with editors. You share your most valuable tips. You polish your writing until each word shimmers and shines.

But when your article goes up?

You feel a tad disappointed.

Why don't more people join your email list? What's stopping them?

Note the difference in tone?

Next time you edit your writing, try a few extra questions, and see how it changes your voice.

The exclamation mark hints at lazy writing

If the question mark engages, the exclamation mark repels.

Why?

Because it's overused! Or worse!!!

As HubSpot points out in their educational flowchart, only use an exclamation mark for real exclamations. Whoa! Let's go!

In other cases, use powerful words instead of exclamation marks. Instead of writing She's popular! try She's mega-popular or She has a raving following.

Good writers choose their words with piercing precision so they don't need to opt for lazy exclamation marks.

How to Use Punctuation to Fine-Tune Your Voice

There is an underlying rhythm to all text. Sentences crash and fall like the waves of the sea, and work unconsciously on the reader. Punctuation is the music of language. As a conductor can influence the experience of the song by manipulating its rhythm, so can punctuation influence the reading experience, bring out the best (or worst) in a text.

~ Noah Lukeman, A Dash of Style: The Art and Mastery of Punctuation

Stop thinking punctuation is for grammar sticklers and pedants.

Punctuation matters.

Start playing with commas, full stops, and question marks. Read your text aloud, and notice how your voice changes.

Have fun!

PS Thank you to Véronique for inspiring this post.

PPS Want to learn how to use punctuation correctly? The online punctuation guide is useful, including lots of examples.

Reader Interactions