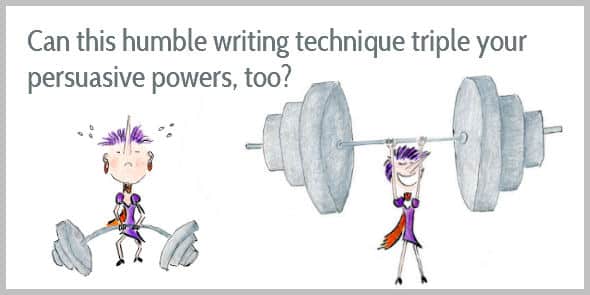 Does the idea of selling make you choke?
Does selling remind you of cheap aftershave, an ill-fitting suit, and a cigar?
If you'd believe in reincarnation, then salesmen would return as slimy, slippery worms. The lowest of the lowest of the animal kingdom. Right?
Well, time to wake up.
You've been selling all your life.
Yes. You, too.
As a baby you cried and persuaded your mother to pick you up, cuddle you, and nurse you.
As a youngster you justified your opinions with passionate arguments. And later you persuaded your first boss to hire you.
Your social media profiles announce who you are and what you do. You sell your ideas. You persuade people to listen to you, to believe in you, to trust you, and to follow your advice.
That's all sales.
And today, you can learn a writing technique to boost your persuasive powers. This trick is not creepy. The opposite is more true: this trick makes you feel more human, natural and humble.
And the craziest thing?
This trick is as simple as using more questions in your sales material.
Bizarre? Yes. Effective? Certainly.
Let's see…
What does science tell us about the persuasiveness of questions?
In his book To Sell Is Human, Daniel Pink describes how questions outperform statements when trying to persuade others. For instance:
Robert Burnkrant and Daniel Howard of Ohio State University tested the potency of a series of short pitches to a group of undergraduates. At issue was whether universities should require seniors to pass a comprehensive exam as a condition of graduation. When the researchers presented strong arguments for the policy as questions (e.g., "Will passing a comprehensive exam be an aid to those who seek admission to graduate and professional schools?"), the participants were much likelier to support the policy than (…) when presented with equivalent argument as a statements.
A question makes your reader or listener think and process your message more intensely. You make them feel independent. They can make up their own mind and endorse your message with more conviction.
Questions, however, don't always work better. Here's Dan Pink again:
[W]hen the underlying arguments were weak, presenting them in the interrogative form had a negative effect.
A question is more persuasive than a statement—only if the listener or reader agrees with you, so choose your questions carefully.
Joseph Sugarman already advocated the idea of answering your reader's questions as they come up in their minds. Here's an example of an advert written by his 8-year old daughter April:
Headline: The Best Pet

Subheadline: Do you want a pet that doesn't shed?

Copy: Think about it. You can get a pet that doesn't shed, doesn't run around the house, and is easy to take care of.

You have probably guessed it's a rabbit, bird, fish or a turtle. Well, you're wrong. It's a guinea pig.

You probably want to know how do you take care of the guinea pig? Where should you keep it? What does it eat?

It's all simple. If you don't have a guinea pig cage, then get a box high enough so it won't get out and large enough so it can run around.

Feed it guinea pig pellets and feed it a couple of fresh greens. Put plastic at the bottom and newspaper on top then at least an inch high of shavings. Put a bowl in for food and a water bottle for water.

That's all you need to know. To order, call [phone number] and order today.
Isn't that an easy format for writing sales copy? Ask a question. Give an answer. Even an 8-year old can do this!
Asking questions makes your reader part of the conversation
Don't you do the same in face-to-face situations? When I don't know what to say in a social setting, I ask a question.
Social Media Examiner starts all their blog posts with two questions. Here's an example from a post by Andrea Vahl:
Want to make your Facebook marketing more mobile?

Curious about what you can and can't do from your phone with Facebook apps?

Facebook has a variety of mobile apps, from pages, to groups, to ads, that keep you connected while marketing on the go.

In this article you'll learn about the different capabilities of each of the mobile Facebook apps that are available today.
Readers don't want to be sold to. They want to be engaged. And they want to make up their own mind.
Questions are your super-tool to draw people into your copy, and to find the right people for your services. Buffer entices us to sign up with a question, too:
Can we give you a hand with social media?
Our simple social media tools can save you up to an hour a day and grow your traffic, too!
Once readers have answered your question with a yes, they're more likely to read on and sign up to your service or join your newsletter. Psychologists call this the consistency principle—we don't like to be inconsistent with ourselves, so once we say yes, we're more likely to say yes to a follow-up question.
Appsumo uses a question in their subhead to empathize with the readers, who would find their course useful:
Have you failed at starting a business or failed at trying?
If you have failed at business, you feel the Appsumo course is created for you.
In the past, selling was almost one-way communication. Salesmen knew more than consumers and bullied them into buying.
But consumers have grown up. We google questions to look for answers. We read reviews. We compare products. We can make purchase decisions ourselves.
Questions increase email open rates
Many marketers use exclamation marks to attract attention to their emails.
Is that effective?
It appears not. This is what Retention found when researching subject lines:
[S]ubject lines with question marks have open rates 44 percent greater than those with exclamation points
AppSumo, who are masters in email marketing, know how to use question marks in subject lines. A few examples:
Are you still there?
You still haven't written your book?
If Isaac Newton used mindmaps, why aren't you?
Is Spotify making you less productive?
Use WordPress? You need this
Questions can also increase your social media traffic
Roger Dooley describes how Norwegian researchers investigated the impact of questions on clicks on Twitter. They researched three types of tweets:
Statements such as: The hunt for status in the advertising business
Questions without "you" such as: Why are advertisers so obsessed with winning prices?
Questions with the word "you" such as: Is your boss intoxicated by power?
Across different topics, questions outperformed statements every time. In some cases, clicks more than tripled. Also, questions with "you" tended to outperform questions without "you."
Psychology Today often uses questions in their headlines. A few examples:
And a few examples of Psychology Today headlines including "you":
Do these headlines make you itch to find out the answers to the questions, too?
These are the three most shared posts on Enchanting Marketing this year so far:
Notice how two of the three include questions, too?
They follow my favorite headline template. But beware: Use a headline template too often and it loses its appeal. Readers start thinking they've read your article already.
Like with everything in life, use question marks in moderation.
The 'secret' to engaging your readers with question marks
Pushy sales people use exclamation marks. Good conversationalists use question marks. (
click to tweet
)
Asking questions is one of the most important conversational tools. When talking. And when writing.
But be clear about who you're having a conversation with.
What question would he like to ask? And get you to answer?
Which questions make him so curious he feels compelled to read your post?
Don't ask too many questions or the inappropriate ones. Don't be condescending and don't sound like an old-fashioned school master testing your reader's knowledge.
The best conversations are with people who empathize with you, who challenge you, and who know what questions to ask.
PS This blog post was inspired by Daniel Pink's book To Sell Is Human, a blog post by Roger Dooley, and a post by Kitty Kilian (in Dutch).