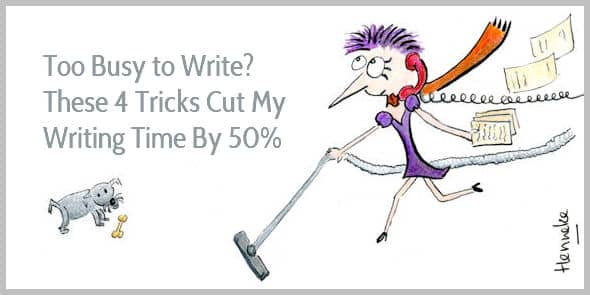 Does writing feel like a painful process?
We've all been there.
You want to write, but you can't. You're staring at a blank sheet. You're racking your brain.
And precious minutes are ticking by.
You feel irritation creeping up. Why are you wasting your time? Why is writing such a difficult, painful, energy-sucking, agonizing, grueling, and torturous process?
Can't writing be simpler? Can't you write quicker?
Yep, you can. You can write faster, create better content, and have more fun. All at the same time.
Sound impossible?
Let me tell you how I did it …
1. Skip the biggest time suck
Want to stop wasting your time?
Start with defining your message. Before outlining your post, think about your favorite reader and answer these questions:
Which problem does your post solve?
This post helps solve the problem of not having enough time to write
How does your post transform your reader's life?
Feel more in control of writing and enjoy it more
What do you expect your reader to do after reading your post?
Adopt a more structured process to writing
Why will your reader believe you and follow your advice?
Other artists also follow proven structures. I can show how I saved time. A couple of research results.
Writing sales copy? Ask yourself these questions instead:
Which problem does this product solve?
E.g. This app helps save time when posting on multiple social media channels
How does your product transform your reader's life?
She becomes more relaxed because she doesn't need to log in to Twitter every hour of the day
What do you expect your reader to do after reading your web page?
Set up a trial
Why will readers trust you?
Testimonials from other users
If you know what your content must achieve, you write both faster and better. Your content becomes more persuasive because you focus on your reader. You help. You encourage. You inspire.
2. Allow time for percolation
Imagine you've picked a topic for your next post.
Let's say you want to write about packing for a long-distance cycling trip. What should you do next? Start writing? List your packing tips? Compose an attention-grabbing headline?
Sometimes, the best thing is wash the dishes or get out on your bike first.
Sound crazy?
Research has shown, that when we know we need to perform a creative task later, we unconsciously process the task and improve our creativity. Psychologists call this incubation time.
This is how I structure the blog writing process to take advantage of percolation and write faster:
On day 1, pick a topic and write a working title. My working titles are usually how-to's because that helps me stay focused on solving a specific problem for my readers. For instance: How to Write Faster. (I keep notebook with ideas for blog posts, so I'm never stuck with this first step.)
On day 2, outline content—write down one bullet point for each section of your post. For this post, I wrote down draft subheads only.
On day 3, write a first draft—silence your inner critic by writing as fast as possible. My first draft is usually the main body of the blog post only (without opening and closing paragraphs).
On day 4, edit your draft—eliminate redundant sections, review each sentence and improve word choice, and read your content aloud to improve rhythm. On this day I also write my opening and closing paragraphs, and finalize the headline.
On day 5, format in WordPress, proofread, and do a visual check—add bullet points and chop long paragraphs to ensure your content looks inviting and easy to read.
The process is similar when I write web copy for clients. On day 1, I do research (sometimes this takes several days). On day 2, I outline and plan the copy. On day 3, I write a first draft. On day 4, I edit. On day 5, I edit a little more before sending the draft to my proofreader.
Splitting the writing process over several days has probably made the biggest impact. I write faster. My content gets better. And I enjoy writing more, too.
Combine this 5-day plan with the next step and you can virtually eliminate writing stress …
3. Beat first-draft-hell with a timer
This might surprise you …
I hate writing.
I love editing, but I hate writing a first draft. I'd rather do the laundry, empty the dishwasher, or go grocery shopping than start writing my first draft.
But I've learned to get my first draft out of the way as quickly as possible by writing it first thing in the morning. Before breakfast.
I'm not an early-morning person. I like to wake up slowly. I don't feel energetic in the morning. But my groggy mind is surprisingly fast—it concentrates on doing this one sucky task as quickly as possible.
If you're a morning person, you might want to try the opposite approach and write a first draft later in the day. Because research shows we're most creative when we're at our groggiest.
So, before breakfast, I sit at my desk with a cup of tea and open only a Word document to avoid any distractions. I set the Focus Booster for 25 minutes and try to write as fast as I can. I make another cup of tea, and then set the timer for another 25 minutes. I'm getting hungry now, so I write even faster.
Do whatever it takes to fool your mind and get your first draft written. Stop worrying about choosing the right words. Stop dithering about punctuation. Get those sentences written down. Type as furiously as you can.
Editing and polishing can be done later.
4. Use a proven template
Writing isn't conveyor-belt production (of course not!).
Writing is an art.
A template doesn't strangle your creativity. Instead, it channels your creativity to help you engage, persuade, and inspire your readers.
Novels often follow an 8-point arc. Sitcoms follow a proven structure. Even Picasso copied scenes of other artworks.
Most of my blog posts follow this template:
In the opening paragraph, I empathize with a problem and promise you a solution. The opening paragraph of this post, for instance, empathizes with the struggle to start writing and I promise you a method for writing faster.
In the main body of a blog post, I write down a series of tips in logical order. I've numbered the steps in this post, but you don't have to do this.
In the closing paragraph, I encourage you to implement my advice by giving a pep talk or taking away your biggest objection to taking action.
Whether you're writing landing page copy or a product description, you can follow proven templates. Find an example you like. Analyze its structure, and notice how the parts fit together.
Writing faster isn't your ultimate aim
Writing faster doesn't mean lowering your quality standards.
The opposite should be true.
Aim to write better content.
Be more useful. More engaging. And more seductive.
PS
Want to know the figures?
In the past, I didn't measure how long it took to write a blog post. But my estimate is between 6 and 8 hours. I now write a blog post in about 3 hours—sometimes even in 2½. I probably take more time for editing than most.
My posts are around 1,000 words. This one is 1,212 words.