Outlining helps structure your ideas, so you can write faster and more clearly.

How to outline a blog post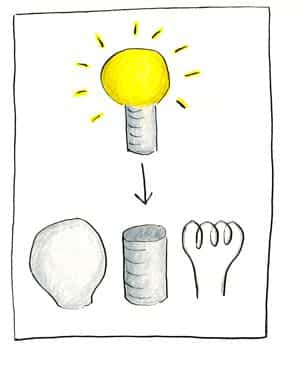 Harry is scratching his head.
He stares at his draft text, while sipping his coffee.
Why does his writing feel like a mess? What is he actually trying to communicate?
Somehow his message has gotten lost in his writing frenzy, and now he wonders how he can turn this rough draft into a decent blog post. Revising feels like a big task.
Sound familiar?
Structuring a blog post becomes easier when you first outline your thoughts. An outline not only helps you communicate your ideas more clearly, it also helps write faster and with more ease.
Shall I explain?
Why outline?
Imagine cooking a celebratory feast …
You have a delicious starter to prepare. Perhaps an amuse bouche, too. You have several main dishes that all need to get on the table at once. And then there's dessert. Plus coffee, cognac, and chocolates.
Would you start cooking without a plan?
That would be disastrous, wouldn't it?
You know you need to plan in advance, so your perfectly char-grilled steak doesn't go cold while you're steaming asparagus and preparing pepper sauce.
When you cook a festive meal, you avoid experimentation, and implement a carefully thought-out plan.
So, what do you do when you write?
Writing is, of course, not the same as cooking. But just like with cooking, you can create a plan of what to write. That plan is an outline.
What is an outline?
An outline summarizes the content of a blog post. It helps structure your blog post so you can communicate your message more clearly and so you can create a blog post faster.
An outline explains briefly:
The key message: Which problem does the blog post help solve or which aim does it help achieve?
The essential tips: Which steps or tips should people follow to solve that problem or achieve that aim?
The questions a blog post will answer: Not every blog post comprises a series of tips; listing the questions a post will answer is a useful alternative.
Additionally, an outline can include:
Who the blog post is written for
Any essential context that helps readers follow the tips or steps
Any objections that need to be taken away so readers are more inclined to follow the tips
An outline can simply be a series of bullet points. Each bullet point summarizes the essence each section of your blog post.
An example of an outline
The outline for the blog post you're currently reading is:
Opening paragraph: Empathize with readers' feeling that structuring a blog post can feel cumbersome and promise that outlining will help create better blog posts faster.
Essential context: Explain the benefit of outlining by comparing it to cooking a dinner party.
What is an outline?
Example of an outline (that's what you're reading right now)
How to create (and use) an outline
An alternative to outlining: freewriting
Closing paragraph: Take away the objection that an outline stifles creativity and encourage readers to try using an outline to clarify their thoughts, simplify their message, and write faster.
If you skim this blog post, you can see there are 7 different subheads—that's one for each section as outlined above.
You may also have noticed that the content overview at the top of this page (here) provides a slightly shortened version of the outline—it excludes the opening and closing paragraphs.
How to create an outline
Outlining is the second or third step in the writing process.
The first two steps are research and generating ideas. If you write about something you know, you can skip the research phase.
The best blog posts ideas are on the sweet spot of what helps your readers and what you feel eager to share:
Think about your reader: How will your post help them? Which aim do you help them achieve? Or which problem will you help solve?
Consider your own interests: What do you feel excited to write about?
Once you've selected, vetted, and researched an idea, you can create an outline for it. Think about the steps a reader must take to achieve an aim or solve a problem, or consider the questions your reader might ask about your idea.
When I wrote this blog post, I imagined you asking: What is an outline? Can you give an example of an outline? How do you know your outline is good? How do you actually create an outline? Do you always need to create an outline? As you can see, these questions formed the basis of the outline for this blog post, and I'm answering them one by one.
It can help to let your idea simmer for a day or two. I often pick an idea I want to write about, mull it over in my mind during a walk or when I wake up the next day. I write the outline the day after I pick the idea.
How do you know whether an outline is good?
As a rough guide, an outline for an average blog post (900 – 1,200 words) will include 3 to 5 tips or sections plus an opening and final paragraph. If your outline includes many more sections, then you can either write a longer post or spread your idea over series of blog posts.
Do you always need to outline?
Sometimes, I have an inkling of an idea but don't really know the essence of my message. This is often the case when I write a more personal post, for instance, about the biggest lessons I've learned in a year.
When I need to figure out my message, I often freewrite a blog post. Freewriting means that you start writing without an outline. You use the writing process to discover what the essence of your message is. This is also called pre-writing, and what you're creating is a zero draft or discovery draft.
When freewriting, you may need to do more revision than when you're writing a first draft based on an outline.
A discovery draft can still be a bit messy—the ideas in the draft may be unorganized and the key message is buried. To structure and revise a discovery draft, a reverse outline can help. A reverse outline is an outline created after you've written a draft post.
To create a reverse outline, list the key thought for each section. Next, determine the right flow: Do the key thoughts follow each other logically or do you need to move sections around? Have you included any stray thoughts that can be removed? Are any key thoughts missing?
Freewriting can help you get unstuck and discover what you want to say. It can also help tap into your creativity and create more ideas. But the downside of freewriting can be that you may need to do more revision and the writing process may take longer.
If you freewrite your posts but find the process cumbersome, try to outline first.
An outline isn't a straitjacket
It's simply a tool to help structure your writing.
Sometimes, your first draft may show the gaps in your outline. Perhaps, you missed out a key point or a section turned out too long. In such a case, simply adjust your outline and restructure your post.
Writing is often an iterative process of thinking, structuring, writing, and then rethinking, restructuring, and rewriting until your message becomes clear. Outlining and reverse-outlining facilitates this iterative process.
An outline helps you decide what is relevant and what isn't. It helps create focus, so you can communicate your message more strongly.
Each idea will shine more brightly when you create a logical flow and cut away irrelevant paragraphs and sections.
And readers will be smoothly glide to your text, captivated from your first to your last word.
Happy writing!
PS This blog post was originally written on 29 April 2014. An expanded and revised version was published on 8 November 2021.