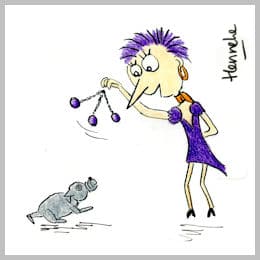 You've written your blog post.
You know what you want to say.
But will readers get your message?
You've chopped and changed the order of the paragraphs. You've polished each sentence.
After all that hard work, you're still not sure whether your blog post flows along nicely. Will readers stumble over a paragraph? Or effortlessly glide through your text?
Creating a hypnotic flow doesn't have to be so difficult.
Let's have a look at the 2 methods to create content and evaluate flow.
Imagine cooking a celebratory feast
You have a delicious starter to prepare. Perhaps an amuse bouche, too. You have several main dishes that all need to get on the table at once. And then there's dessert. Plus coffee, cognac, and chocolates.
Would you start cooking without a plan?
That would be disastrous wouldn't it?
You know you need to plan in advance so your perfectly char-grilled steak doesn't go cold while you're preparing pepper sauce and steaming asparagus.
When you cook a festive meal, you avoid experimentation, follow trusted recipes, and implement a carefully thought-out plan.
So what do you do when you write?
Do you follow proven recipes?
Writing is, of course, not the same as cooking.
You can follow tried-and-tested blog recipes, or you can try a more experimental method. Whichever method you follow, you need to evaluate the flow of your blog post. To make sure your content is easy-to-read, engaging, and persuasive.
Let's have a look at both writing methods.
Outlining a blog post first
Outlining a blog post is like following a proven recipe.
Before outlining, you brainstorm or mind map to consider what can be included in your post. You associate freely, considering related ideas. My favorite tools for brainstorming are pen and paper. I don't like using mind-mapping software. I prefer scribbling.
Outlining means bringing structure to your scribbles. You decide which post ideas you'll cover, and which you'll leave out. And you define a logical flow.
A common blog post outline covers the following points:
The opening paragraph describes what your post is about and why readers should make an effort to read it. How are you going to make them happier?
The main body of your blog post discusses the how–a series of tips or steps with or without examples.
The final paragraph includes a call-to-action, encouraging your reader to implement your advice.
When you review any of my blog posts, you'll find a similar pattern: An opening, a list of tips (sometimes numbered, but often not), and a final paragraph that reminds you to take action.
Outlining a blog post helps you write faster. You already know what you should cover, and more importantly, you've already decided what to leave out. You avoid writing paragraphs you later need to scrap.
Your outline is your check list to evaluate whether you've covered all your points in the right order.
But I don't always write an outline
Why not?
An outline feels restrictive.
A blog post is relatively short, and using an outline can strangle the flow of writing. Writing becomes more mechanical when you follow a strict outline. You don't get an opportunity to wander off to discover new insights.
Freewriting temporarily forces [our internal] editor into a subservient role, so you can get to thoughts that are raw, truthful, and unusual. It's from thoughts like these that big ideas are more likely to come. ~ Mark Levy (in: Accidental Genius)
When you freewrite your blog posts without an outline, you still have to ensure that your blog post follows a logical flow. That's what the reverse-outline is for.
A reverse outline is an outline written after you've finished your post. Rather than using an outline to restrict your writing, you create an outline to check your flow. You list the key thought for each section (a series of short paragraphs below one subhead). Then you check: Do the key thoughts follow each other logically? Have you included any stray thoughts that can be removed?
How to get your message heard
What you write is as important as what you leave out.
Don't distract your readers with funny asides if they are irrelevant. Don't slow your readers down with your darling sentences if they don't contribute to your argument.
Whether you outline or not, each blog post needs one key message. One big idea. One call-to-action.
Your blog post is good when you make your readers feel something, when you make them think, smile, or take action.
Whether you outline or not, doesn't matter
Experiment. Try a hybrid approach.
Follow the process that works best for you.
What matters most is that you're enjoying your writing process.
Because your readers notice it when you're having fun.