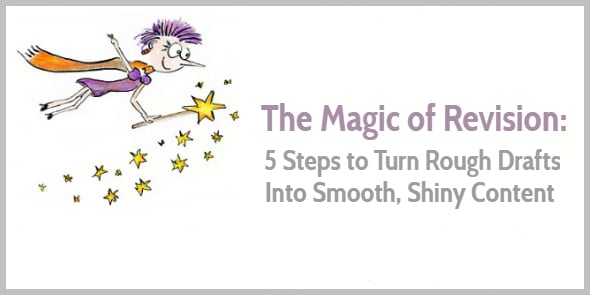 On Jan. 2nd, Heather browses her draft articles.
She doesn't feel like writing a complete blog post. Not this week.
Heather is surprised to find 31 drafts in her folder. Why did she never finish these posts? Surely, she thinks, one of them must be almost ready for publication?
Red-cheeked, with hope in her heart, Heather opens her documents. One by one. She reads an opening here, and scans the subheads there.
Slowly she loses her sense of optimism. These articles are no good …
Do you recognize the feeling?
Do you ever look at a first draft with despair?
Want to write faster and better? Get my best writing tips here > > >
Unfinished work is a burden
Unfinished drafts weigh you down and make you feel weary.
After all, you started a piece of content because an idea mattered to you. But somehow you lost direction, or motivation.
The key to finishing your work is to avoid falling into despair. So don't focus on what's wrong with your draft. Instead, focus on what's right.
When you find what's good in your draft, you can, step by step, turn any ramshackle draft into shiny new content.
Revision vs editing: What's the difference?
Strictly speaking, transforming a rough draft into good content requires revision, editing, and proofreading:
Revision means getting the content right; it's about the big picture.
Editing means making each sentence flow and choosing the right words.
Proofreading is about ironing out grammar and spelling mistakes, as well as checking punctuation.
In this post, I describe the whole 5-step process of revising, editing, and proofreading so you prepare your content for publication.
Revision step 1. Find your focus
What is the essence of your message?
In a blog post, it's the crux of your idea; in sales copy it's the most compelling reason to buy.
If you've outlined your content, you probably already know what the focus of your content is. You know what your reader should remember and you know what he should do after reading your content—such as implement your advice or click that Buy button.
But if you've freewritten your content, without a clear outline, the focus of your content might be blurry.
When I wrote my last post for 2016, for instance, the article started as a post about focusing on business essentials. I didn't have a clear outline, but a few ideas about what I wanted to include. I more or less freewrote the article, and when I reviewed my draft, I found that the essence of my year was not about business essentials, but about learning to accept who I am and what my limitations are.
Finding the focus in unwieldy content can feel tricky. Try to read your draft quickly and ignore any badly written sentences. Focus on the big picture: What's your writing about?
Questions you may find useful to find your focus:
What action do I expect a reader to take?
What's the most compelling reason why my reader would take this action?
Why does this article matter to me?
What surprises me most in this draft?
What do I find most fascinating in this piece of content?
How does my reader benefit from this?
Which problem does this article solve?
Even when you've outlined a post, you might discover a fresh idea or new nugget of wisdom while writing. Be open-minded and embrace these surprises because it'll make your writing better.
Revision step 2. Create content flow
How does your content take your readers on a journey?
Their journey is about the logical order of your paragraphs, about the flow of your ideas and how you build your argument.
How much you need to change the flow of your content varies from draft to draft. If you have a clear outline, you may simply check whether you've followed the logical flow of your outline.
If you've freewritten your draft, however, you need to review how each paragraph contributes to the essence of your message. Some paragraphs may be redundant, and you may need to re-order the remaining paragraphs.
To check your content flow, read your content relatively quickly again. You're still working at a high level, and rickety sentences are irrelevant, so ignore them.
While reading your content, list the key thought of each section and check:
Do the key thoughts follow each other logically?
Have you included any stray thoughts that can be removed?
Are any important ideas missing?
A good flow keeps your reader glued to your content, eager to find out the next part of your story or argument. So be careful to keep your focus and prune all unnecessary content.
Revision step 3. Add substance
Writing is a process of expansion and shrinkage.
In the first two revision steps, you've pruned unwieldy thoughts to focus on the essence of your message. Sometimes, this may feel like a scary process, and you may wonder whether you have any enough content left after all the pruning.
Don't worry. In step three, you add substance to clarify and illustrate your message. This step also helps boost your persuasiveness.
How do you add substance?
For blog posts, substance can be examples, case studies or quotes from authorities. For sales content, substance are specific details of your product (or service), or testimonials explaining how you transformed your client's life.
Once you've finished step three, you know the content of your writing is right, and now it's time to start editing sentence by sentence so you can make your content a pleasure to read.
Revision step 4. Sentence by sentence editing
Editing is when writing magic happens.
You transform ramshackle sentences into a pleasurable reading experience. You make your words shimmer and swing. You polish your words so you can communicate your message with piercing precision. You put a smile on your reader's face.
Editing is best undertaken in various steps to focus on one task at a time. The most useful editing tasks are:
Editing is most fun when you nurture a sense of play. See editing as an experiment. Try different words and play with different sentence structures. See what you like best.
And remember, no one way exists to phrase your thoughts, so don't strive for perfection. Consider limiting your editing time to avoid getting stuck and get your content ready for publication.
Revision step 5. Proofreading
During the revision process, dealing with our devilish inner critic can be tricky.
She keeps nagging us: That sentence sounds ugly. That word isn't quite right. Oops, what a silly grammar mistake.
Shutting up that voice is hard because you know some of the criticism is valid. But revising your content goes quicker, when you outpace your inner critic and ignore her comments during the first three steps. Tell her she can help when editing and proofreading.
To ensure you don't publish silly writing goofs, read your copy once or twice more. A few tips for spotting errors:
Read your text backwards; this is the best way to spot typos.
Use a spellchecker such as Grammarly.
Proofread on paper as you're less likely to skim the text; reading your content in a different font may help, too.
Focus on common mistakes like "they're" vs "their" vs "there"; and "you're" vs "your."
Spotting errors in someone else's writing is much easier than in your own. So consider finding a writing buddy and proofread each other's text. For important content, consider hiring a professional proofreader.
The magic craft of revision
When I started writing a few years ago, I kept frustrating myself.
I wasted time going back and forth. I corrected sentences before getting the flow of the content right. I experimented with word choice before figuring out what the essence of an article was. I despaired and doubted I could turn my rickety drafts into shiny content.
But I persevered. I learned how to move from the big picture to the nitty-gritty. I learned to trust the process.
Of course, we're all human beings. So my process is never perfect. I still edit a little while writing a first draft.
But the more I trust my process, the more I enjoy my writing.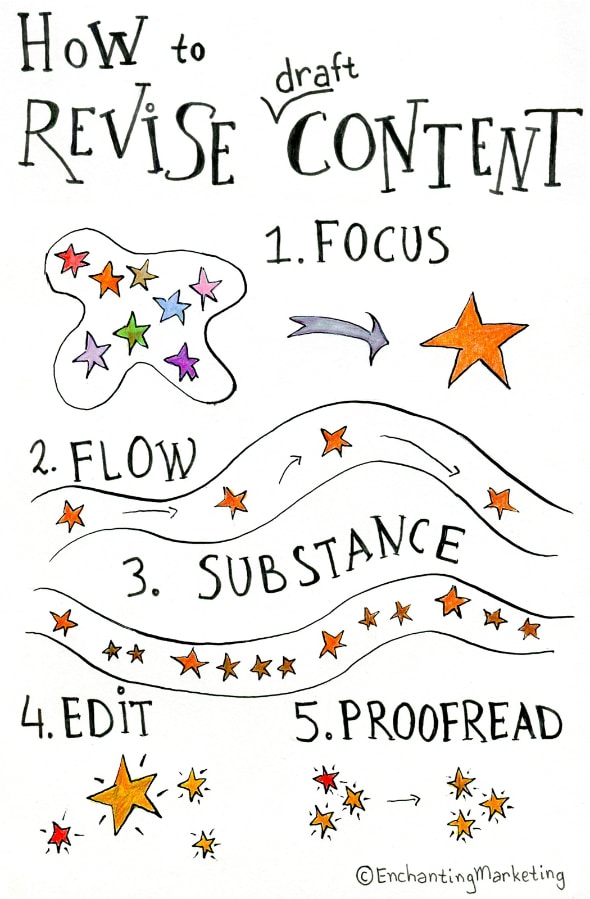 I've learned through writing the reward and the joy that comes out of just being really patient with a piece and patient with yourself.

~ Layli Long Soldier (in conversation with Krista Tippett in On Being)
Recommended course:
Write It, Don't Fight It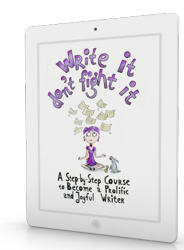 A Step-by-Step Course to Become a Prolific and Joyful Writer
"The tools to master the writing process are helping me write and get unstuck faster."
~ Isabel