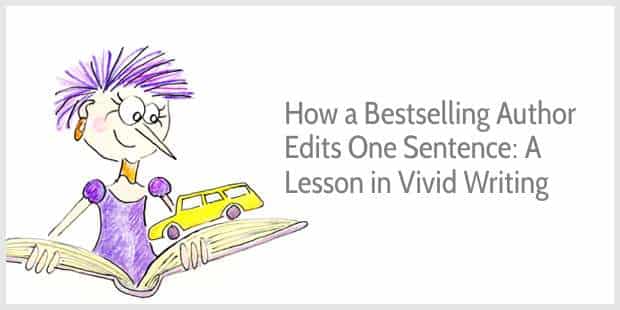 Do you ever wonder how others edit their writing?
Me, too.
So, picture my delight when I came across a fabulous example of revision …
By a bestselling author!
This revision is more fundamental than cutting a couple of words or ironing out a few typos.
The final version is longer, more vivid, and more dramatic than the rough draft.
Want to know more?
The rough draft
In her book The Art of Memoir, Mary Karr discusses the importance of revision, and she shows us a rough draft of a sentence from her memoir Lit:
Mother drove me to college in our yellow station wagon, and every night we stayed at a Holiday Inn, where we got drunk on screwdrivers.
What's up with that sentence?
At first glance, it looks okay. It's grammatically correct. It has some visual detail (the yellow station wagon), and it feels like the start of a story: Why did they get drunk on screwdrivers?
So, why did Karr revise that sentence?
The edited version
In the final version of Lit, Karr has replaced that one sentence by the following two paragraphs.
This is how the second chapter starts:
Mother's yellow station wagon slid like a Monopoly icon along the gray road that cut between fields of Iowa corn, which was chlorophyll green and punctuated in the distance by gargantuan silver silos and gleaming, unrusted tractors glazed cinnamon red. Mother told me how the wealth of these farmers differed from the West Texas dirt farmers of her Dust Bowl youth, who doled out mortgaged seed from croaker sacks.

But because I was seventeen and had bitten my cuticles raw facing the prospect of fitting in at the private college we'd reach that night—which had accepted me through some mixture of pity and oversight—and because I was split-headed with the hangover Mother and I had incurred the night before sucking down screwdrivers in the unaptly named Holiday Inn in Kansas City, I told Mother something like, Enough already about your shitty youth. You've told me about eight million times since we pulled out of the garage.
What a difference, eh?
The writing has become sensory, almost like a movie.
We could debate whether the first sentence of the revised version is a bit too long with too many details. But read it slowly and you can see the yellow station wagon sliding along the gray road. You can imagine the landscape: The fields of corn, the silver silos, and the red tractors. You can almost hear Karr's mother talk about the poverty of the farmers she knew in her youth.
There's also emotional tension. You can picture 17-year-old Karr, her cuticles bitten, nervous about going to a private college. You can feel her fears of not belonging. And there's the tension with her mother as she's telling her she's heard enough about her shitty youth.
So, how did Karr go from one sentence to such a sensory description full of tension?
How to revise your writing
In the revised version, we (as readers) are driving along watching the landscape pass by.
To create such a sense of place, Karr recommends a meditative exercise: Sit on your chair, close your eyes, and try to move your attention out of your chattering mind into your body. Next, go back in time and try conjuring up a sensory impression of your memories. What did you hear? What did you see? What did you smell? What were you wearing?
Kent Haruf used a similar ritual to write fiction. He blindfolded himself so he could fully immerse himself in the fictitious town he was writing about.
Reading a vivid text is almost like watching a movie. As writers, we have to conjure up that movie in our own minds before we can show it to our readers.
To show the difference it makes, let's read the rough draft of Karr's sentence once more:
Mother drove me to college in our yellow station wagon, and every night we stayed at a Holiday Inn, where we got drunk on screwdrivers.
Why is that one sentence not like a movie? Why is it harder to visualize?
The one-sentence version summarizes one long drive with several stays at Holiday Inns and multiple instances of drunkenness. You can't picture that summary.
The revised version describes one moment at a time. That's why it feels like a movie. It's almost as if we're sitting in the car with Karr and her mother.
The power of introspection
When Karr started writing Lit, she didn't have a clear vision of what her memoir would be about. She wrote hundreds of pages before realizing the book had to be about her mother, about making peace with her mother's legacy.
So, she injects the tension with her mother into her revision. She let's her mother talk about her childhood poverty, and she shows us how fed up her 17-year-old self was as she says: Enough already about your shitty youth. You've told me about eight million times since we pulled out of the garage.
When you know the essence of your story, you can cut out the irrelevant parts and make the remaining parts stronger. That's how you shape your story.
The power of stories
In her book The Art of Memoir, Karr admits that she doesn't feel like a storyteller.
How can that be?
Her books are full of stories, and I listened to her podcast with Tim Ferriss, and she's telling one story after another there, too.
But here's the thing …
To share your stories, you don't need to call yourself a storyteller. The key is in the doing: Finding, shaping, and telling your stories.
As Karr shows, storytelling can be hard, yet rewarding work.
First, determine what your story is about.
Next, turn your writing into a vivid, dramatic movie, and let your readers ride along.
Books mentioned in this post:
The links below are Amazon affiliate links. If possible, please support your local bookstore.