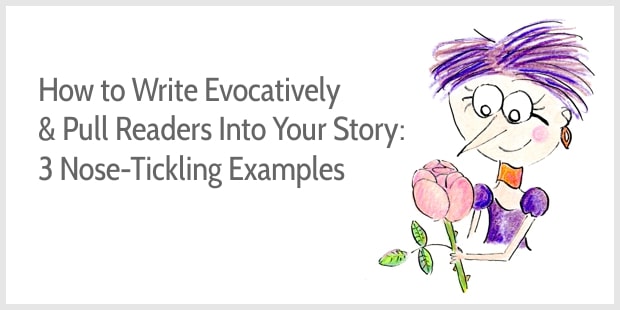 Ever feel a pang of envy?
It happened to me recently.
I was reading the book Revelations in Air by Jude Stewart.
As I'm reading, I feel like I'm standing next to her smelling the orange she's peeling. I notice a whiff of lavender as she dabs the scented oil on her wrist. Oh, and the smell of freshly-cut grass!
How can she describe smells so fabulously?
I quickly let go of my envy and begin to study her writing: What makes Stewart's descriptions so evocative? What can I learn from her?
Describing aromas may seem like a niche writing technique but the lessons apply to almost any writing, fiction or non-fiction.
Shall we look at some examples first?
Example 1: The aromas of peanut butter
Here's how Stewart describes peanut butter:
It's rich, smoky, surprisingly deep. The scent stacks in clear layers: at the top floats a note of honeyed sweetness. A heavy swirl of oil forms the grounding base note. In the fat middle, it's all sticky, particulate peanuts: a smell that matches the taste with uncanny fidelity.
When I read this description, I think: Yes, I know the fat middle with the peanutty smell. I also know the oily base note. But the sweetness? I'm not sure.
I grab a pot of peanut butter and sniff. At first, I only smell peanuts and oil. Then I let the smell come to my nose more quietly, and there it is: Sweetness.
To describe a smell more accurately, you first have to sniff more attentively. You have to stop and pay attention. That's how you can detect the different layers of a smell—honeyed sweetness, oily base, and sticky peanuts.
Example 2: The smell of petrichor
Petrichor is the smell of rain after a long period of dry weather. Stewart starts her description like this:
Petrichor, the smell of parched earth after rain, is immersive, roomy enough to move around in. Its bright mineral tang is edged with vegetal green. There's a hint of sourness, haloed by fresh water droplets. Petrichor lifts the ground, with all its smells, closer to the nose. It's as if the earth has exhaled. Because this smell emanates from millions of pinpoints at once, petrichor has a stereoscopic quality. Inside the smell, each moment seems to dilate and slow. It fills the air with relief.
Describing a smell can be tricky. In his book An Immense World, Ed Yong suggests the English language has only 3 dedicated words for smells: "stinky, fragrant, and musty." So, we borrow words from other senses, use metaphors, or name the source of a smell (e.g., rose). In the above description of petrichor, the phrases mineral tang and sourness describe tastes as much as (or probably more than) smell.
Stewart turns her description of petrichor into a 3-dimensional experience: It's immersive and roomy enough to move around in. It's as if the earth has exhaled (such a lovely example of personification!). The air is filled with relief.
Isn't that lovely?
Example 3: The scent of roses
How would you describe the scent of roses?
Perhaps: Flowery, a tad sweet. The roses in our garden are still in bud, so no chance to sniff their scent for a more accurate description. I'm inclined to suggest that roses smell like … eh … roses, yeah?
Here's how Stewart starts her description of the scent of roses:
At first the smell of roses fills the nose in a giddy rush, sweet and headlong. The burst of luxury feels total. But that rush rapidly settles down and shades into a regal stillness. You become aware of joining a vast throng of admirers in a shared contemplation. The scent's wildness doesn't stay wild for long in the nose; inevitably, one recalls one's grandmother in her church best. Yet behind its rounded, classical quality, the scent still emanates some heat, prickly and pollen-like. It evokes late summer, lazily crawling insects, the finery of silken petals rotting under a bush, the sprawl of untidy nature. Inside the smell of roses one senses the momentary quality of life, how rapidly loveliness blossoms and fades, the nearness of beauty to rot.
Stewart relates how she experiences the scent in two stages: The giddy rush that settles down into a regal stillness. Next, she describes the memories the scents evoke: Grandmother, late summer, crawling insects. And lastly, there's a philosophical note on the fading of beauty and the momentary quality of life.
Smells can ground you into the present. Forget all your worries. Forget all your stress. Instead savor the smells in the air around you, here and now. I love this when I'm cooking. I love how the smells evolve and intermingle. It's a full-body experience. As Stewart writes, olfactory receptors not only "line our noses but also our skin, skeletal muscles, and major organs." We smell with our entire bodies.
But aromas aren't just about the present. They can also evoke strong memories and transport us back to the past. As Stewart suggests, smell is a form of "emotional time travel:"
(…) important memories in your life are nearly always emotional. When an important episodic memory forms, we're feeling all the feels, registering all the details clearly. If we happen to smell something distinctive during that experience, the amygdala, hippocampus, and olfactory bulbs fuse feelings, memory, and smell together effortlessly.
To describe a smell, you can choose to stay in the present or you can go back in time. Like music, aromas can evoke strong memories.
The art of describing a smell
As we've seen there are at least 3 techniques for describing a smell.
First, you can use sensory language to describe the different layers of an aroma, and how it changes over time.
This technique requires us to pay close attention: To sniff, and sniff again, and then to put into words what we're smelling. This may require patience and practice. Stewart admits that while working on the chapter about the smell of skin, she sniffs her partner's t-shirt for 20 (!!!) minutes.
Next, you can turn a smell into a multi-sensory or 3-dimensional experience.
You can describe how you experience a smell, how it caresses or prickles your nose or how you can move in it—like the softly sweet smell of honey that greeted me and enveloped me when I cycled towards a field of rapeseed a few weeks ago.
Lastly, you can narrate the memories and associations that a smell evokes.
I have many aroma-infused memories of living in Hong Kong in the late 90s. I remember the excitement and slight trepidation of arriving at the old airport and disembarking into the clammy dampness with the overbearing smells of kerosine and hot tarmac. Oh, how I wish I had paid more attention and made notes!
How to become a better writer
Improving our writing skills is about more than vocabulary, sentence structure, and creative writing techniques.
We also need to practice the art of noticing.
What do you observe when you pay closer attention? How can you describe an interaction, a problem, a solution, a person, or a situation more precisely?
What happens when you experience the world with a childlike wonder? What attracts attention when you follow your curiosity?
In our fast-paced world, it can be hard to stop and pay attention. Our mobile phones, the news, social media are always there to distract us. The standard mantra is to go faster, do more, and be more productive.
Yet, slowing down helps us observe better. It helps us be present, savor life, and experience a moment more deeply.
Plus, it helps us write more accurately and more vividly, so we can invite our readers into a different world.
So, let's stop to smell the roses.
Happy writing!
PS Thank you to Phil LeMaster for the excellent book recommendation.
Book mentioned in this post:
The link below is an Amazon affiliate link. If possible, please support your local bookstore.