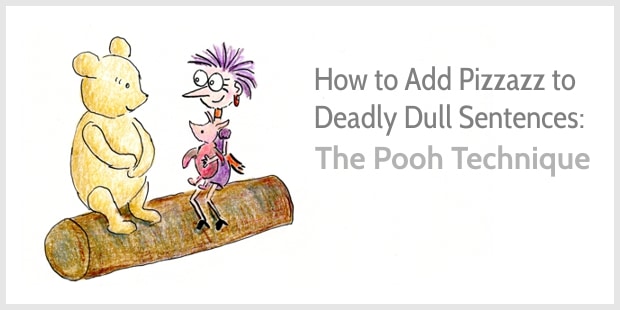 Howard sighs.
He's reading his draft blog post, and wonders, why does his writing seem so dull?
Is it because he's writing about boring topics? Or is it his writing style?
Like Howard, one of my writing fears has always been that I'd bore my readers. Or worse … what if I'm a boring person?
Perhaps I've been studying fun writing techniques so intensely, because when I write well, I can mask my own boringness.
Today's writing technique is one of the easiest to make your sentences hop, skip, and dance, so nobody thinks you're boring. And you might even put a smile on your reader's face.
Sound good?
Personification breathes life into lifeless sentences
Abstract sentences are dull because there's no life in conceptual thoughts.
And the easiest way to make such sentences sparkle is to imagine what would happen if an abstract idea or object had a human trait.
I call this technique the Winnie-the-Pooh technique because Pooh walks, talks, thinks, and drinks tea like a human:
"I don't feel very much like Pooh today," said Pooh.

"There there," said Piglet. "I'll bring you tea and honey until you do."
Personification is a type of metaphor where you give an abstract idea or object a human trait. This helps you paint vibrant imagery and can add a dash of fun or a sense of poetry to your writing—no matter whether you're writing fiction or non-fiction, whether your topic is serious or frivolous.
Strictly speaking, there's a difference between anthropomorphism and personification. Personification only ascribes one human trait to an object or idea, while anthropomorphism turns a object or concept into a human being with all their flaws and strengths. But either way, it adds pizzazz to deadly dull sentences.
Shall I show you how?
Examples of personification in writing
In her book Wilding: The Return of Nature to a British Farm, Isabelle Tree describes what happens when farmland is left to re-wild after years of intensive agriculture:
The land, released from its cycle of drudgery, seemed to be breathing a sigh of relief. And as the land relaxed, so did we.
Of course, land is not human, it can't breathe a sigh of relief and it doesn't relax, but we understand perfectly what Tree means and the personification adds a sense of poetry to the writing.
In his book The Fault in Our Stars, John Green describes how the sun stays up late:
The sun was a toddler insistently refusing to go to bed: It was past eight thirty and still light.
Crazy, eh? The sun doesn't have a mind of its own. It can't refuse to go to bed. It doesn't even go to bed. But making the sun behave like a toddler adds an element of fun to Green's writing.
And how about the ocean making love? This is from The Old Man and the Sea by Ernest Hemingway:
Just before it was dark, as they passed a great island of Sargasso weed that heaved and swung in the light sea as though the ocean were making love with something under a yellow blanket, his small line was taken by a dolphin.
Making the ocean, the earth, or the sun behave a little like us, humans, adds a certain intimacy to writing. We can picture a scene more clearly in our minds, and understand it a little better—as if we can feel the land breathing a sigh of relief. This effect is even stronger when you apply personification to abstract concepts.
Examples of personification for abstract concepts
A sentence is an abstract concept, it can't behave like a human. It can't scream, smile or whisper. Yet, Joe Moran writes in his book First You Write a Sentence that sentences can holler, even before they're written down:
Some writers claim to have sentences in their heads hollering to get out.
Sentences also can't jump, dance, or run. Yet, Moran describes a bad sentence like this:
The sentence just limps and wheezes along to its sad end with a tuneless clank.
A sentence doesn't have a human body that can be caressed, injured, or wounded. Yet, Moran bandages up a broken sentence:
And all the time I knew that fixing a broken sentence is about so much more than just bandaging it up.
In the sentences above, the verbs nudge the abstract ideas to come alive—to holler, limp, and wheeze. So, when a sentence or a paragraph feels a little dull to you, look at the verb you've used. And then consider: if you'd write about a human instead, how would that human act?
Adding a strong verb can make your writing sing rather than mumble.
Go full Winnie the Pooh in your writing
Long before Winnie the Pooh, the ancient Greeks and Romans already adopted the idea of personification. Their gods represent abstract concepts, like jealousy, beauty, or wisdom. A group of sister goddesses represents inspiration: the Muses.
As Ray Bradbury reports:
The Muse, then, is that most terrified of all the virgins. She starts if she hears a sound, pales if you ask her questions, spins and vanishes if you disturb her dress.

What ails her? You ask. Why does she flinch at the stare? Where does she come from and where go? How can we get her to visit for longer periods of time? What temperature pleasures her? Does she like loud voices, or soft? Where do you buy food for her, and of what quality and quantity, and what hours for dining?
Just like the concept of inspiration can be transformed into a human-like goddess, you can turn procrastination into a friend or enemy:
Just when I felt ready to write, my friend Procrastination knocked on the door. She sat down on my desk, wearing her frilly dress, and offered me a cup of tea. There's a crisis going on, she whispered. Wouldn't it be better to check the latest news instead of working on a silly blog post about personification? Who cares about that?
To go full Winnie the Pooh in your writing, ask yourself a question like: What would happen if fear came knocking at your door? What if curiosity tapped you on your shoulder? What if this abstract idea was a god or goddess, your friend or your enemy?
Let's shush that little voice that tells you you're boring
Let's breathe a little life into your ideas.
Because you have good ideas, stories, and experiences to share.
And your words deserve to be read.
You deserve to be heard.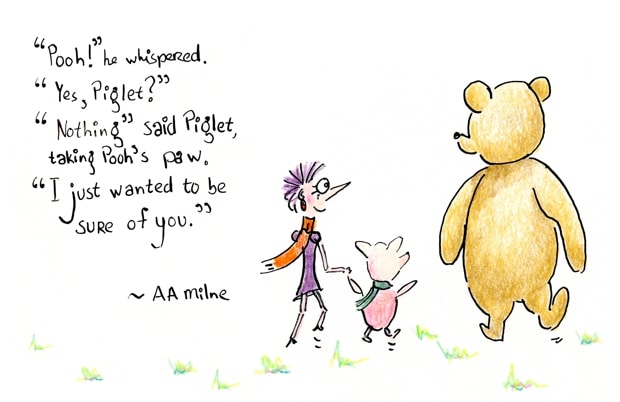 PS Two extra examples of personification
In The Red Hand Files, Nick Cave breathes life into the abstract concept of ideas when discussing creativity:
Ideas are timid things, in my experience. They come as whispers and you need to hold them in honest regard in order to receive them. Perhaps the idea is as scared as you. Perhaps the idea is as invisible as you may sometimes feel. It may be that the idea is simply mirroring your internal self and is reluctant to settle in a mind that is heavy with uncertainty, and that is repeating ancient mantras of self-doubt. These voices can best be banished by a spirited disobedience, a playful defiance. Disobey the voices by continuing to write. They are a lot less robust than they appear. The idea is closing in.
And in The Survivors, Jane Harper lets a memory (also an abstract concept) tumble off a shelf:
[A] memory Kieran had almost forgotten tumbled off a dusty shelf in his mind.