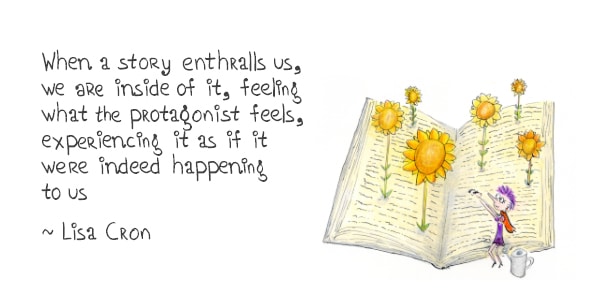 When I started writing, I thought storytelling wasn't for me.
Perhaps I could learn how to share tips in my writing.
But storytelling?
It seemed too difficult. Too elusive. Too magical.
And it's true that there's magic in storytelling. Because stories transplant readers into a different world.
A recent brain-imaging study reported in Psychological Science reveals that the regions of the brain that process the sights, sounds, tastes, and movement of real life are activated when we're engrossed in a compelling narrative. (…) When a story enthralls us, we are inside of it, feeling what the protagonist feels, experiencing it as if it were indeed happening to us (…).

~ Lisa Cron (from: Wired for Story)
Reading a story might feel like magic.
But telling a story is not as complicated as I thought. Even I was able to learn the basic techniques for telling a good story.
Shall I show you?
1. Plunge your reader into the action
We live in an impatient world.
We're used to instant gratification. Order a book via Kindle, and you can start reading it now. Search for information on Google, and find your answer straightaway.
In former times, you may have started a book with a long description to evoke an atmosphere. These days, that's a risky approach because it's harder to keep readers captivated. For a low-risk approach, plunge the reader straight into the action.
Here's how Sally Hogshead starts her book "How the World Sees You:"
I stood alone on stage, paralyzed. Seconds ticked by, each more excruciating than the last. The spotlight had seemed so luminous a moment before, now it burned me with its bitter circle. I'd let everyone down.

It was in this moment that I learned how to be boring.
Hogshead uses her own story of being paralyzed on stage as a child to explain how we learn to blend in, to avoid criticism, to be boring. The story sets the tone for the book in which Hogshead invites us to unlearn boring and to learn how to fascinate our audiences.
But Hogshead doesn't start with the back story of how she came to be on the stage. That comes later. She starts in the middle of the story—with the spotlight on the moment she froze.
2. Keep the pace
Want to keep readers engaged after your first paragraph?
Focus on the action in each of your following sentences.
"Action" doesn't mean thriller-type action. You don't have to chase, fight, shoot, and run. Action can be subtle, too. For instance, Damon Young starts his book "Distraction (The Art of Living)" with a story about his newborn son:
When my son was a newborn, I often found it easy to soothe his crying. All I had to do was gently tap his back and say shhh into his ear. Without fail, he would begin to quieten down. His banshee cries would turn into tiny sobs and eventually he would fall asleep on my shoulder, a little snuggling bundle. At other times, I would sing to him in Arabic scales, with as much depth and vibrato as possible. He would immediately unball his fists, stop crying and stare at me with huge, unblinking blue eyes. The reason for this, I read, was that babies can only give their attention to a couple of things at once. If they are crying, they are crying. If they are listening to their father trying to sound like Nusrat Fateh Ali Khan, then that is their world.
Action verbs are dynamic, describing what's happening rather than what simply is. In the above paragraph, almost every sentence includes an action verb: to soothe, to tap, to quieten down, to fall asleep, to sing, to unball, to stop, to stare, to give attention, to cry.
Non-action verbs describe a state of being, such as: to believe, to love, to prefer, to seem, to need, to want, to feel, to be.
If you use too many non-action phrases, the pace of your story slows, and readers may get bored. So, to focus on the action of your story, pay attention to your verbs. Use action rather than non-action verbs to keep readers captivated.
3. Create suspense
Cliffhangers hint at what's coming without giving away the story. This is a powerful way to keep your audience captivated, too.
For instance, Cal Newport starts his book "Deep Work" with the following story to illustrate that people who "can work well and creatively with intelligent machines" will flourish in the new economy:
As Election Day loomed in 2012, traffic at the New York Times website spiked, as is normal during moments of national importance. But this time, something was different. A wildly disproportionate fraction of this traffic—more than 70 percent by some reports—was visiting a single location in the sprawling domain. It wasn't a front-page breaking news story, and it wasn't commentary from one of the paper's Pulitzer Prize–winning columnists; it was instead a blog run by a baseball stats geek turned election forecaster named Nate Silver. Less than a year later, ESPN and ABC News lured Silver away from the Times (which tried to retain him by promising a staff of up to a dozen writers) in a major deal that would give Silver's operation a role in everything from sports to weather to network news segments to, improbably enough, Academy Awards telecasts.
Almost every sentence above is a mini-cliffhanger, raising a question in your mind. You read on because you want to find out the answer: What's different? Why does the traffic spike? What happens to this baseball stats geek?
When an author raises questions, readers want to know the answers. That's how you keep them hooked.
4. Ground the reader
Focusing on action doesn't mean you ignore describing where a story takes place and who it's about. Without a little context, your story remains vague and you leave readers floating.
Here's how Twyla Tharp starts her book "The Creative Habit:"
I walk into a large white room. It's a dance studio in midtown Manhattan. I'm wearing a sweatshirt, faded jeans, and Nike cross-trainers. The room is lined with eight-foot-high mirrors. There's a boom box in the corner. The floor is clean, virtually spotless if you don't count the thousands of skid marks and footprints left there by dancers rehearsing. Other than the mirrors, the boom box, the skid marks, and me, the room is empty.

In five weeks I'm flying to Los Angeles with a troupe of six dancers to perform a dance program for eight consecutive evenings in front of twelve hundred people every night. It's my troupe. I'm the choreographer.
The description of the dance studio is probably more extensive than you need for most stories.
But the details have a function—to make you feel what it is like to create a piece from scratch. The empty room symbolizes the blank page, and the terrifying feeling of having to create something beautiful out of nothing. This story introduces Tharpe's explanation of how creative habits help overcome the fear of starting from nothing.
For readers to immerse themselves into your story, give them a quick idea where your story takes place and who it is about. Sometimes you want to give a sense of "when," too.
5. Show, don't tell
When a writer hasn't painted vivid imagery, readers can't picture what's happening. That's when a story feels flat.
To let readers experience your story, use sensory details and describe actions to direct a mental movie in your reader's mind.
Imagine you want to explain to a reader you've grown up in a family who loves books. How can you help your reader imagine your family's love of books?
In her book Bird by Bird, Anne Lamott shows us her family's love of books:
I grew up around a father and a mother who read every chance they got, who took us to the library every Thursday night to load up on books for the coming week. Most nights after dinner my father stretched out on the couch to read, while my mother sat with her book in the easy chair and the three of us kids each retired to our own private reading stations.
Can you picture the whole family reading?
When you show rather than tell, your reader becomes an active participant in your story.
6. Make a client your story's hero
In her book "Do Story: How to Tell Your Story So the World Listens," Bobette Buster shares her advice on storytelling. But she isn't the hero of the book. She lets her clients take center stage:
Some time ago, a young American woman, DJ Forza, approached me to ask for advice. She had recently been invited to give a TEDx talk in Zug, Switzerland. She had been asked to share the journey of how she came to undertake a Ph.D. in Citizen Diplomacy. As delighted as DJ was to have this opportunity, she was equally, like so many, terrified of the prospect of public speaking. In the course of our discussions, I witnessed DJ take another journey – to becoming a confident and successful storyteller. She did so by employing all ten of my principles of storytelling. I will share with you now our process.
At the heart of a client story is transformation—how a client learns, solves a problem, gains a new perspective or turns a failure into a success story. And by sharing such client success stories, Buster turns herself into a trusted guide—someone we'd love to learn from.
Client stories provide a smart way to boost your credibility and sell your services.
7. Bring yourself into your story
Some marketing experts suggest potential clients are not interested in our stories. Donald Miller, for instance, writes in his book "StoryBrand:"
This is not a book about telling your company's story. A book like that would be a waste of time. Customers don't generally care about your story; they care about their own.
But I beg to disagree.
Yes, potential customers want to see themselves as the hero in your story. But they're also interested in understanding who you are.
Especially if you are a small business owner, service provider or freelancer, it's your stories that set you apart from your peers, it's your stories that help you connect with your audience and pull them closer to you, and it's your stories that allow customers to get to know you and trust you.
For instance, here's how productivity coach Pierrette Abeel shares her story on her About page:
I'm embarrassed to say there was a 10-year period when I didn't take a vacation. 10 years!

Then one day things got worse.

A friend called but I let voicemail pick up and kept working. Her message was simply, "call me." I planned to get around to it. A couple days later she called back, I hesitated but answered this time. She called to tell me her husband died. #!@?

I still tear up remembering how I let down a friend who needed me. How had I let my business take over my life?

That friend always encouraged me to find the silver lining. So her tragedy set me on a journey to take a hard look at my life and turn things around.

I studied with some brilliant business minds like Jack Canfield, Dave Crenshaw and Angelique Rewers. I implemented what I learned, created business systems and automated what I could.

I gradually transformed from an overworked zombie to having success without sacrificing what's important to me.
Your stories make you human, and when you dare to show your vulnerabilities, you connect with your audience more deeply.
8. Keep your eyes open for good stories
Good stories are everywhere.
You can find them in your neighborhood, during your vacation, in everyday life, in newspapers, on social media.
For instance, Irene Ras starts an essay about mindfulness in "A Book That Takes Its Time" like this:
Last Spring, in one of the busiest squares in Amsterdam, a giant bird's nest was perched on the top of a bus shelter. It was big enough for two people to climb into it, with a soft, furry cushion inside and a lovely view of the clear blue sky. It was created and installed by the Netherlands Forestry Commission and street furniture maker JCDecaux to remind city dwellers to stop and appreciate the wonders of nature.

Below the nest stood two park rangers, inviting passersby to climb up a rustic wooden ladder into the nest. It was a gorgeous sunny day, and anyone who felt like relaxing and enjoying the moment was welcome to sit or lie down in the big nest, they explained. "It's an energy boost," said one ranger name Erik. He hoped that as many people as possible would climb up there, chill out, and recharge their batteries.

Karin, an onlooker, tweeted, "Cool promotion by the Department of Forestry. A mega-size bird's nest." The department tweeted back, with the question "Did you climb in?" Karin's response, "Afraid not. Had to rush off to an appointment."
Sometimes we just have to stop, and pay attention to the stories that are waiting to be shared.
What story will you tell next?