An inspirational business story gives readers a glimpse of who you are, making them feel connected, and they become more interested in buying from you.

Write your business story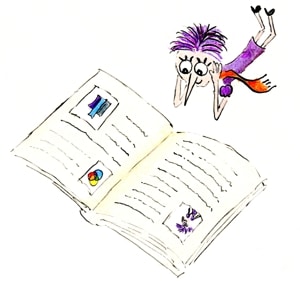 Imagine going to a networking meeting …
You enter a room full of serious grey suits politely sipping their wine, bragging about their corporate missions. Rather boringly.
And there you are, in your purple shirt, feeling out of place.
You grab a glass of beer, and tap a fork against the glass to attract attention.
"Listen up," you say, "let me tell you a story about how I conquered the world."
"Wanna hear it?"
A business story doesn't need bravery like that. But a good business story has the same impact: You attract attention. You stand out. You invigorate your audience, and pull them closer to you. They get inspired.
The power of a good business story
Let's be honest, the web is full of gobbledygook-filled mission statements, conjured up by committees with the only aim not to offend anybody.
Big corporations can afford to be boring. Because they have tons of money to buy brand awareness.
But for small businesses and freelancers, life is different. We don't have heaps of money, so we have to fascinate our audience and spark action.
A good business founding story takes readers on your journey, gives them a glimpse of who you are, and helps gain an emotional buy-in. Just reading your story makes people feel better already, so they start imagining how good it would be to work with you.
This is the power of storytelling.
An example of a powerful small business story
Business stories come in different shapes and sizes
How Jobs and Wozniak built their first computer in a garage. How Ben and Jerry started their first ice cream shop in a renovated gas station (after a $5 correspondence course). How Disney started as a cartoon studio in the 1920s, and now produces entertainment on a global scale.
Some stories sound like fairytales, and you may think your story isn't fascinating enough.
But that's untrue.
Every business has a good story. You simply have to dig to find the four key moments in your business history, and craft your story around these four key moments.
Here's an example business story of BrewDog, a brewer of craft beers:
Martin and I (James) were bored of the industrially brewed lagers and stuffy ales that dominated the UK beer market.

We decided the best way to fix this undesirable predicament was to brew our own. Consequently in April 2007 BrewDog was born.

Both only 24 at the time, we leased a building in Fraserburgh, got some scary bank loans, spent all our money on stainless steel and started making some hardcore craft beers.

We brewed tiny batches, filled bottles by hand and sold our beers at local markets and out of the back of our beat up old van.

Our biggest mission when we set up BrewDog was to make other people as passionate about great craft beer as we are. And that is still our biggest mission today.
Martin and James tell their story around these four key moments:
They encounter a problem: industrially brewed lagers and stuffy ales are boring.
They have a spark of insight: What if we can fix this problem?
They start their own brewery, brewing in tiny batches.
They are now on a mission to make more people passionate about craft beer.
The story is quite simple, but includes enough details to make it fascinating: how they leased a building in Fraserburgh at only 24, how they brew in tiny batches, fill bottles by hand and sell them at local markets out of the back of their old van.
Moreover, emotional and sensory words make the story vivid: stuffy ales, scary bank loans, hardcore craft beers, a beat up old van.
How to write your own business story
You don't need a special talent to craft your own business story.
First, define the four key moments of your business story:
Which problem do you solve?
Which insight sparked the start (or pivoting) of your business?
What are you doing now to fix the problem?
What's your mission?
When you connect your mission to your founding story, you energize and motivate your audience.
Here's how Chris Winfield defined the four moments in his story:
Problem:
For years he struggled with working too much and never really enjoying his life.
Spark of insight:
In March 2013, a company he had co-founded imploded; and it forced him to take a hard look at his life.
How he fixed it:
He learned that you can change your life gradually—small changes can have a big impact on living a happier, more fulfilling, more successful life.
Mission:
Chris wants to make it possible for everyone he works with to work less, accomplish more, and live life on their terms.
See how the story has the same elements as the BrewDog story?
Life is much messier
Life is an undulating road, full of bends, twists, hills, mountains, valleys, dead-end alleys, and even motorway pile-ups.
But your readers don't need to know all the details. They don't want a full resume and they're not interested in a day-by-day journal either.
It's your task as storyteller to decide what matters:
Describe the 4 key moments and craft your story around them
Decide which details help bring your story to life
Skip everything that's irrelevant to understanding the plot
Your story helps readers understand what drives you, who you are, and why you are the person to help them.
That's how you energize, motivate, and inspire.
PS Thank you to Chuck Doublet of Being a Black Belt of Business for inspiring this post.