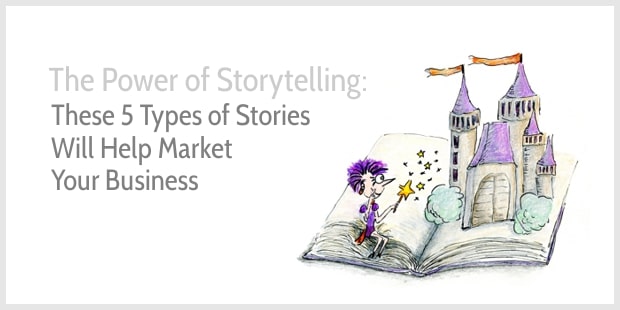 What would happen if marketers stopped thinking like marketers?
And what if they became storytellers instead?
Imagine that … marketing copy would become so engrossing that you wouldn't notice what happened around you.
You'd read a blog post or sales page as if you were living the story—just like you'd be gripped by a good thriller or enthralled by a feel good novel.
You'd let your coffee go cold. You ignore your Facebook notifications. You don't even hear your phone ringing.
Would it be possible?
Telling stories to help sell is not new
Legendary copywriter Joe Sugarman already suggested that readers should feel compelled to read your ad as if they're sliding down a slippery slide.
To create this slippery slide, he often starts his copy with a story:
People love stories, and one of the really good ways to relate to your prospect is to tell a story. (…) a story can be invaluable and creates an emotional relationship of bond that keeps your prospect riveted and listening.
His choice of the word slippery is a tad unfortunate. We're not using stories in a slippery or deceitful way. We're using stories to captivate an audience and make an emotional connection.
We want to make readers imagine what it would be like to work with us or use our product. We want to make them feel part of a shared story, a shared experience.
But how?
Here are 5 types of stories that'll help captivate your audience and market your business …
Type of story #1. Inspire with your business mission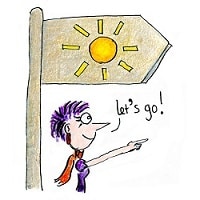 Let's be honest …
The web is full of gobbledygook-filled mission statements, conjured up by committees with the only aim not to offend anybody.
Big corporations can afford to be boring but for small businesses and freelancers, business life is different. We don't have heaps of money, so we have to fascinate our audience and spark action.
Instead of a boring mission statement, tell a business founding story and take your readers on a journey, give them a glimpse of who you are.
Here's how Tuft and Needle explain why they started selling mattresses:
JT had just gotten married and he and his wife set out to buy their first piece of furniture together—a new mattress. The search began at local mattress showrooms; vast fields of mattresses neatly laid out under the buzz of fluorescent lights. Pushy salesmen pushed them to buy a fully loaded, feature-rich memory foam mattress. For $3,300 it should have been the pinnacle of comfort, but it wasn't. To make matters worse, the return policy rendered it impossible to return. It was like car shopping. Actually it was worse than car shopping.
A good founding story explains what problem you encountered and how you decided to fix it. Such a story is perfect for your About page. You can let your passion shine through your words and inspire readers to check out your products or services.
Type of story #2. Let people imagine working with you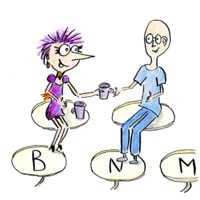 Research has shown that when people hold a product in their hands, their desire to own it increases.
Online, you can't get people to hold your products, but you can show enticing product images and you can let readers imagine using your product by telling a story.
Here's an example of a story about a juice shot on the UK website of smoothie maker Innocent:
It's amazing what you can fit into a small space when you really put in the effort. If you've ever tried rolling clothes instead of folding them, you'll know what we mean. As it turns out, our crafty team of squeezers are even better at this than we thought they were. Armed with some sour cherries, raspberries, grapes and a few vitamins, they've managed to pack a lot of good stuff into a bottle that's small enough to lose down the back of the sofa. Next time we're packing for a two week camping trip in Dorset, we'll know who to speak to.
Can you picture the amount of fruit and vitamins stuffed into that small bottle?
You can use the same techniques of visual imagery if you're a service provider. For instance:
As your coach, I take you by the hand and together we tackle your biggest business challenges. Once per week, we drink a virtual cuppa together, perhaps with a slice of cake. You tell me what's going on, and together we make a plan of action for the next week. With me on your team, running your business becomes less daunting, less stressful, and more joyful.
To write a story about your product or service, think about your favorite client. How can you let them imagine using your product or your service? Be as specific as possible and try to introduce sensory details because such details help readers experience your story, making your offer almost irresistible.
Type of story #3. Share client success stories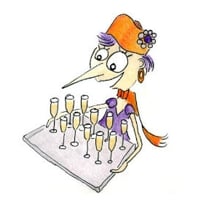 Who can tell the best stories about your business?
I'm sorry to say but it's not you.
The best storytellers are your clients. When clients tell the stories of how you helped them solve a problem or achieve an aim, potential new customers can picture themselves experiencing the same transformation, too.
For instance, here's the story of Jane Roberts, who joined my new copywriting course:
My background is in finance and numbers are my thing. In fact, I used to dread writing papers back in college. I remember telling people that I chose Accounting as my major because "I didn't like to write."

I'm only 37% through the Enchanting Copywriting course but holy cow – it's amazing. At the risk of sounding dramatic, this course has already transformed my writing.

Admittedly, I didn't realize that I would love the videos as much as I do. I thought to learn how to write from a course, you must read it.

I was wrong.

I watch the videos first then read the transcripts the next day to help me remember what I've learned. I'm enjoying the examples of what to do vs. what not to do and the fun illustrations.

I'm glad the videos are short and sweet because I'm able to stay focused and absorb the information like a sponge.

And I've already written 4 upcoming newsletters using the features/benefits and sunny destination tips taught in this course.

I'm starting to feel like a more confident, persuasive writer.
Most people resist asking their clients for testimonials. I find it hard, too, but I keep reminding myself that clients are my best sales people.
Type of story #4. Tell (made-up) stories to teach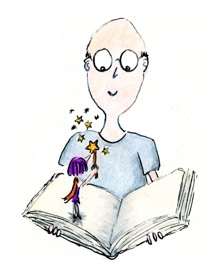 Are you writing a blog to share your expertise and grow your business?
Stories on your blog help captivate potential customers, too. Stories make dry teaching more interesting, and perhaps more importantly, stories make your teaching stick as they help people remember what you've taught.
Stories on your blog can be real but you can make them up, too. For instance, here's a story I made up to explain the difference between features and benefits:
Imagine you haven't cycled for years, and you really don't know much about bikes.

But you want to get fit again, and biking seems fun.

You go to your local bike store and tell the super-sporty-looking shop assistant you're looking for a bicycle to tour around the area. Leisurely.

He tells you full of enthusiasm a hybrid would be ideal and shows you a few popular models. This one has 24 gears and it has cantilever brakes. That one has a Shimano drivetrain and disc brakes. And here's a model currently on offer – it has an aluminum frame and hydraulic disc brakes.

Huh?
Instead of sharing boring lessons on your blog, include stories to captivate your audience.
Type of story #5. Share your personal lessons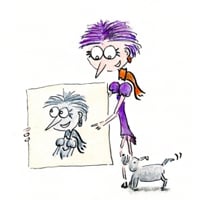 Large corporations often treat customers like a number, a subscriber on list, a lead that needs to be nurtured, the umpteenth complaint that has to be dealt with, the data that need to be mined.
But many of us are looking for real human connections. We don't want to be treated like a number.
As small business owners, we excel in being more human. This gives us a huge advantage over the big corporations. We can write about what really matters to us. We can pour our souls into our writing. We don't have to stick to a script.
So, let's share the stories that matter to us. Let's be more human and write from the heart. It's okay to share personal stories that don't fit our brand. We're not brands, we're humans.
You know what's my most commented post ever?
It's last year's post about ditching my gratitude journal. That post has nothing to do with writing but I wrote it to share my struggle of practicing gratitude.
The most human content helps connect. The best writing is personal.
So, step out of your comfort zone, and share a personal story.
Ignite your storytelling powers
When I started writing, I thought storytelling wasn't for me.
I didn't think I had the right talent, and storytelling seemed too difficult.
But I was wrong.
You don't have to turn yourself into a Stephen King, a Toni Morrison, or a J.K. Rowling. You don't have to be a novelist. You don't need complicated plot structures.
Writing stories for your business is much simpler. Your stories can be short.
Think about the past week. What did you tell your friend who just phoned? What story did you email a colleague? What gossip did you share with a neighbor?
We are all storytellers. It's part of being human.
So, share your stories on your website and captivate your audience.
Because stories help us to connect.
Happy storytelling!