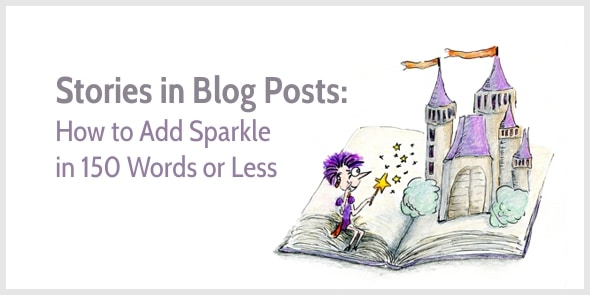 Hans Green imagines the internet going quiet.
His email subscribers open his email, click through to his post, and then …
They forget about the crazy world for a few minutes. They ignore their Facebook notifications and live news feeds. They don't even notice their coffee going cold.
Could he write a blog post so good?
It seems unachievable.
But then again … when he was reading the new Jack Reacher thriller, he was gripped by the story. He forgot his exhaustion and read until 3am.
Stories keep us glued
Stories transform dull tips into sparkling information and sticky advice. They turn lackluster lessons into engaging adventures.
And what's more …
Stories help you stand out from the drab blogging crowd. Your content becomes unique because nobody tells the same stories as you.
Becoming a storyteller is not as difficult as it may seem.
You don't need to become the next Lee Child. You don't need to write a 400-page bestseller full of twists and cliffhangers. A simple story of 150 words is enough to delight your readers and turn lackluster writing into sparkling content.
Want to know how?
1. The opening story
A good opening story entices blog visitors to read your blog post.
When readers recognize the problem the story's hero is struggling with, they become eager to read your tips and learn how to solve that problem. For instance:
On Jan. 2nd, Heather browses her draft articles.

She doesn't feel like writing a complete blog post. Not this week.

Heather is surprised to find 31 drafts in her folder. Why did she never finish these posts? Surely, she thinks, one of them must be almost ready for publication?

Red-cheeked, with hope in her heart, Heather opens her documents. One by one. She reads an opening here, and scans the subheads there.

Slowly she loses her sense of optimism. These articles are no good …

Do you recognize the feeling?

Do you ever look at a first draft with despair?
How this story works:
A short first line sets the scene
The next lines describe the excitement of looking for a good draft and then the disillusionment when the drafts are no good
The two questions at the end of the paragraph address the reader directly and help transition to the tips in the main body of the post
Most stories have three parts:
a beginning sketching the problem
a middle part showing how the problem was solved
a final part explaining how the hero lived happily ever after
But an opening story can remain unfinished. You can simply sketch the problem. Because the remainder of your post shows readers how to solve it.
The closing story does follows the full three-part structure …
2. The closing story
The aim of a closing story is to take away an obstacle to implementing your tips.
For instance, in my guest post on Copyblogger about using vivid language and metaphors, I empathize with readers who think they're not creative enough:
When I started writing, I didn't believe I had any creative talent.

But I wanted my messages to stand out.

Because I wanted to be heard.

Encouraged by the guidance in Anne Miller's book The Tall Lady With The Iceberg (formerly titled Metaphorically Selling), I mustered the courage to write my first metaphor.

My secret to embarking on this creative journey?

Foster a sense of fun. Get away from your computer. I get my best ideas while making spicy meatballs, pedaling my bike, or when listening to the murmur of rain on a walk.

I also started hunting for sensory words and created my own collection of favorites. That's how my writing improved and my voice evolved.

Even better … people engaged with me because the metaphors gave them a glimpse into my life. The metaphors turned out to be excellent conversation starters.
How this story works:
The first part sketches the problem that I don't feel I have creative talent
The middle part explains how a book nudged me to try, how I fostered a sense of fun, and how I went hunting for sensory words
The last part shows the impact my creative journey has had on me
Personal stories are a great tool for bonding with your readers. You position yourself as a guide, and show them you understand their pain. You explain how you overcame this pain so your readers can, too.
To write a powerful closing story, think about your readers' objections to implementing your advice. Did you experience the same struggle? Can you explain how you overcame it?
3. The explanatory story
Sometimes your readers may not understand what their problem really is. They know something doesn't work, but they don't know exactly what's wrong.
The aim of an explanatory story is to show readers the problem and make it concrete.
For instance, many websites are full of company information without explaining what's in it for the customer. In the paragraph below, I explain this problem by telling the story of a visit to a bike store.
Imagine you haven't cycled for years.

And you really don't know much about bikes.

But you want to get fit again, and biking seems fun.

You go to your local bike store and tell the super-sporty-looking shop assistant you're looking for a bicycle to tour around the area. Leisurely.

He tells you full of enthusiasm a hybrid would be ideal and shows you a few popular models. This one has 24 gears and it has cantilever brakes. That one has a Shimano drivetrain and disc brakes. And here's a model currently on offer – it has an aluminum frame and hydraulic disc brakes.

Huh?

You have no idea what the guy is talking about. He makes you feel stupid. You feel like running home and giving up your plan about getting fit again.

Sounds strange?

It happens all the time on websites.
How this story works:
The first lines lets readers imagine wanting to start cycling again
The description of the super-sporty-looking shop assistant's barrage of technical terms shows the problem
The question "Sounds strange?" and the sentence "It happens all the time on websites" transition to the tips in the blog post
Stories don't have to be real. This is a made-up story, but it's still based on my personal experience of trying to figure out what bicycle I should buy.
When you base your story around a personal experience, it's easier to sketch a vivid scene with specific details.
I never saw myself as a storyteller
I thought storytelling was for the "real" writers. For the creative folks, who keep diaries, write travelogues and have the ambition to become the next Hemingway, Lee Child, or Isabelle Allende.
That's not me.
I have no ambition to write fiction. I write blog posts, web copy and emails.
But without realizing it, I started writing stories for my clients' About pages, and I included mini-stories in my own blog posts.
My main lessons?
Storytelling is human. We all have stories to tell. And when you keep your stories short, they're easy to write. 150 words is enough.
So don't feel shy. Try telling a story in your next blog post.
Okay?