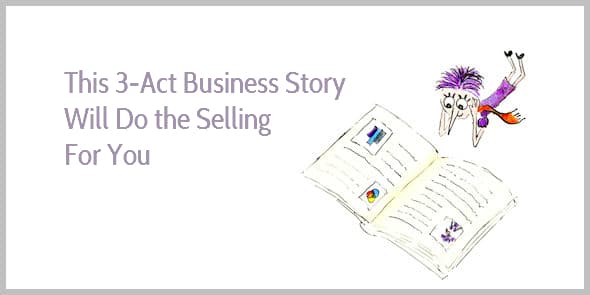 Do you hate selling?
Does the idea of selling your services make you want to run away?
You're not alone. The idea of selling makes many of us feel queasy. We get restless. We fidget. We wish that there was a way to make a living without having to sell.
What if a writing technique existed that could do the selling for you? A technique that doesn't make you feel pushy?
Today, you can learn how to tell a business story so you don't have to sell. And you might think that storytelling requires a special talent, and that it's not for you.
I used to think exactly the same.
The books I read about storytelling left me disoriented and befuddled. Heroes? Drama? A plot? The protagonist? The mentor? Story arcs?
How does that apply to my business?
But by studying business stories on websites, I learned that business stories can be so simple that every business owner can tell them.
Want to know more?
Why stories are great selling tools
Ever been so engrossed in a story that you couldn't put a book down?
You know it's past midnight, and you have to get up early, but you crave knowing what happens next … and next … and next.
Stories are spellbinding and persuasive because the reader experiences a different world. Jeremy Dean explains that when we're engrossed in this different world, our barriers to sales messages go down because the messages slip under the radar. We don't notice we're sold something because we're engaged in the story.
The use of stories to sell is nothing new. Legendary copywriter Joe Sugarman suggested that readers should feel compelled to read your ad as if they're sliding down a slippery slide. And to create this slippery slide, he often starts his copy with a story:
People love stories, and one of the really good ways to relate to your prospect is to tell a story. (…) a story can be invaluable and creates an emotional relationship of bond that keeps your prospect riveted and listening.
Business stories have a purpose
We don't narrate stories to entertain our readers only.
Our stories explain what we can do for our customers and why they should choose us. Our stories breathe life into our work, so people can imagine what it's like to work with us.
And to do this, you only need to know how to tell a short 3-act story:
Describe a problem
Explain the breakthrough
Tell how it feels to have the problem resolved
Shall I show how?
The business founding story
What made you start your business? Which problem did you intend to solve?
This type of story works because readers identify with the problem your business tries to solve.
Here's an example from mattress retailer Tufts and Needle:
JT had just gotten married and he and his wife set out to buy their first piece of furniture together–a new mattress. The search began at local mattress showrooms; vast fields of mattresses neatly laid out under the buzz of fluorescent lights. Pushy salesmen pushed them to buy a fully loaded, feature-rich memory foam mattress. For $3,300 it should have been the pinnacle of comfort, but it wasn't. To make matters worse, the return policy rendered it impossible to return. It was like car shopping. Actually it was worse than car shopping.
At work the next day, he shared his story with Daehee. The two friends from college had been working together at a company in Palo Alto, and unsurprisingly had similar experiences. There was work to be done.
We believe that business can be honest and premium products don't need remote controls and payment plans. Especially not mattresses.
We're based in Arizona and California. Each team member sleeps on a Tuft & Needle and we're committed to crafting a refreshing sleep experience that you'll love.
How the 3 acts work in this business story:
Act 1: The problem is the difficulty of shopping for a mattress. Who can't identify with the frustration of pushy salesmen selling the wrong product and then being confronted with an impossible return policy?
Act 2: The breakthrough: JR and his mate Daehee decide to set up a company where business is honest.
Act 3: The current situation shows the transformation: They craft refreshing sleep experiences and sell their mattresses without tricking shoppers.
The personal business story
Have you struggled with the same problems your customers are struggling with?
Tell your personal story to bond with your readers and establish your credibility. Here's an example from Samar Owais (her target audience is beginning freelance writers):
My first job as a writer netted me a grand total of $5 for 500 words. My next job got me $10.
It took me two years of hard knocks, stupid mistakes and finger breaking hard work before I realized that my freelancing wasn't a hobby—it was a business! [notice a recurring theme here?]
Once I realized I needed to treat my freelancing as a business, I made the mental shift from "Oh, it's just this thing I do." to "Holy crap, I run my own business!"
Things started to fall in place from there. I began to value the hard work I was doing and was no longer embarrassed by charging more money.
It still took me a long time and some pretty serious investment in my education as a writer and business owner (check out my freelance business resources page to find out which ebooks I read and what courses I took) before I reached a point where I was happy with my rates.
In case you're wondering, I now charge in triple digits for a single blog post – which forms a bulk of my writing work.
How the 3 acts work in this business story:
Act 1: The problem is getting paid a measly $5 for 500 words as freelance writer. This is a frustration many beginning freelancers can identify with.
Act 2: The breakthrough: The realization that she has to treat her freelancing as a business.
Act 3: The current situation: She's now happy with her rates.
The story-based testimonial
Nobody believes sugary testimonials praising your skills and your character as if you're flawless.
But who doesn't want to read a good story about how you changed someone's life?
Here's an example of a story-based testimonial for my blogging course:
I knew an engaging blog would attract visitors and promote sales. But boring corporate copy was all I could muster. How could I make manufacturing toilet cubicles interesting?
The course taught me how to attract customers with enchanting headlines (yes, for a rather dull industry). It helped me engage readers with a hypnotic flow, and promote our products using fascinating stories. (…)
And the cost?
I'd say relatively cheap. For the price of a magazine advert, the course showed me how to create a blog to attract customers. I learned how to generate endless ideas for guides and blog posts. This means our marketing and promotion will never run dry.
Potential customers now come to us for information and advice. This lifts us above our bigger (but duller) competitors.
How the 3 acts work in this business story:
Act 1: The problem is boring blog posts—an issue that many business bloggers are struggling with.
Act 2: The breakthrough: For the price of a magazine advert, he learned how to write engaging blog posts
Act 3: The current situation: Customers are finding the site because they're looking for advice, and the company's web presence now looks more attractive than their duller and bigger competitors.
Tell your enthralling business story
Let's forget about complicated storytelling techniques, and start with the foundation of stories that sell:
Tell a story your customers want to hear.
Remember, customers don't want to buy your products. They don't want to hire you.
Instead, customers want to reduce stress, be more confident, happier or healthier. And this is exactly why these simple stories are so powerful.
Because these business stories bring the customer's transformation alive. These stories show how you change people's lives and take their problems away.
Good business stories don't sell your service. They sell happiness.
And who's not looking for that?
PS
Thank you to Winston at the Thinker Academy who inspired this post.