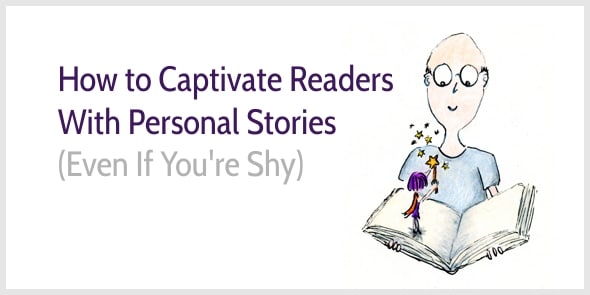 Howard prays for comments.
He's written an in-depth post with his best productivity tips for solopreneurs.
He knows his readers will find it super-useful. They can implement his tips straightaway and feel less stressed. And which solopreneur doesn't dream about cutting down stress?
Howard is proud of his post, and sends an email to his 3,000-strong list. As usual, people open his email, click through to his post, and some share it on LinkedIn.
But comments?
Crickets.
Why does Howard's blog get a lot of traffic, but no comments?
What's up?
Howard's readers feel he's hiding behind his knowledge. He's a faceless blogger. They don't know who he is.
He should get more personal in his writing, so readers feel like commenting and starting a conversation with him.
But Howard feels resistance. He doesn't want to share his private life online.
Sound familiar?
When I started blogging, I hid myself, too
My friend Kitty kept encouraging me to write more personal content.
I knew Kitty was right.
Because tips are a little boring.
When people come to your blog for practical advice only, they can easily swap you for another blogger. You become a commodity. In the eyes of your readers, you're an information-sharer, not a three-dimensional human being.
In contrast, when readers feel they know you and start seeing you as a friend, they come back because they want to "hear" your voice. They want to join a conversation with you.
When I started blogging, I was nervous about sharing personal stories.
And I was confused.
Who'd be interested in me? Wasn't my life too boring? Did I want to publish personal stuff online so everyone could read it?
I resisted Kitty's advice for months. I didn't feel comfortable writing about myself.
But eventually, one day, I picked up the courage to share a personal story. This was the first time I wrote about myself:
I'm quite rebellious.

Just ask my Dad.

He'll tell you I've always done my own thing.

For instance, rather than study something useful like Medicine or Maths, I left home on my 17th to study Chinese.

And then, unhappy with what my lecturers at uni told me, I took a break (before I graduated!) to travel for five months in China.

In February 1990, I left with a one-way ticket. Email or mobile phones weren't available yet; and the only way to contact me was to post a letter to one of four post office addresses.

So, don't try to tell me what to do. I've always done things my way.

But web conventions are different. Even for me.

As usability expert Steve Krug suggests: Don't make people think.

Your web visitors are passing by at high speed, so make things obvious.

(…)

Creativity is good. Of course! But it can make websites pretty useless if people want to find something quickly.

So sometimes even rebels have to accept conventions exist for a good reason.
Slowly, I became a little braver in sharing personal stories …
I even shared my embarrassing story of puking on a flight as a tour leader. In that post, I compared tour leading with content marketing—a way to guide readers through an unknown land.
I'd finally arrived as blogger.
I wasn't an anonymous information-sharer anymore. Because nobody else could write the same crazy story.
I had grasped how to use personal stories as analogies:
Small gestures of generosity

It's easy to think of big gestures. A big launch. Your best-ever ebook. A guest post on a major blog.

But small things can make a massive difference, too.

For instance: Giving 14 tourists a pair of cheap chopsticks. Buying a huge watermelon to share. Such cheap treats create a feel-good atmosphere.

In a digital world, it's easy to give away stuff and build a loyal audience. What does it cost you to share your expertise?
To tell personal stories, you don't have to share your most intimate or most embarrassing anecdotes.
Instead, look for miniature stories to illustrate your business tips.
How to create an analogy with a personal story
The most common way to create an analogy is to first decide what you want to explain to your reader, and then explore connections with unrelated topics.
But with personal stories, you may find yourself starting at the opposite end—you think about a personal story, and then try to connect it to a business lesson.
Which parts of your life are you happy to talk about? About raising your kids? Travel adventures? Hobbies? Sports?
Decide on a topic (or an anecdote) and then explore connections with your business expertise. Be sure to compare things at the same level—a thing to a thing, a person to a person, a process to a process, a skill to a skill.
For instance, you can compare:
Arriving at a website with how you arrived at a hotel (here)
A chef's mission with a blog purpose (here)
Website goofs with road blocks you've experienced (here)
When dreaming up metaphors, don't put too much pressure on yourself to be creative.
You know how you get your best ideas under the shower?
This is because your mind continues to be creative and to work on solving problems, even when you don't realize this.
In her book "A Mind for Numbers," Barbara Oakley talks about the difference between focused and diffuse-mode thinking:
[T]he focused mode is used to concentrate on something that's already tightly connected in your mind, often because you are familiar and comfortable with the underlying concepts.
And:
Diffuse-mode thinking is what happens when you relax your attention and just let your mind wander. This relaxation can allow different areas of the brain to hook up and return valuable insights. Unlike focused mode, the diffuse mode seems less affiliated with any one area of the brain—you can think of it as being "diffused" through the brain. Diffuse-mode insights often flow from preliminary thinking that's been done in the focused mode.
This last point is important: First you have to concentrate hard about trying to solve a problem or find a creative analogy, and then you have to let go and let your mind make new connections. I get my best ideas when out on a walk, or while cooking. My mind wanders and plays.
When you push your brain too hard to come up with an analogy, you become less creative. So, stop thinking so deeply, and do some household chores instead. 😉
How to captivate your readers in a competitive world
Our audiences are distracted.
Their cat may be ill. They might have had a fight with their partner. And their kids are struggling at school.
Plus emails, Facebook updates, and 24-hour news all compete for their attention. In a maelstrom of content, we have to work hard to stand out and captivate attention.
So being useful isn't enough. That may work for big companies with big budgets—they can buy their audience's attention.
But as solo-flyers, we have to be different. We have to be ourselves, and get readers to connect with us. Personally.
That's how we make friends with our readers.
And that's why readers come back for more.
PS Thank you to B2B writer Jonathan Tee for the book recommendation.