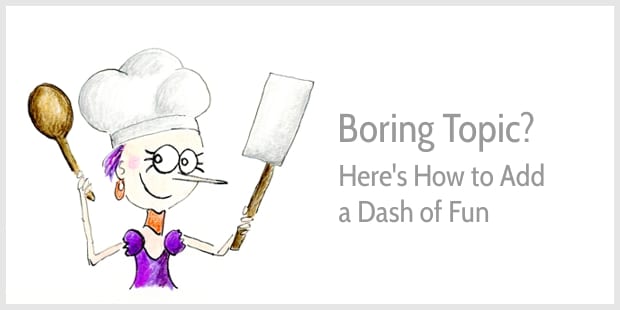 Uh oh.
Hannah feels stuck.
She has picked a good topic for her next blog post. She's sure her readers will find it helpful.
But she's soooo afraid her post will be boring that she can't start writing. She fears her blog post will be like a bland chicken without salt, without chilies, and without any herbs or spices.
Who'd enjoy eating that?
Hannah would prefer a fiery, fragrant, smoky Jerk chicken.
She gently massages her temples to stave off an upcoming headache, and sips her Jasmine tea, almost burning her tongue. Then she decides to check out her favorite writing blog to learn how to make a boring topic interesting.
Can she inject a dose of creativity?
Analogies add pizzazz to any topic
Analogies make your blog post unique. They help shape your voice and make your writing stand out. They add fun to boring blog posts, and even help explain your topic better. What's more, they give you an opportunity to tell stories.
The first time I used an analogy in a blog post, I was nervous. Would readers think it was weird? Would they think it was childish? Was I making a fool of myself?
I was tossing and turning at night, and woke up with knots in my stomach. But, I mustered the courage to click Publish.
In that first post featuring an analogy, I compared content marketing with tour leading. For instance:
It's easy to think of big gestures. A big launch. Your best-ever ebook. A guest post on a major blog.

But small things can make a massive difference, too.

For instance: Giving 14 tourists a pair of cheap chopsticks. Buying a huge watermelon to share. Such cheap treats create a feel-good atmosphere.

In a digital world it's easy to give away stuff and build a loyal audience. What does it cost you to share your expertise?

Inspire your audience. Share generously.
After that first little success, I became braver, I was finding my voice, and I introduced analogies and metaphors more often in my writing. It helped me connect with readers on more levels. People who love cooking send me emails or leave comments about their favorite food. Readers who love cycling share stories about their cycling adventures.
Analogies give readers a peek into your life, and you can draw your inspiration from many different life experiences such as parenting, gardening, travelling, or sports. Each topic gives you an opportunity to share stories outside your business expertise and to become more human in your writing.
How to use analogies in your blog posts
I've used two different structures for blog posts with analogies.
One structure is the circle post, where you introduce the analogy in the opening, ignore it in the main body, and then circle back in the final paragraph. For instance, in my post about writing styles, the introduction explains the concept of umami:
Have you heard of umami?

It's the 5th taste. (…) It is often translated as a savory taste; and soy sauce, steak, mushrooms, broth, and even some cheese all have umami.

I used to think it was a weird idea. How can mushrooms be similar in taste as a sizzling steak? But once you learn to detect umami, you start to appreciate its tantalizing power.

A good writing style has umami, too. But what is it?
And the final paragraph deepens the analogy:
Umami comes from the Japanese word umai—deliciousness.

Kazu Katoh, a Japanese chef, said about umami: "It's something that's kind to the body. (…) It's about feeling good after eating."

Isn't that what we strive for as writers, too?

To write something not just nutritious but also delicious to read … something that lingers in our readers' minds—like the taste of a mature cheese or a mushroom risotto or a stir-fried beef with ginger, broccoli, and fish sauce.
The circle structure is a neat way to make your post feel finished as you reinforce and add depth to your starting point.
The second option for transforming your post is to write a series of tips, and for each tip expand the analogy. For instance, in my blog post about smooth reading experiences, I compare types of transitional phrases to bicycle maintenance tricks. The first transition trick is a drop of oil:
Just like drops of oil make your bicycle chain move without friction, transitional words make readers glide through your content.
And the last transition trick is an industrial-strength lubricant:
Bicyclists can argue for hours about the best way to keep your bike chain free from rust. Use WD-40. Use Tri-flow. Use light oil. Re-lube more often.

But your content requires a mix of tricks for the smoothest reading experience. And you know the strongest lube to keep your readers hooked? That's the use of seductive subheads.
Just like we adapt our favorite recipes to our personal tastes, analogies are personal, too. They reveal more about you as a person—what interests you and what you do outside of work.
Analogy examples
For more details, check out the full posts:
Dream up your own analogies
To come up with an analogy, start with giving yourself permission to have fun. Create a sense of play to look for connections between two completely different topics. To make an analogy work, compare things at the same level—a process to a process, or a thing to a thing, or a role to a role.
Boundaries can make us more creative, so consider to focus on one specific domain for your analogy, such as gardening, cooking, travelling, sports, or art. Choose a topic you know well so it's easier to come up with similarities.
When you try too hard and focus too much, you might get tunnel vision and block your creativity. So, if you're feeling stuck, get away from your desk or computer. Analogies often pop up in my mind when I'm out on my bike, or when walking in the woods, washing the dishes, or cooking.
Another trick is to think visually. What picture can you draw for a blog post?
Make readers crave for more
In December 2010, I cycled with my husband in Malaysia. We finished our tour in Kuala Lumpur, and we sampled barbecued chicken wings at an outdoor market. We had to go back for more.
Now, almost 10 years later, I still remember those chicken wings. We still talk about them at home. The smokiness, the spiciness, the sweetness, the stickiness. Maybe one day, I'll go back to Kuala Lumpur, and I hope more chicken wings are waiting for me.
A good analogy can make your writing memorable, too.
Readers will start recognizing your voice, and they'll crave hearing more.
They'll be happy when you turn up in their inbox, eagerly clicking to read your next blog post.
Happy cooking!