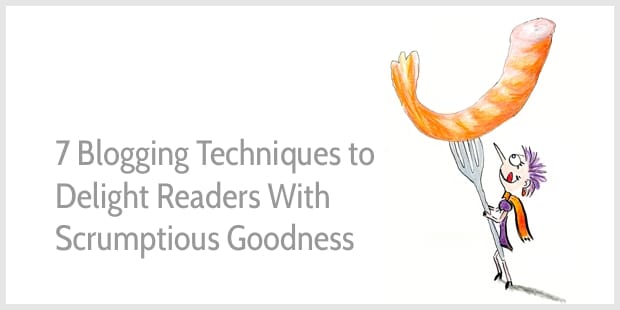 Sometimes, blogging can feel like a complicated task.
So many things to think about.
Headlines. Word choice. Stories. Subheads. Simple sentences. Rhythm. Active voice. Clinchers. Openings. Metaphors. Etc. Etc. Etc.
Does it feel a tad overwhelming?
Let's go back to the basics today.
Which writing techniques do you need to master?
How can you touch readers with your words, make them feel valued and inspire them?
1. Grab attention with your headline
An inspirational post without an enticing headline is like a scrumptious cupcake in a colorless box.
Nobody peeks into the box to see what's inside. Nobody takes a bite to savor its delights.
So, if you want people to glimpse inside the box, promise them a delicious treat:
Tell them what they'll learn in your blog post: How will you make their life better? Which problem will you help solve?
Use power words to attract attention and stand out
Arouse curiosity to get people to click through
Are your headlines so delicious, so tempting that people feel compelled to click through and read your posts?
2. Engage readers with your opening paragraph
Your opening paragraph is like a first bite of an unknown dish.
And your blog readers are fickle eaters.
If the first sentence is chewy or the first paragraph is bland, they'll quickly give up. They'll look for a better treat elsewhere.
So, set the tone with digestible sentences with a promise of more scrumptious goodness to come.
3. Be a guide
You may think eating is easy.
But have you ever felt out of place in a foreign country, unsure what's expected of you?
In my twenties, I worked as a tour leader in China, and on the first night of each trip, I'd explain how dinner works.
Firstly, you don't order your food for yourself. We share. Secondly, I explained how to use chopsticks, and that it was okay to lift your bowl of rice close to your mouth so you wouldn't drop half the food on the table.
As a blogger, you're a guide, too. You help your readers step by step to solve a problem or achieve an aim.
What are the basics you have to teach your readers? And what are then the next steps?
Take it easy, my friend, you don't have to teach a full curriculum on Chinese cuisine at your first date.
4. Zoom in
I've not traveled to Asia recently.
But some of the food experiences have stayed with me for ten or twenty years.
The barbecued garlic king prawns at the peak in Hong Kong. The yellow curry crab in a tiny, cheap restaurant in Thailand. The Red Garden food court in Penang …
When I close my eyes, I can feel the humid heat on my skin again, and the butterflies of excitement in my stomach. I can almost smell the chicken sate. I picture the guy delivering drinks who, according to my husband, looked like the late singer Jeffrey Lee Pierce. I take a big gulp of cold beer.
Want your readers to remember your words, too?
Zoom in to paint a vivid picture. Let readers experience your words. Let them feel the butterflies in their stomach.
5. Inspire readers with your closing paragraph
Of course, good food is more than a multi-sensory experience.
Good food is nutritious, giving us energy, allowing us to think clearly, to run, to swim, to dance, to work, to play, to live.
A good blog post is nutritious, too.
And your task, as blogger, is to reinvigorate your readers.
So, think about what might stop them from implementing your valuable tips. And in your closing paragraph, take away these objections to jump-start action.
Fire up your audience to change the world—one tiny ripple at a time.
6. Be pithy
From 1997 to 2000, I worked in Hong Kong.
Not long after I had arrived, my Dutch boss—a big guy—and his wife invited me for a special dinner. It was the first time I had quail.
I love food (had you guessed?). But I am not a big eater.
What could I do when the food kept arriving?
I didn't want to be impolite, so I kept eating, course after course after course.
I got horribly ill that night.
And I didn't eat quail again for many, many years because it reminded me of being sick.
Overstuffing readers is one of the most common blogging mistakes.
Are you making your readers feel sick, too? Are you cramming too many tips into your posts?
7. Write like a human
I've tried nouvelle cuisine.
A dinner with 12 tiny courses (or was it even more?).
Yes, it was special. But, to be honest, I prefer simple good food.
What's better than gambas al ajillo cooked by my husband?
This dish has only 7 ingredients: butter, olive oil, sherry, garlic, chilies, lemon juice, and prawns. It's perfect with a salad, French bread, and, of course, a glass of Spanish red wine.
I could share countless writing tips to make your sentences flow better and to choose your words with more precision, but good writing starts with being human, with having a conversation with your reader, with being yourself.
No need to impress with fancy dishes.
Simple home cooking is delicious.
A good meal is about more than food …
What about the after-dinner conversation?
As an introvert, I struggle with big Christmas dinners. Too much noise, and no real conversation.
What I like best is a meal with a couple of friends (or just my husband) and a good conversation. That conversation doesn't start with wanting to share my ideas. It starts with listening, and hearing what others have to say.
Blogging is the same.
No matter how much you want to share your ideas, a good blogger listens to their readers first and empathizes with their struggles.
Because your most loyal readers don't just come for tips.
They're looking for inspiration, consolation, a sense of belonging, a real connection with you.
Happy blogging!
PS Thank you to Lucas at Backonimo for inspiring this post.