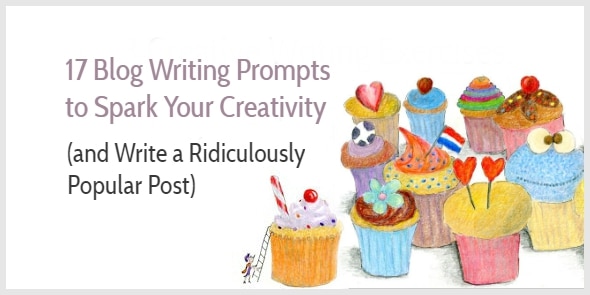 Hunter Green is staring at a blank sheet, scratching his head in despair.
Sure, he could write another comprehensive guide.
Or he could write another list with tips.
But frankly speaking, the idea makes him want to puke.
It's not that lists and guides aren't useful. His readers seem to read and love his posts.
But Hunter wants to write something different. Something fresh. Something original. Something more valuable than usual. Something that makes his readers deliriously happy.
But what?
What the heck can he write for his blog?
Even the most experienced bloggers get stuck in a rut sometimes. They may have been churning out valuable post after valuable post. But at some point, their brains start creaking and the words stop flowing. Their writing machine has come to a complete standstill.
Feeling stuck in a blogging rut, too?
In this post, you'll find 17 blog writing prompts. These aren't creative prompts for personal journal folks. These writing prompts are for business bloggers, and they work in any industry or niche.
Even more importantly, these ideas are proven to work, delighting readers and generating ridiculous numbers of social shares.
Sound good?
Read on and pick your favorite idea for your next blog post …
1. The antithesis of the list post
Writing lists with tips is great. We know they're popular and get loads of shares.
But which reader doesn't feel overwhelmed with everything he's supposed to do?
If I'd follow all the 101 ways to promote my business on Pinterest and the 99 ways for sharing my blog posts, I'd never get another blog post written.
So, for a change, write the antithesis of the list post: Share only your best ever tip and inspire your readers to implement it.
For example, the post My Single Best SEO Tip for Improved Web Traffic by Cyrus Shepard was the third most popular post on Moz.com last year, generating 9.3k social shares.
What is your single best tip? What's the easiest way to solve a problem for your blog readers and improve their life?
2. A science-backed guide
In this "post-truth" world of fake news, how often do you wonder, "is this true?"
Many bloggers simply regurgitate other people's ideas. So a simple way to stand out is to dig into the science behind your topic. Which research can you share? What are the newest findings?
For example, the article A Science-Backed Guide to Taking Truly Restful Breaks by Christian Jarrett was the sixth most popular post on 99U last year, generating over 4.1k shares.
Integrating science into my writing isn't my strongest point, so it's something I'd like to try to do more this year. What about you? How can you integrate research into your content?
3. A series of examples
Have you noticed I'm including examples for each of these blogging prompts?
Readers love examples because they show how advice can be implemented. Examples inspire and motivate. They spark creativity.
For instance, my post with headline examples was my second most popular post last year, and this beautiful post with 15 Examples of How Street Art Can Transform The Place was the fifth most shared post on Demilked, generating over 24.7 social shares.
Can you inspire your readers with a series of examples or case studies, too?
4. A personal story
A post about yourself doesn't need to be a self-absorbed rant or whine.
Instead, view your story as a case study to inspire your audience, an example of a universal lesson.
The article How I Built an Online T-Shirt Business and Made $1,248.90 in 3 Weeks, for instance, was the most shared post on Shopify in 2015, generating 9.6k social shares. My post How I Learned to Be Me (Finally, at 47 Years Old) generated the most comments in 2016.
Which problem have you recently overcome? Can your lessons inspire your readers, too?
5. A rallying cry
What do you feel passionate about?
How would you love to change your readers' lives?
An open letter is an opportunity to help readers overcome one of their biggest hurdles.
For example, An Open Letter to Those Who Have Lost Their Motivation by Marc Chernoff was the most shared post on MarcandAngel.com, generating 53.8k social shares.
Perhaps I should write An Open Letter to Those Who Think Their Writing Isn't Good Enough. What do you think?
6. The most inspirational quotes
Quotes are hugely popular, because they summarize profound wisdom in only a few words. Quotes can comfort readers, or make them stop and think.
Quotes are also great for creating visual articles. The collection of 100 Inspirational Quotes That Summarize the Wisdom About Life, for instance, was Lifehack.org's most shared post in 2016, generating a staggering 3.1 million shares.
I've started working on a hand-illustrated collection of quotes about writing (follow my progress on Instagram).
And you?
7. A definitive doable guide
Are your readers looking for the most comprehensive and definitive guide on your topic?
According to research at Moz.com, none of their readers wants another ultimate guide. So, what can you write instead?
Write a doable guide. For instance, challenge your readers to write a business plan in 4 hours, grow their Twitter following in 5 minutes a day, or get fit before Easter. To write a doable guide:
Define what your readers would like to achieve
Think about how much time they'd like to spend on achieving this
Limit your advice to what can be achieved in the given time frame
The article How to Knit a Huge Blanket in 4 Hours was the tenth most popular post on TipHero in 2016, generating a crazy 135k shares.
Be careful, make your time-frame realistic as you don't want to disappoint your readers. I'm not planning to write an article about How to Write an Epic Blog Post in Under 30 Minutes. 😉
8. Quit a bad habit
Which bad habit is bugging your readers?
And how have you beaten your own bad habits?
Research has shown we all struggle with keeping to our new year resolutions. So how did you manage to stop smoking, kick your Facebook addiction, or quit eating sugar?
Michael Hyatt's post Why I Stopped Watching Television News was his second most popular in 2016, generating 2.1k shares.
Which bad habit did you beat last year? Or which bad habit are you planning to beat this year? Can you record your story?
9. The "stop" guide
If you don't like to share your own story, you can write a "stop" guide instead.
For instance, How to Stop Losing Your Temper With Your Kids was the most shared post on the Kids Activities Blog, generating over 58k social shares.
10. A provocative question
Want to stir up a little controversy?
Or bust a myth? Or share an uncomfortable truth?
A few examples of popular posts raising provocative questions in 2016:
The provocative question I might write about: Is Your Writer's Block Just a Bad Excuse?
How about you?
11. A burning question
How often do you google a question?
Answering burning questions on your blog is a smart strategy. Firstly, your answer helps readers. Secondly, your post can generate a ton of search traffic because people google questions all the time.
Moz.com uses this strategy regularly. Their most popular question in 2016 was: Can SEOs Stop Worrying About Keywords and Just Focus on Topics?, generating over 7.1k social shares.
The online Guardian newspaper even has dedicated a weekly column to answering "life's most difficult questions" based on Google searches. Recently answered questions include:
Lisa Gabbert has written an excellent guide on finding questions to drive SEO traffic for WordStream.
12. Jack the news
What's new in your industry?
Or how does the world news effect your business?
David Meerman Scott coined the term newsjacking as a way to grab attention of your audience by taking attention of breaking news. But you don't even need to piggyback on breaking news to write a popular post, and you don't even have to comment on politics.
For instance, Aaron Orendorff created an in-depth analysis of the online marketing campaigns of Clinton vs Trump. His post Clinton vs. Trump: A Presidential Marketing Campaigns Teardown was the most popular post on Unbounce in 2016, generating over 7.1k shares.
13. A bookmark-worthy list of ideas
Want to spark your reader's creativity?
A list with ideas is a bookmark-worthy resource. Readers don't have to implement all your ideas in one go; they can dip back into your list when they need a fresh dose of inspiration.
For instance, 15 Indoor Garden Ideas for Wannabe Gardeners in Small Spaces was the second most shared post on Apartment Therapy, generating over 100k shares. Note how specific this post is. It's not a general list with garden ideas, but a list specifically for wannabe gardeners who don't have a lot of space.
Which ideas could inspire your readers?
14. A checklist
Who doesn't like a good checklist?
Checklists are valuable content because everyone is afraid to miss important tasks when completing a project. Also, checklists can help beginners get to grips with a task they're unfamiliar with.
Unbounce's third most popular blog post in 2016 was A 34-Point Checklist for Creating a Case Study that Converts (by Ayelet Weisz) which generated over 3.1k social shares. My 61-Point Website Checklist is one of my all-time most shared posts.
What checklist would be helpful to your readers?
15. Take away the "but"
What stops people from implementing your advice?
We all have objections to doing things. Perhaps we want to talk about politics at work but are afraid to alienate people, or we'd love to work remotely but are afraid to lose motivation, or you want to keep writing but feel like a fraud.
One of the most popular posts on Prevention.com was How to Do Squats And Lunges Without Killing Your Knees, generating over 12.1k shares.
How can you overcome the "but" in your readers' mind?
16. Tiny topic
The tiny topic is one of favorite blogging techniques.
Tiny topics are great for readers because they get actionable and specific advice. And for bloggers it's relatively easy to generate an endless stream of tiny topic ideas.
Many of the most popular posts on KISSmetrics follow the tiny topic approach:
To generate ideas for tiny topics, break a general question down in more detailed questions (see here). Then use my tiny topic approach to write a valuable post (see here).
17. Peer into the future
Posts with predictions tend to be popular.
But how can you make such a post interesting and avoid writing the same post as everyone else?
Sonja Jefferson at Valuable Content dreams up fascinating questions to gain diverse answers from various experts. Last year, she asked: If you could wave a magic wand when it comes to your clients' marketing what's the one thing you'd hope to see change this year? (Read the answers here.)
You don't have to wait until the end of the year to publish your predictions. 99U published The Future of Design (and how to prepare for it) in July 2016, and the post became their third most popular of the year (4.9k shares).
Perhaps I could write a post about the future of online writing.
And you? What will you write about next?
Write about what fascinates you
When you pick an idea for your next blog post, first think about your readers: Would the article be helpful to them?
Then ask yourself: Do I feel excited about writing this post?
Most writers write their best content when they feel enthusiastic. So write for your readers. But also, write for yourself.
Follow your curiosity.
PS
I used BuzzSumo to research this post. As I did most of my research in the past week, the figures quoted include social shares in January 2017. Also, I might have missed a popular post if it was published early January 2016 as BuzzSumo's figures go back for one year only.