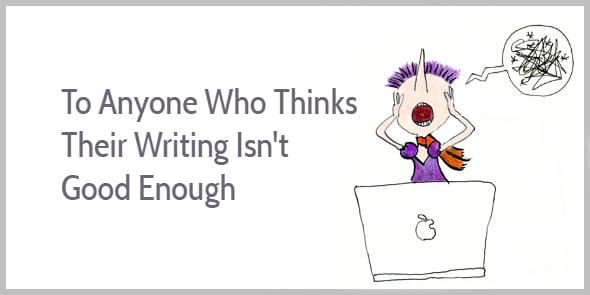 When you read content from your favorite writers, what do you think?
Do you want to write like them?
Do you feel embarrassed about the state of your own writing? Do you despair at the gap between how you write and how you would like to write?
Most of us are unhappy with our writing.
We fret. We despair. And we procrastinate.
Mastering writing may feel like climbing a huge mountain
You start your climb with a positive mind and full of energy.
At the end of the first day, you nourish your body with a hearty meal of pasta, cheese, tomatoes, aubergines, and courgettes. But the next morning, your body hurts and you still feel tired. So, you give yourself a pep talk, strap your backpack on, and start moving.
Each step seems hard. Your backpack feels heavy. The blister on your big toe hurts. And the top of the mountain feels farther away than yesterday.
When learning a skill, the top of the mountain keeps moving farther away. There is no fixed destination.
Think, for instance, about pro tennis players like Roger Federer or Andy Murray. They might be (or have been) number one in the world, but they still find weaknesses in their game. They still practice to improve. They still want to get better.
Austin Kleon posted this great quote from Ian Svenonius's book "Supernatural Strategies for Making a Rock 'n' Roll Group:"
If one becomes a lawyer, scholar, mechanist, typist, scientist, production assistant, or what-have-you, the world will commend your decision. Each day at lunch, on vacation, or at whatever party you attend, your choice will be applauded, upheld, and affirmed. And you will know what is expected of you. Even if your job is difficult—if you are a brain chemist, international death merchant, or rocket designer—your responsibilities will be obvious and your goals concrete. If you achieve them, you may be rewarded by promotion. If you fail, you might be fired or demoted, but nonetheless—unless your boss is insane—the job will have tangible parameters. [Art], however, is different. You will never know exactly what you must do, it will never be enough… no matter what change you achieve, you will most likely see no dividend from it.
I see business writing as a craft rather than an art. But the principle remains the same. Whether we write fiction or non-fiction, whether we write a book or a blog post, whether writing is our main job or a side-activity, we never know exactly what being good enough means.
And anyway … who decides what is good enough?
JK Rowling claims to have received "loads" of rejections before finally being published (source)
Stephen King's first book "Carrie" was rejected thirty times before being accepted (source)
"Chicken Soup for the Soul" received 140 rejections; it has now sold over 125 million copies (source)
Bestselling author (and content marketing veteran) Ann Handley describes an article on LinkedIn riddled with spelling errors and profanity:
As an exacting writer and a proponent of a slow and strategic marketing, I should be having an aneurysm (Ann-eurysm?) over how a single, sweary, typo-infested LinkedIn post slopped together in 20 minutes sparked a flurry of online engagement and $90K in sales.
But she didn't hate the post, she loved it because it was authentic, written from the heart and it resonated strongly.
So, who's the judge of your content?
That inner voice nagging you're not good enough?
Your high-school teacher who still makes you feel ashamed about a grammar or spelling mistake?
Or you?
As crafters, writers, creators, and solo-flyers, we take charge of our own development. If we're unhappy with our current skills, we make it a priority to improve. So, join a course, hire a coach, or for a no-budget option: create your own swipe file to study the masters and learn how to develop your skills through deliberate practice.
And, when that little voice nags again, ask her to cheer you on instead. Ask her to appreciate you're doing your best, you're learning, practicing, and getting better.
Tell her what you've learned and how you've improved since you started writing.
On becoming a writing pragmatist
In the book "Manage Your Day-to-Day," Elizabeth Grace Saunders advocates becoming a creative pragmatist. I like the idea. For instance:
Instead of creating the most comprehensive post on a topic, share one or two valuable tips
Instead of researching a topic to death, ask yourself whether you have enough useful information to write a valuable blog post
Instead of polishing each single word, ask yourself whether one extra hour of editing will improve your content exponentially
What I demand from myself is to write the best I can in the time available to me. Before publishing a blog post, I ask myself these three simple questions:
Is this valuable to you (my readers)?
Is there one clear message?
Have I done my best?
Each piece of writing is a snapshot of my current knowledge and skills. My ideas evolve. My skills develop. My voice matures. I might even change my mind. But I've written the best at this point in time.
What's on your 3-question checklist? What does "good enough" mean to you?
Your precious words
It's easy to feel attached to our writing. To see our writing as an expression of ourselves. To view our ideas and our words as delicate babies we have to care for and worry about.
But once you've decided a piece of writing is ready for now, you have to let go.
Your writing is not a precious, delicate, attention-seeking baby. Your writing doesn't define who you are. So stop worrying and commit to your next writing task—it's waiting for you. You'll learn more and improve faster when you keep writing and publishing.
Remember that mountain walk?
That inner voice nagging "you're not good enough" might tag along for the entire journey. Don't ignore her (because you'll ignite her anger). Don't fight her (because you can't win). Instead, accept her company and view her with compassionate eyes. You might find she's concerned and kind rather than critical. Perhaps she wants to protect you—from rejection, from failure, from disappointment. Her intentions are good, but not productive nor empowering.
So, don't let her guide your journey. Keep the map in your own hands and move forward on your chosen path.
If you want to write, write.
PS Enjoyed this post? Say thank you to Kathy, Ray, Syed, and Bernice who all nudged me to write this.