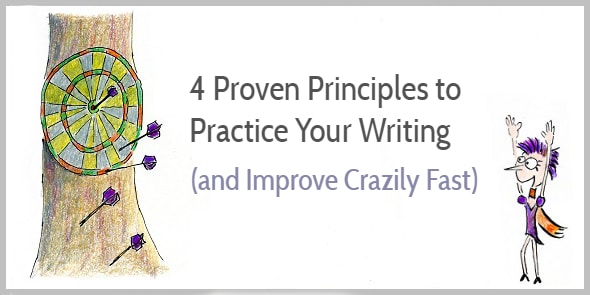 Have you ever wondered why your writing skills don't seem to improve?
You religiously follow a couple of blogs about writing. And you're writing almost daily.
But …
You look at your work and scratch your head. It's okay. But you'd like to do better.
Should you write more?
You might have heard about the 10,000-hour rule: to master any skill, you must practice for 10,000 hours.
But who's got so much time? If you can dedicate 4 hours a week to writing, it'll take you 48 years to master writing skills.
Can you improve faster?
Of course, you can.
Shall I explain?
The 10,000-hour rule is nonsense
The 10,000-hour rule is a great soundbite.
But it's not true.
How many hours you need to practice differs from field to field. Want to become the best at memorizing strings of digits? 200 hours of practice may be enough. Want to become one of the best violinists in the world? Aim for 10,000 hours before your twentieth birthday.
What do you want to achieve with your writing?
Winning a Nobel prize for literature is a different aim from becoming a confident business writer.
Moreover, not all practice improves your skills. You need to practice with purpose.
Imagine wanting to become a pro tennis player. You have to learn a lot, right? From forehand to backhand, from service to returning, from footwork to holding your racket, and from top spin to volley.
You don't become an accomplished tennis player by playing games. You practice each skill deliberately.
With writing it's the same. Typing more words doesn't make you a better writer. You have to practice your writing with purpose.
What is purposeful writing practice?
Professor Anders Ericsson spent thirty years studying what makes ordinary people achieve the extraordinary.
In his book "Peak: Secrets from the New Science of Expertise," he argues purposeful practice is the most effective method to build new skills and abilities—no matter whether you want to become a little better or a top performer.
Ericsson recommends 4 principles of purposeful practice to improve any skill faster.
1. Well-defined, specific goals
Improving your business writing skills isn't a specific goal. Instead, consider specific goals like:
In his book, Ericsson describes how Gabriele Imreh, an internationally known pianist, prepares to practice a new piece of music:
The first thing Imreh did when she sightread the piece was to develop (…) an "artistic image"—a representation of what the piece should sound like when she performed it.
Later on she gets into the details:
She began by going through the entire piece and deciding exactly what fingering she would use.
She identified (…) "expressive turning points"—for instance, a point where her playing would turn from light and lively to more measured and serious.
Imreh's practice covers the big picture—how the piece should sound—and the details—finger placing and turning points.
Your writing practice should also cover the big picture, such as building a persuasive argument, and the details, such as choosing the right words.
2. Be focused
In our distracted world, focus is precious.
Focus means we don't get distracted by social media, noisy neighbors, and grocery lists while writing. Focus also means we stay committed to improving a specific task at hand—we can't practice structure and word choice and rhythm all at the same time.
Ericsson describes how Benjamin Franklin created his own writing exercises to improve specific skills. For instance, to improve the structure and logic of his writing, he chose articles in The Spectator as a reference and designed the following exercise:
[H]e worked with articles from The Spectator and wrote hints for each sentence. (…) he wrote the hints on separate pieces of paper and then jumbled them so that they were completely out of order. Then he waited long enough that not only had he forgotten the wording of the sentences in the original articles, but he had also forgotten their order, and he tried once again to reproduce the articles. He would take the jumbled hints from one article and arrange them in what he thought was the most logical order, then write sentences from each hint and compare the result with the original article. The exercise forced him to think carefully about how to order the thoughts in a piece of writing. If he found places where he'd failed to order his thoughts as well as the original writer, he would correct his work and try to learn from his mistakes.
To improve your writing skills faster, focus on one specific writing skill at a time.
3. Get feedback
To improve your writing and correct mistakes, you must know what the standard is you're trying to achieve and evaluate your writing against that standard.
The easiest way to get feedback is, of course, to hire a coach. But as Franklin's exercise above shows, you can also design your own exercises and evaluate your own writing.
To practice my own web writing, for instance, I took Apple's website as my standard and compared my own writing against them. Did I translate features into benefits as well as they did? How did my word choice compare? How did the rhythm of my writing compare?
And, to practice my blog writing skills, I took Copyblogger as my standard. I figured out why their opening paragraphs were so captivating, and then tried to emulate that. I analyzed Jon Morrow's inspirational final paragraphs, and tried to emulate those.
If you can't hire a tutor, learn how to benchmark your own writing. Find a good writing example, and compare specific aspects of your own writing to that example.
4. Get out of your comfort zone
When we write on automatic pilot, we can produce content faster.
But our skills stagnate.
As Ericsson writes:
Research (…) shows that doctors who have been in practice for twenty or thirty years do worse on certain objective measures of performance than those who are just two or three years out of medical school. It turns out that most of what doctors do in their day-to-day practice does nothing to improve or even maintain their abilities; little of it challenges them or pushes them out of their comfort zones.
How can you challenge yourself to write better? A few ideas:
When I started writing, I didn't believe I had any creative talent. I didn't consider myself a writer.
But as creating content became an essential marketing skill, I knew I had to learn how to write.
So, I pushed myself out of my comfort zone. I studied what makes writing good. I joined a course. I practiced step by step. I gained feedback, and eventually I mustered the courage to publish my work.
Learning how to write well changed my life
I started my own business.
I met people from all over the world. I found my voice, and learned how to express ideas.
Writing kindled my curiosity, helped me face my fears, and widened my horizons. I became more confident as a writer, as a communicator, as a human being.
And I discovered the pleasure of writing well.