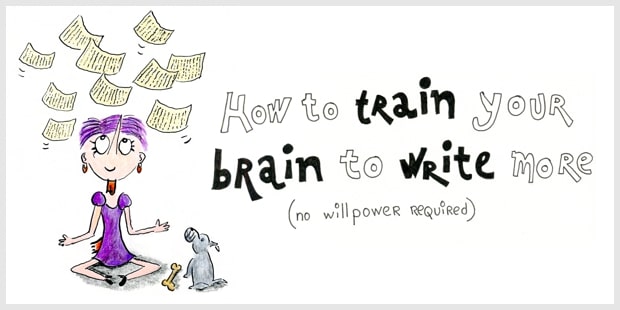 Do you ever feel a pang of envy?
Envy of others who have more time to write than you?
I'll admit it.
I'm envious. I'm envious of the people who are healthy and who can work full time. I imagine them having an abundance of time to write.
But I don't feel envious of a specific person.
Because deep in my heart, I know that most of us juggle too many commitments. We fight our own demons. We face our constraints.
And really, when I think about it, who writes as much as they'd like?
Don't we all want to write more?
A beautiful constraint
The book "A Beautiful Constraint" is a handbook for inventiveness.
Its authors, Adam Morgan and Mark Barden, show how organizations use constraints to kindle creativity and to innovate.
The book tells many inspirational stories, including the story of British bakery Warburton's. Twenty years ago Warburton's was a regional brand, but it's now "the UK's brand leader in bread and baked goods."
What struck me most?
How the Director of Research and Development instigated a tiny change to boost creativity and facilitate growth:
He didn't let people start with "We can't because." He forced them to start with "We can if." So, for example, instead of saying "We can't use that type of new packaging because it will slow the line down," the person would be forced to say "We can use that kind of new packaging if we run it on someone else's line."
Wow. I thought. What a simple way to stop blocking our creativity and to force us to think deeper.
Could I apply the same thinking to personal constraints like time and energy?
How often do we all say, "I can't because?"
The reasons for not writing are numerous:
I don't know what to write about
I have too many other things to do
I am too tired today
I'd rather go out for a walk
I'll never finish this anyway, so why work on it?
It's not going to be good enough
My big toe hurts
Such reasons block our creativity. They prevent us from looking for solutions. They can turn the flakiest excuses into immovable obstacles.
I can't. I can't. I can't. It won't work.
Do you recognize that negative loop, too?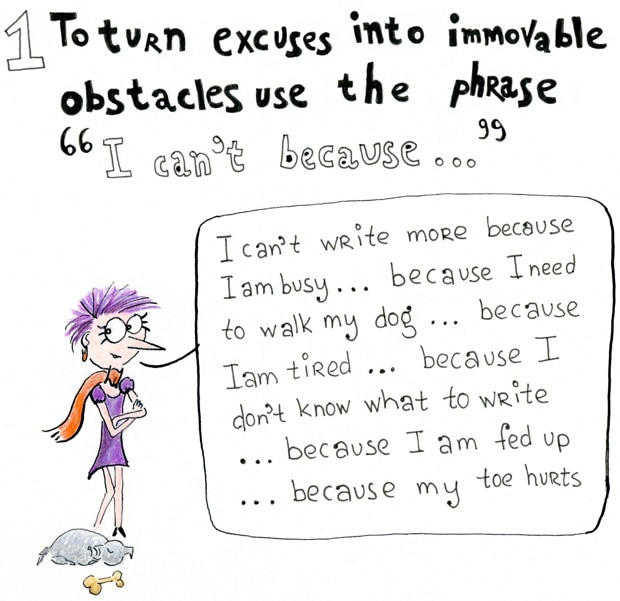 Explore possibilities
The "We can if …" question invites us to explore new possibilities.
So, for instance, instead of telling yourself you can't write because you don't know what to write about, you could try:
I can work on a blog post tomorrow if I know what to write about
I can find a topic to write about if I spend 15 minutes brainstorming tonight
Or: I can find a topic if I ring a client and ask what their most burning question is right now
Of course, we can't wave a magic wand and give ourselves two extra hours for writing each day. But we can look at our schedule and find small pockets of time to write more. We can manage our limited energy a little better. We can ban distractions, and improve our focus and productivity.
"I can if …" encourages us to work around our constraints, to look for the things we can control and find ways to do what we desperately want to do.
"I can't because …," in contrast, gives us permission to stop looking for solutions, and it allows us to keep fretting.
Make the impossible possible
The book "A Beautiful Constraint" discusses inspirational innovations like:
The Kibbutz that invented a drip irrigation system reducing the use of water by 50% while increasing fruit harvests by double digits
The school which launched a student performance app and hired a chief information officer; and got 97% of students (up from 10%) accepted into college
A team at Ikea which designed a table that could sell profitably at the crazy price of 5 euro
The challenges that these people were set seemed impossible. A table for 5 euro? Almost 100% college acceptance?
How do people solve such seemingly impossible problems?
Morgan and Barden argue that the key to inventiveness is mindset, and they discuss two different mindsets:
The victim mindset encourages people to lower their ambitions when they recognize a constraint
The transformer mindset uses constraints as a catalyst to find fresh approaches and innovative solutions
Victims and transformers aren't two types of people. Everyone can move between the two mindsets.
For instance, my general approach to writing is a transformer mindset. But when my writing habit is interrupted, for instance by a health setback, then I can fall back to the victim mindset. I only see blocks. I feel overwhelmed. Everything feels too difficult and I can't see a way out.
There is comfort in the victim mindset
We feel we've been dealt a bad card, so it's not our fault we're not writing as much as we want.
We might look at others and imagine how easy writing is for them. But do we really know what struggles they've been through? Does this comparison only entrench our victim mindset?
So, how can we shift our mindset?
Morgan and Barden discuss three requirements to move from victim to transformer mindset: a belief in the possibility, a method, and motivation. When you apply these to time and energy constraints, you may feel opportunities opening up:
A belief in the possibility that you can find a way to write more. What if you could look for small pockets of time? What if you could train yourself to focus better?
A method to help you get started and nurture a writing habit. What if you could beat procrastination? What if you'd block time in your calendar to write? What if you made specific commitments, like: "Tomorrow I work on my blog post for 25 minutes, and I'll start before 9.30am?"
The motivation to find energy, focus and time to write more. Why do you want to write more? Which ideas do you want to spread? What's the book inside you? What difference could writing make to you?
Is writing really a priority for you right now? And what are you prepared to give up so you can write more?
Writing more isn't about finding more willpower
Recent research has suggested we don't have a limited resource of willpower.
But when we think we lack willpower, we lose our self-control and our willingness to get things done. Telling ourselves we lack willpower might be another way to reinforce our victim mindset.
So, instead of worrying about lack of willpower, connect with your "Why." Believe in yourself and nurture the habits to write more.
Which voice will you listen to?
Is an inner voice whispering you'd love to write more? But does a much louder voice tell you it's impossible because … ?
You can choose which voice you want to listen to.
So, think about this: "I can write more if … "
You'll be amazed how much more you can write, when you carve a little extra space in your diary for writing.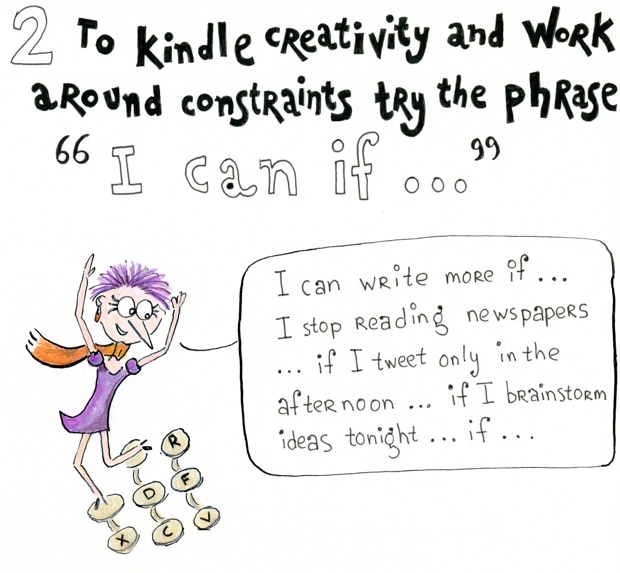 Recommended course:
Write It, Don't Fight It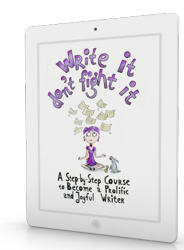 A Step-by-Step Course to Become a Prolific and Joyful Writer
"Since starting the program, I've written and published 3 blog posts, a 300% improvement over my track record. ~ Deborah Reidy