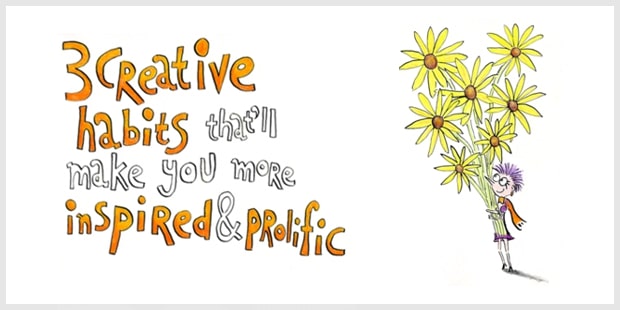 What are your creative goals this year?
And how are you planning to achieve your goals?
Henry knows what his goals are. He wants to write a book. He'd like to draw more. And he wants to create his very first course.
Ambitious?
Sure, his goals are audacious, but Henry feels he's got the motivation and willpower to make this his best year ever.
Have you ever tried to exercise your willpower?
And?
Did it work?
Research has never proven that willpower can be practiced and strengthened. Even worse, research suggests that telling ourselves we lack willpower (and that we need to strengthen it) is enough to prevent us from implementing our plans.
And even more weirdly, people who think they have a lot of self-control, rarely exercise their self-control.
Instead, they nurture the right habits to plan for success. They avoid relying on willpower.
How to plan for creative success
Creative inspiration may seem to come out of nothing.
Isn't that what an Aha! moment is?
But Aha! moments and creative inspiration aren't conjured up out of nothingness; they're based on solid work. When we put in our hours diligently, our muse will turn up to reward us with a spark of inspiration.
As Kaufman and Gregoire write in their book Wired to Create, inspiration and effort feed off each other. When you're more inspired, you put in more effort. And when you put in more effort, you feel more inspired. It's a dynamic interplay.
So, creative habits help us write more regularly and set us up for creative success.
Want to achieve your creative goals this year?
The infographic below outlines three essential creative habits to help you plan for your success.

Grab the embed code below to display the image on your website:
3 Creative Habits That'll Make You More Inspired and Prolific, courtesy of Henneke at Enchanting Marketing