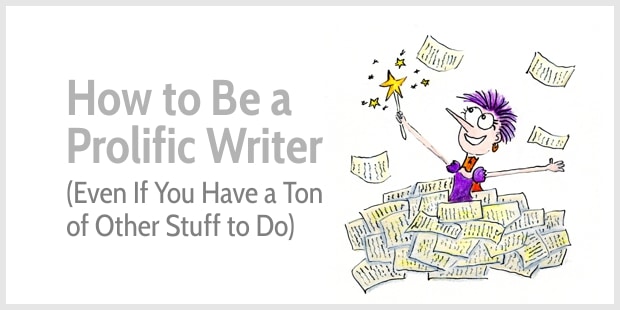 Hayley sighs.
If only she had an extra hour in her day …
She'd dedicate that extra hour to writing. And then she could publish a blog post every week, and perhaps finally start writing her book.
Hayley has always wanted to write a book, but she has too many other things to do. Keep her coaching clients happy. Take care of her elderly mother. Clean the house, get groceries, and cook. Answer countless emails. Keep up with Facebook.
At the end of a busy day, she sits down at her desk, with a cup of her favorite nighttime tea.
But she lacks the energy to write.
Hayley published her last blog post 7 weeks ago. And that book? She never got further than a rough outline. She thinks she lacks the willpower to write. She doubts she'll ever be good enough to publish a book.
Should she give up?
In the last few years, I've read a lot about productivity, and tested different tactics. I've found a lot of productivity advice doesn't work for me, and might even be counterproductive.
Want to know which productivity myths might be sabotaging you? And how you could become a prolific writer even if you got a ton of other stuff to do?
Myth 1. You must have oodles of willpower
For years, researchers have argued we have a limited amount of willpower, so we have to apply our willpower carefully to our most important tasks.
But recent research has suggested telling ourselves we lack willpower is enough to prevent us implementing our plans.
Consider that … just thinking we lack willpower can stop us from writing more. It's like a self-fulfilling prophecy.
So, instead of worrying about willpower and trying to cram more tasks into your day, look at your schedule and ask yourself:
What could you do less?
Which activity can you drop, so you can make time for writing?
Myth 2. You must set big writing goals
Setting big targets works for some, but for most of us it works counterproductive.
Big targets make many of us feel anxious, and anxiety guzzles up energy and obstructs our ability to focus. Anxiety is a productivity killer.
If you're one of the lucky ones who thrives on big targets, go ahead, challenge yourself to write that book in half the time you think is possible, or double your guest posting commitments.
But if big targets don't work for you, set a doable target instead, and nurture a regular writing habit.
When you make a little space for writing every day, you'll get a surprising amount of work done. For instance, Gustave Flaubert wrote "Madame Bovary" by writing only two pages a week, and Stephen Guise wrote his bestseller on mini-habits by aiming to write at least 50 words a day.
When you nurture a tiny habit, writing becomes almost as automatic as brushing your teeth daily.
And that's how you can write that book that's hiding in you. Sentence by sentence. Page by page.
Myth 3. You must dedicate more hours to writing
If you want to be more prolific as a writer, it's a good idea to block time in your calendar for writing.
But dedicating more hours to writing doesn't necessarily make you more productive.
This is what happened when Mark Manson tried to write as much as possible in a day:
I was hanging out with a few other writers and we'd get together for "write-a-thons" and bang out as many words as humanly possible in an afternoon. It was basically one big pissing contest where we'd gloat about our word counts over drinks later that evening.

My best day was 8,000 words, all in about 6 hours of total work.

"Holy shit!" I thought, "I just produced 32 pages in a single day!" All you would need is 10 days of that kind of productivity to write an entire book.

There was just one problem.

It all sucked.

I mean all of it. When I eventually went back to revise the chapter a few weeks later, out of those 8,000 words, there were maybe 500 that were usable.

The problem is that it took me four days to sort through all the garbage, re-write the few parts that were salvageable, and make the decision to delete the parts that just sucked.
After a year full of frustrations, Manson finally decides to limit his writing to two hours a day:
And my god, did the book just shoot out of my fingers like my undiscovered Jedi powers. I banged out a new draft of the book in two months flat.
My experience is similar. When I write a little every day, I make progress faster.
So, if you're finding yourself revising a lot, try writing less, and go out for a walk instead. Research has shown a walk can boost your creativity.
Myth 4. You must get up at 5am
This seems to be one of the most pervasive myths on the web. Every successful person seems to get up early to get more done.
But, in the book "Daily Rituals" by Mason Currey, you'll find plenty of examples of writers who didn't work early:
American novelist Thomas Wolfe typically started writing around midnight, fueled by large quantities of tea and coffee
Short story writer Ann Beattie's favorite hours for writing are between 12.00 and 3.00am
Franz Kafka only started writing at 10.30pm or later, after his day job at an insurance company was finished
As Currey shows, everyone's daily routines are different, and some writers are productive without a fixed schedule. Novelist Nicholson Baker, for instance, likes changing his routine each time he starts writing a new book.
We all have different biorhythms and commitments to work around. So, stop feeling guilty if you like a late start. Learn to listen to your body and find out what writing rhythm works for you.
Myth 5. You must outline
I'm a fan of outlining.
Especially for beginning writers, outlining helps to get content organized and it can seriously reduce the revision time, so you can produce well-structured content faster.
But, that doesn't mean outlining is a must.
Lee Child, for instance, writes his crime novels without planning the plot. The story writes itself.
No one writing process is suitable for all. Some people outline, others just start writing. Some people write short outlines, others write such detailed outlines they've almost written a rough draft already. Some people like editing while writing, and others edit only after they've finished a first draft.
In most cases, I write faster when I outline. But sometimes, I freewrite and see where I end up. Sometimes I edit while writing, but mostly I edit after I've written a first draft.
Everyone is different, so find the creative process that works for you.
Myth 6. You must write faster
Writing speed is a tricky topic.
One of the most prolific writers ever was Andrew Offutt, a pornographer, who has published over four hundred books.
How was he able to write so much?
He followed a template.
As his son Chris Offutt writes in the book "My Father, the Pornographer:"
He created batches of raw material in advance—phrases, sentences, descriptions, and entire scenes on hundreds of pages organized in three-ring binders. Tabbed index dividers separated the sections into topics.
Dad was like Henry Ford applying principles of assembly-line production with premade parts. The methodical technique proved highly efficient. Surrounded by tabulated notebooks, he could quickly find the appropriate section and transcribe lines directly into his manuscript. Afterward, he blacked them out to prevent plagiarizing himself.
And this is what Chris' mother tells him about selling the books at conventions:
They bought everything. I don't know why. The books were pretty much all the same. Different settings and people's names, but the same.
Writing according to a template allows you to write on auto-pilot, super-fast. It's a streamlined production process.
But this type of writing doesn't work for everyone. For instance, if you write to formulate your thoughts, to master a topic, or to explore new writing techniques, you're bound to be slower because you need more time for thinking and percolation.
So, instead of chasing higher speed, try to gain better focus. Learn how to quiet your mind (meditation can help), stop multi-tasking, and cut all external distractions like phone notifications.
When you concentrate on your writing, your productivity will increase.
To become a prolific writer, your most precious skill is self-knowledge
You'll know when you're making solid progress—no matter whether you write 100 words in an hour or 1,000.
It's not about the word count but about the quality of the content you produce and the intensity at which you work. Are you focused or not?
Think about your creative process …
When are you at your best? And what is hampering your writing? Are you multi-tasking? Are you procrastinating? Do you feel distracted? Are self-doubts sabotaging you?
When you understand what's bugging you, you can look for tactics to unclog your mind and streamline your process.
So, pick up the courage to start writing your masterpiece.
Write a little every day.
And celebrate each tiny step of progress.
PS Thank you to Katharine Trauger, one of the most prolific commenters here, for inspiring this post.