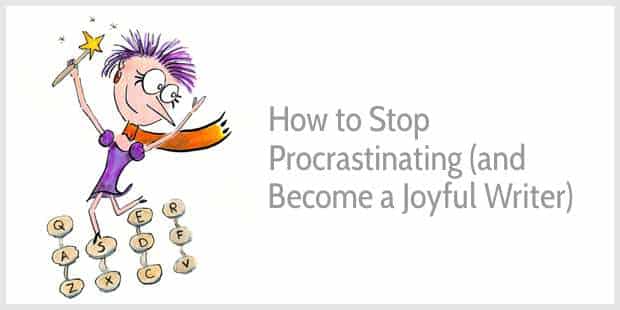 Do you ever wonder whether writing is easier for others?
You see people publishing new blog posts every week. Others even publish a whole new book every year.
And it seems like they write without agony, without stress, without procrastinating.
But here's the truth …
We only see the end result of other people's writing.
We see their finished pieces but we don't see their resistance to writing.
We don't notice the despair about a crappy first draft. We don't see the huge effort of restructuring and revising and editing until the writing flows naturally and the ideas are finally communicated with clarity and flair.
If you're a procrastinator, you're not alone.
You're not the only one who finds writing a challenge, who wrestles to get your ideas on paper.
When I quit my job, I didn't plan to become a writer
Writing was a way to raise my profile and start my business.
As I quit my 70-hour-per-week job, working at home was a challenge.
The days stretched out before me, and often, it'd take a whole day of umming and ahhing, reading newspapers, and brewing cups of tea, before I'd finally start writing—usually late afternoon, when deadlines put pressure on me.
Why was I procrastinating so much?
I used to think I lacked discipline or willpower.
But I've since learned that willpower is a fallacy. Research suggests that telling ourselves we lack willpower is enough to make us do less.
Much smarter than relying on willpower is to create the habits that make it easy to start (and keep) writing.
We don't procrastinate because we're lazy
We procrastinate because the tasks in front of us feel too hard, too daunting, or too boring.
We feel a resistance to getting started and allow ourselves to get distracted by more pleasurable activities, such as watching cat videos, scrolling Instagram, or doing simple tasks like answering emails.
What do you do when you procrastinate?
And how does that activity make you feel?
Breaking procrastination habits may feel like an impossible task.
But it's possible.
How I stopped procrastinating
Turning myself from a procrastination champion into a more productive writer has had a big impact on me.
I've mostly eliminated stress because I don't need a deadline to write. I feel less frustrated with myself. Above all, writing gives me more joy. It's still hard at times—of course it is, writing is thinking, and thinking is not easy. But I can even find joy in the hard work.
How did I do it?
There are 3 parallel tracks to defeat procrastination:
Make it easier to start writing
Avoid mid-writing procrastination
Face your feelings rather than flee them
Shall I explain?
1. Practice getting started
To start writing was always a challenge for me.
There were so many doubts.
Was my idea good enough? Could I actually turn my idea into a solid blog post? Who was I thinking that I could write about this?
The key trick was to make starting easier by cutting the writing process up in smaller tasks, like outlining, writing a first draft, revision, editing, formatting.
I told myself I only needed to take the next step, and then I could leave the rest for tomorrow. But once I took a first little step, I often got in a flow, and would write a lot more.
I often get emails from people who struggle to get their thoughts on paper, and they wonder why it is so hard.
Well, getting your thoughts down on paper is hard, and the trick is to get started, to accept that your first draft will be bad, and then improve that draft until you communicate your ideas with clarity.
If you want to become a more productive writer, I recommend falling in love with the step-by-step process of writing. When you focus on each step of the process rather than worry about the result, you'll find joy in writing—even when it's hard.
And fostering that joy will help overcome procrastination.
2. Avoid mid-writing distractions
Getting started with writing eliminates a lot of procrastination.
But there's another trap ….
Mid-writing procrastination.
I often hit a block in the writing process. I miss a piece of research, an example, or a quote. Or I find that my structure doesn't work. Or I need to start a new section and I don't know how to continue.
In such a situation, it's easy to give up writing and do something else. But before I'd know, an hour or two would have passed answering emails, reading newspapers, or scrolling through Twitter. Getting back to writing would be hard.
How can we keep writing when we hit a block?
First, I adopted the Pomodoro technique—to set a timer and write for short bursts of time. While the timer is ticking, I'm not allowed to do anything else but write.
Secondly, I learned to observe my procrastination behavior:
When did I get distracted from my writing?
What were my procrastination activities?
How did those activities really make me feel?
What could I do to keep writing instead?
Jud Brewer is a psychiatrist and neuroscientist who helps people change bad habits, and he writes that our guilty habits often don't give us as much pleasure as we think. Just realizing this can help us to replace a bad habit with a healthier or more productive habit.
Resisting bad habits is hard; it's much easier to replace a bad habit with a new habit. So, instead of letting a writing block trigger a bout of procrastination, I find tactics to keep writing.
For instance, when I feel stuck writing a first draft, I reread what I've written so far. Rereading often helps me to continue writing. But if not, I start editing or summarizing what I've written so far.
When you gain an intimate understanding of the writing process and the blocks along the way, you can find tactics to avoid procrastination and keep writing.
That's how writing becomes a more joyful activity.
3. Face your inner monsters
My natural instinct has always been to run away from my emotions, to fight my fears, and ignore my doubts.
I used to make myself busy so I didn't have to think.
But I only let my fears and doubts grow, and I made difficult tasks like writing become even harder.
I've learned to pay more attention to myself. I observed my emotions and thoughts, and I noticed how much I was getting in my own way.
I learned to co-exist with my doubts, to get started despite my resistance, and over time the doubts became less forceful. I could laugh at my resistance. I understood that writing was sometimes hard but that with patience and perseverance, I would find a way.
Acknowledging my feelings saved me a lot of precious energy, and helped me become a writer despite my doubts or fears.
As psychologist Dr. Christian Jarrett suggests, procrastination isn't a matter of managing your time better, it's a matter of managing your emotions.
Your illustrated guide to stop procrastinating …

Grab the embed code below to display the infographic on your website:
How to Stop Procrastinating, courtesy of Henneke at Enchanting Marketing