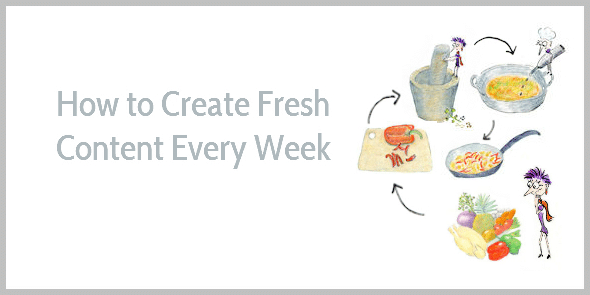 Ever look back at your week, and wonder what happened?
You started the week with good intentions. In your mind, you'd already written an epic blog post.
But then you sat at your desk. You stared at a blank sheet; and the words wouldn't come.
Your friend Procrastination peeked her head around the door, distracting you with little tasks that seemed more appealing than writing that blog post.
Does blogging feel like an enormous task?
You're not alone.
Yet, the secret to a regular blogging schedule is simpler than you might think: Chop up the writing process.
Want to feel good about your weekly writing?
Here's how …
How to chop up the writing process
Imagine cooking a festive meal for friends and family …
Chicken saté. Prawns in yellow curry. Beef rendang. Stirfried veggies. Pickled cucumber with pineapple and tomato. Prawn crackers. Rice. Mango sorbet.
Makes your head spin, doesn't it?
To prepare the whole meal, you consider which dishes you can prepare beforehand. A curry can be cooked the day before, while veggies have to be stirfried just before your meal.
You also think about the different processes involved. You can chop all the vegetables and grind all the spices before you start grilling, frying, and cooking.
With writing blog content it's the same. You don't have to do everything all at once. Consider the different parts of the post: The headline, opening, main body, and final paragraph.
And cut the process into steps: idea generation, outlining, writing a first draft, editing, and formatting.
When you cut the big task of writing into smaller tasks, writing a blog post becomes more doable—even if you have only small gaps in your busy schedule.
So, here's how you could create a weekly schedule …
Day 1. Start your blog post
Do you keep a notebook or folder with blog post ideas?
If you don't, then schedule 30 minutes for a brainstorming session first. Think about your ideal reader, and consider what problems you can solve for them. How can you help them be more productive, happier, healthier, or wealthier?
Write down at least 30 ideas in 30 minutes. Keep all your ideas on a list, and add ideas whenever people ask questions or provide useful comments. If you keep your eyes and ears open, you probably need to do a brainstorming session only once a year. You'll hardly ever run out of ideas.
Now it's time to start your next blog post:
Browse through your notebook, and pick an idea.
Write a working title (a how-to works best). Make sure your working title explains how your reader will benefit from reading your post. Which problem will it solve? What will they learn?
Outline your post by jotting down preliminary subheads; think about the examples you can use or the mini-stories you can tell.
If you'd like to add quotes or stats, or need to do other research, do this on day 1, too. When you write a first draft, you don't want to get distracted by research because it slows your writing down too much.
Need to do a lot of research? Plan this first in your calendar and review what publishing schedule is feasible. You may prefer to publish every other week rather than weekly.
Day 2. Use a timer to beat procrastination
Some people say writing gets easier over time.
But in my experience, writing is like cycling uphill. When your fitness improves, you get faster to the top, but your legs still hurt as much.
I hate writing a first draft. I have to overcome so much resistance, that I try writing first drafts when I feel groggy—before breakfast. At that time my inner critic is still half-asleep and doesn't have enough energy to rebel.
Here's how I write a first draft:
The opening paragraph can feel tricky to write, so I leave it for later.
I set a timer and write my first draft as quickly as possible—usually in two sessions of 25 minutes with a short break in between.
I also skip the final paragraph, because it's better to write it when I feel fresh and enthusiastic.
If you're struggling to get a first draft done, give yourself permission to write badly. Just write as fast as you can. Revision is for later.
Day 3. Write the 3 most important parts
Focus today on the most important parts of your blog post. Think about your ideal reader and how your post is going to help them:
Your headline must grab attention; it can make the difference between so-so social sharing and a popular post. Write half a dozen headline options—the first option is rarely the best.
Nobody reads a post with a drab opening, so your opening must tempt visitors to read on. The best format for blog openings is to empathize with your reader and promise them you'll help them solve a specific problem they're facing.
Your closing paragraph must inspire your reader to take action. Don't let your post fizzle out. Take away an obstacle to implementing your advice or give your reader a pep talk.
To grow your influence online you must get people to read, share, and act on your advice. That's why the headline, opening, and closing are critical.
Day 4. Edit your post
Editing your post is like carving a pretty flower from an ugly carrot.
You cut away the waste to reveal a smooth and gripping story. These are your main editing tasks:
Want readers to enjoy your posts? Editing is where the magic happens.
Day 5. Format, publish and promote your post
Yay! You're nearly done.
On the last day, publish your post:
Find or draw a picture.
Format your post in WordPress.
Add links from a few old blog posts to your new blog post (and from your new blog post to a few old blog posts).
Write an email to promote the post to your email subscribers.
Promote the post on social media.
Don't forget to pat yourself on your back for publishing your post!
Work that isn't scheduled doesn't get done
Each blog post you write is an opportunity to engage your fans. To get more shares. To gain more traffic. To grow your authority. To find new readers. To win more business.
But when you don't block time in your calendar, tasks don't get done.
So, don't let blogging slip to the bottom of your to-do list.
Stick to a schedule that works—whether that's once a week or every other week or even once a month.
Grow your audience. Build your business. And be proud of your work.
Recommended course:
Enchanting Blog Writing
Learn how to engage, educate, and inspire your readers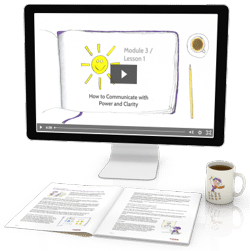 "I had been trying to master writing blog posts for nearly three years. I was at the point of giving up. Then, I signed up for Henneke's blog writing course. It was what the doctor ordered. The course was easy to follow and understand. I finally got it. I am now confident writing blog posts."
~ Robert Malone

"Even though I'm a published writer, I found the course super helpful and my blog posts contain more meat and substance than ever before."
~ Stacy S. Cohen