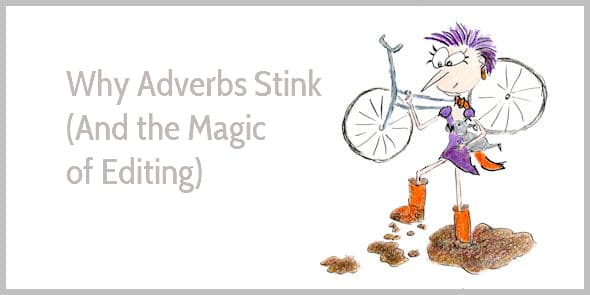 Imagine readers hippety-hopping through your content.
An autumn breeze plays with their hair. You notice a twinkle in their eye.
Sound good, doesn't it?
Now, picture the sun hiding behind an ink black cloud. Your readers start to trudge. Their shoes feel heavy. Squelch. Sploosh. Squelch. Sploosh.
Not the kind of experience you want to create, huh?
Still it happens all the time.
Lazy editing makes readers trudge. They get tired. They start skimming your content, or worse: they might click away.
And the muckiest words making your readers drag, plod, and toil? Those are adverbs. As bestselling author Stephen King has said:
The road to hell is paved with adverbs ~ Stephen King (tweet this)
But why are adverbs so bad? And do they always stink?
To use adverbs correctly, you must understand two types of adverbs.
Shall I explain?
The first type of adverbs almost always stinks
This type of adverbs modifies verbs.
For instance:
Henneke walked quickly.
The explanation of Ms. Grammar:
The word "walked" is a verb because it describes what Henneke does.
The word "quickly" describes how she walked. Therefore, "quickly" modifies the verb "walked," so it's an adverb.
Why writers should care:
When you delete the word "quickly," you change the meaning of the sentence. "Henneke walked" doesn't mean the same as "Henneke walked quickly."
So, instead of crossing out the word "quickly," you can replace the word "walk" to paint a more precise and vivid picture:
Henneke hurried.
Henneke ran for her life.
Henneke sprinted.
Henneke jogged.
Henneke sped ahead like a hungry hyena spotting an antelope.
When an adverb modifies a verb, you can almost always remove the adverb and pick a more accurate verb:
She spoke softly—She whispered; she mumbled.
She said loudly—She barked; she yelled; she screamed; she shrieked.
She said jokingly—She joked.
She worked really hard—She slaved; she labored; she toiled.
Be careful when using adverbs to modify verbs. Always check whether you can use a more accurate verb on its own instead of a verb + adverb.
The second type of adverbs can be sweet-smelling or stinky
This type of adverb modifies an adjective.
Let's look at an example:
Henneke is a very crazy girl.
The explanation of Ms. Grammar:
Nouns refer to people or things, so the word "girl" is a noun.
Adjectives describe what people or things are like, so the word "crazy" is an adjective.
"Very" describes how crazy Henneke is, so it's modifying the adjective "crazy," and that means "very" is an adverb.
Why writers should care:
The word "very" doesn't help you paint a clear picture, and that's why it's a mucky adverb.
When you delete "very" you might feel that the remaining sentence, "Henneke is a crazy girl," isn't strong enough. And this is where the magic of editing happens. Look for a stronger expression and add zing to your writing. For instance:
Henneke is nutty as a fruitcake.
Henneke is bonkers.
Henneke is looney.
Henneke is dippy.
Take your pick. Which version suits your voice best?
Not all adverbs stink
Look at a random page on Apple's website, and you'll see their copy is riddled with adverbs.
Sometimes an adverb adds stress (adverbs in bold):
An elegant form that's exceptionally strong.
Apple Pencil instantly recognizes when you are pressing harder or shifting its angle.
Sometimes an adverb helps paint a clearer picture:
That extreme resolution (…) makes everything from photo editing to intense 3D games more vivid and deeply engaging.
Despite having 78 percent more display area than iPad Air 2, iPad Pro feels reassuringly solid in the hand.
Sometimes an adverb is used for rhythm or repetition:
The speakers in iPad Pro aren't just high fidelity, they're highly intelligent.
So, when can you use adverbs?
Adverbs left carelessly in sentences are almost always mucky. In contrast, adverbs chosen with care are fine. Choose them to paint a more precise or more vivid picture. Compare these two versions:
Her friend is really beautiful.
The adverb "really" is meaningless and can be deleted.
Her friend is breathtakingly beautiful.
The adverb "breathtakingly" adds stress and paints a more vivid version, so you can decide to leave it, or opt for "Her friend is gorgeous." Both versions are fine. Choose the version that suits your voice and rhythm.
4 enchanting rules for adverbs
If you delete an adverb and the meaning of a sentence doesn't change, remove it.
If you delete an adverb and the sentence weakens, try finding a stronger expression.
If an adverb modifies a verb, try picking a more accurate verb and delete the adverb.
When in doubt, delete your adverb.
The art of good writing
Good writers aren't sprinters.
They choose each and every word with care.
They know the rules. But they also know how to break the rules. Deliberately. Determinedly. Emphatically.
Remember to have fun and play with your words. 🙂