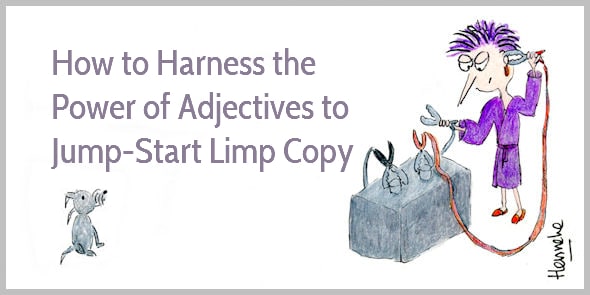 You know the feeling, don't you?
You've worked hard to write your web page.
You've translated features into benefits. You have a strong call to action. You used Grammarly to check for grammar and spelling mistakes.
But when you read your draft copy, you feel it's dragging on. It lacks energy. A spark is missing.
What should you do? How can you invigorate your content?
Adjectives are the trickiest instruments in your writing toolbox.
Use too many adjectives and your content starts sagging. Use the wrong adjectives and your content becomes icky.
But when you pick powerful adjectives, your content pops, sparkles, and inspires.
4 essential rules guide your choice of adjectives. Follow these rules to inject energy into your writing, and tempt readers to interact, sign up, and buy.
Sound good?
Before discussing these 4 rules, let's quickly define what we're talking about.
What's an adjective?
An adjective describes a thing or a person—in grammar these are called nouns:
That crazy Dutch girl writes crappy content.
The word girl is a noun. The words crazy and Dutch are adjectives because they describe the girl.
The word content is also a noun, and crappy describes what the content is like, so it's an adjective.
Wearing her wooden clogs, she arrived at the cocktail party.
Clogs are a noun, and wooden describes what the clogs are made of, so wooden is an adjective.
A cocktail is a thing, but it's used as an adjective here, because it describes the party (a noun). In this case, the word cocktail is used as adjective noun. Adjective nouns mostly follow the rules for adjectives.
But seriously, do adjectives matter that much?
Research suggests that adjectives can reduce the power of our messages. After analyzing 200,000 tweets with links Dan Zarella found that tweets with adverbs and verbs get more clicks than tweets with more nouns and adjectives.
However, other research points in the opposite direction. When analyzing bestselling vs. not-so-successful authors, researchers from Purdue University found that "popular writers use substantially more adjectives."
So what's the truth?
You can't make general statements about adjectives.
Some adjectives possess persuasive powers, while others are limp and crappy. Research into restaurant menus, for instance, suggested that descriptive menu labels like "Southwestern Tex-Mex salad," "ye old potato bread," and "buttery plump pasta" can increase sales by as much as 27%.
Adjectives aren't created equal. So, which adjectives should you pick to see your sales go up?
Rule 1: Avoid adjective overload
Overindulgence in adjectives makes your copy verbose and cumbersome.
The following adjective-heavy copy, for instance, makes me want to cry:
Our
bestselling
Petunia Mix contains a
wonderful
blend of 20
different
types of Petunia flowers. Get the
weather-resistant
,
colorful
blooms of Petunia Mix for a
sensational
,
long-lasting
display of
dazzling
colors.
(9 adjectives out of 31 words or 29%)
Removing adjectives from your text makes your copy shorter, so it can be read faster and understood easier. Consider the lighter version of the sales copy for Petunia flowers:
Our
bestselling
Petunia Mix contains 20 types of Petunia flowers. The flowers are
weather-resistant
, so you can enjoy their
dazzling
display of colors even after a rain shower. These Petunias flower from
early
June to
late
September.
(5 adjectives out of 37 words or 14%)
That sounds less sales-y and more credible, doesn't it?
So, how can you cut cumbersome adjectives from your copy?
Follow these three tactics:
If the meaning of your sentence doesn't change when leaving out an adjective, skip it.
Use a stronger noun if that means you can leave out an adjective. A crisis is better than a severe problem, a mansion or palace is better than a large house.
Limit the number of adjectives before a noun, instead of a hot, humid, and sunny day try a sticky day.
Editing tip for adjectives:
Print a copy of your content, and use a marker to highlight all adjectives. Now, review your adjectives one by one. If you can get your message across without using adjectives, leave them out. If you have more than one adjective before a noun, choose the most important one.
Rule 2: Piercing precision for credibility
Imagine sales copy for a copywriting course:
We have assembled top-notch copywriting expertise, have a state-of-the-art training center, developed sophisticated teaching techniques, and called on innovative technology to ensure the highest level of tutor support.
Huh?
Any idea what's good about that copywriting course?
The copy is meh because most of the adjectives are hollow. Words like top-notch, state-of-the-art, sophisticated, innovative, and highest don't give us a concrete impression of what's good about the course.
To make your copy persuasive, use specific adjectives instead. Specific or precise adjectives describe technical details or real benefits and boost the credibility of your copy. For instance:
This course features 470 pages of copywriting instruction including persuasive techniques, tactics for writing faster, and 76 real-world examples. Short videos and transcripts help you absorb the learning. And each week you get feedback from experienced tutors.
Note how each adjective is specific? These specific details add credibility to sales arguments.
Editing tip for adjectives:
Review the adjectives you've highlighted before. Can you make them more specific? Can you paint a vivid picture of what your product or service means for clients?
Rule 3: Delight the senses
Adjectives that appeal to the senses add impact to your copy because they activate different areas of the brain. They make readers experience your copy as if they can feel, taste, or hear your words.
For instance:
Crunchy toffee and smooth dark chocolate. Treacly and savoury flavours.
From the
seamless
transition of glass and metal to the
streamlined
profile, every detail was carefully considered to enhance your experience.
From: Apple iPhone 6
Sensory adjectives can be visual (bright or drab), tactile (sticky or polished), or related to sound (fizzy or chirpy), taste (refreshing or bland), or smell (stale or fragrant).
Editing tip for adjectives:
Review the adjectives you've highlighted in your copy. Can you replace any weak adjectives with sensory versions?
Rule 4: Surprise your readers
Surprise startles the brain and grabs your reader's attention.
Shakespeare already used linguistic surprises. He used adjectives as verbs: Thick my blood—the adjective thick is used instead of the verb make thicker.
Ecommerce store Firebox also likes making up their adjectives:
Each of these
mendy
instruments is made of mouthwatering Belgian chocolate, so tasty they'll likely induce
flood-hazard
quantities of drool
From: chocolate tools
Editing tip for adjectives:
Make up a new adjective or use a rare adjective to grab your reader's attention. But be careful as new words can make your copy more complicated and reduce readability. Use in moderation only.
Harness the power of adjectives
Good copywriters follow strict rules of how to write. They stay on the safe side. They don't want to upset the grammar police.
But copywriting is only part science. The other part is art.
So great copywriters know when to break the rules. They study copy. They read aloud. They hunt for fresh words, new rhythms, and irreverent styles of writing.
They develop an ear for what works and what doesn't. They experiment and play. That's how they unlock their creativity, and turn limp text in persuasive content.
So, go on. Follow the rules.
And then try to break them.
Have fun!