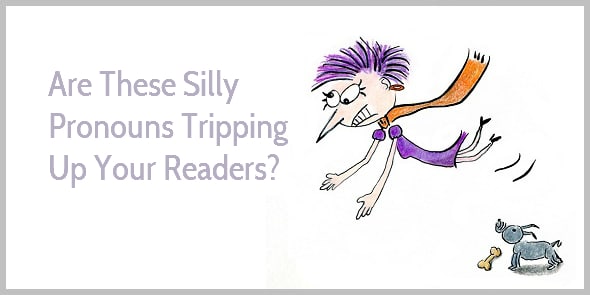 Ever had a tiny pebble in your shoe?
You walk on because the pebble is so tiny, you hardly feel it. You don't want to untie your shoelaces, take off your shoe, remove the tiny pebble, and then put your shoe back on. Too much hassle.
But after a while, the tiny pebble gets more irritating.
Should you stop walking and remove the pebble?
In writing, silly mistakes with pronouns are like that tiny pebble. They irritate your readers. They may stop and check what those little words refer to. Or they might read on without understanding the meaning of your sentence. Whatever your reader decides to do, you're making a bad impression because your bumpy writing is slowing your readers down.
Want to create a smooth reading experience?
Let's look at the most common mistakes with pronouns confusing your readers.
What are pronouns?
Pronouns are words like me, she, him, it, we, you, mine, her, our, himself, who, and whichever. These words refer to a person or a thing without mentioning it by name; and that's exactly why sometimes problems arise.
As a writer, you need to make it absolutely crystal-clear to whom or what the pronoun refers.
Shall we have a look how pronouns trip up your readers?
1. The most irritating mistake with pronouns
When writing, we know what we want to communicate.
But sometimes we forget that our readers don't know our story yet. They discover the story sentence by sentence.
And that's why writing can be tricky. We know what we mean. But our readers get confused.
For instance:
Mistakes with pronouns irritate your readers, requiring them to stop and check what they mean.
Ms Grammar tells us the above sentence contains three pronouns:
The first pronoun is "your." As I'm writing to you, you know whom "your readers" refers to. That's fine.
The second pronoun is "them." The phrase "requiring them" follows closely after "your readers," and it's pretty clear "them" refers back to "your readers." So that's okay, too.
The third pronoun is "they." The use of "they" here is a potential tiny pebble because in first instance you may think "they" refers to the same people as "them" a couple of words before. Once you've finished reading the sentence, you realize "they" refers to "pronouns" rather than to "your readers." You can improve this sentence by specifying the word "they," so your readers don't get a sore toe:
Mistakes with pronouns irritate your readers, requiring them to stop and check what these words mean.
Another common problem arises when a pronoun refers to something following later on in the sentence. As the reader doesn't know what's coming you leave him guessing until he's read the remainder of the sentence. For instance:
A good flow hypnotizes them because readers enjoy the smooth experience.
The beginning of this sentence is confusing because we don't know who "them" are until we read "readers" later on. Solve the problem by mentioning "readers" first:
A good flow hypnotizes readers because they enjoy the smooth experience.
To avoid irritating your readers with tiny pebbles in your sentences, check whether it's clear what each pronoun refers to.
2. A common mistake with "I" and "we"
Have you ever had a hole in your sock?
As you're wearing shoes, nobody sees the hole in your sock, so it doesn't matter. But it becomes embarrassing when you have to take your shoes off in public. Perhaps at airport security. Or at the doctor's.
Beginning freelancers and one-man bands often want to hide their status as solo-flyers—just like that hole in their socks—as if running your solo-biz on your own isn't good enough. Don't you need assistants? And colleagues? And other people doing the work for you? On their Home pages and About pages, they use "we" instead of "I."
When I started working as a freelance copywriter, I thought people would be impressed if I sounded like I was a real business. I also fell in the trap of using "we." But I discovered people hired me because of who I was, not because I was pretending to be a bigger business.
So, let's be clear. If you're a solo flyer, refer to yourself as "me" and "I." But if you're a team, feel free to use "we," as Copyblogger do on their About page:
Today we're a profitable company with 8 figures in annual revenue that's growing fast. But our mission has never changed: We'll help you create the kind of audience-focused content that helps you reach your business goals.
Write your content as if you're having a face-to-face conversation with your favorite client. Refer to "you" and to "I."
And don't be embarrassed for running a solo-biz. Be proud.
3. A sneaky sense of self-importance
In face-to-face conversations, we automatically use the word "you" to engage our conversation partners.
With writing, however, we can't see the person we're writing for; and that's how a sense of self-importance often sneaks into our content— as if we want to say, "look at me and my expensive new shoes."
For instance:
Join our email list, and we'll send you our guide to help you learn how to use pronouns.
Note how "we" and "our" are both self-referring pronouns. Here's how to focus on your reader instead:
Learn how to use pronouns correctly. Sign up now and get your free guide.
To spot self-important sentences, look for the sentences with "I" and "we." See whether you can focus on your reader instead.
Focusing on your reader makes good business sense. When AwayFind, for instance, changed their subhead from the self-important "Let us find your urgent messages" to the you-focused "Get away from your inbox—let urgent message through the clutter and find you … instantly," sign ups increased by 91%.
A good writer engages her readers—even when she can't see them. She writes a little about herself, and she remembers to address you, personally.
4. Feeble pronouns
Imagine you go out for a walk with a friend.
And your friend has a tiny pebble in her shoe. She doesn't want to stop. But she keeps complaining about the pebble and her sore toe. Instead of enjoying the beautiful sunshine, you listen to her endless grumbling.
Feeble pronouns, like "it" and "there," are like that endless grumbling. These pronouns don't confuse your readers, but they weaken your sentences, and they can spoil a pleasurable reading experience.
The following sentences sound feeble:
There's a way to become more enchanting.
There's no hope for lazy bloggers.
It's easy to trip up readers when using the wrong pronouns.
It's hard work to write a blog post every week. But it's also fun.
And this is how you make your sentences punchier:
You can become more enchanting.
No hope exists for lazy bloggers.
Tripping up readers is easy when using the wrong pronouns.
Writing a weekly blog post is hard work. But it's also fun.
In the last sentence, it refers back to writing a weekly blog post, so here the reference is clear.
A good writer is a good guide
Take your reader by the hand.
Imagine he doesn't know your story yet. So tell him precisely what you mean, and avoid all ambiguity.
Good writers communicate with piercing precision.
PS Thank you to Aaron Orendorff for inspiring this blog post.