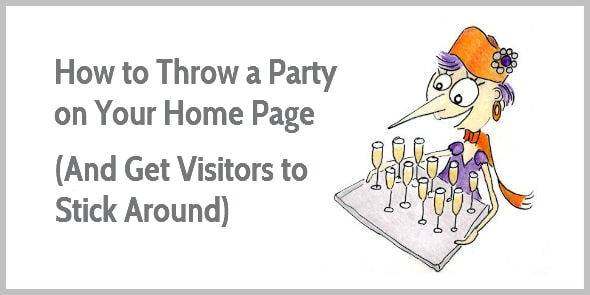 Imagine joining a party …
You open the door, and see a sea of grey suits.
You see lots of faces, but you don't recognize anyone. You hear a soft murmur. But no laughter. Not even a smile.
You can't even figure out where the drinks and snacks are. You feel lost. Lonely.
Wouldn't you want to turn around and leave? Go to a place where you feel welcome?
This happens on home pages around the web all the time.
You're not sure where you've arrived because the home page is fuzzy. You don't feel welcome, because the design is too hypey or too bland. And worst of all, you don't know where to click because it's cluttered.
My old home page was a little boring
A rather grey party. No personality. No music. No laughter.
When I started my business, I was nervous about showing myself online, and I didn't have a clue how to portray myself. As an agency? Or as an independent consultant? As a blogger or a business? As a content marketer or a writer?
My ideas were fuzzy, and my home page reflected that.
I knew it was time for a change.
My home page had to ooze more personality. This business is about me connecting with you. No faceless company. No gobbledygook. But a human touch.
This wasn't a vanity or branding project.
As my business is evolving from freelance copywriting to selling books and e-courses, the home page had to reflect this change. Growing my email list and engaging my readers are my top priorities.
What about your home page? Does it reflect your current business? Your personality?
Step 1. Define the top tasks for your home page
What is a welcoming home page?
A good home page exudes the right feeling, but most importantly, it allows web visitors to do what they want to do—and do this quickly. A fuzzy or confusing home page turns visitors away.
The top tasks differ for each business. A home page for an e-commerce store will feature popular categories or current offers. A home page for a freelance web designer may tell you what he does and encourage you to explore his services or view case studies.
In many cases, a home page acts like a billboard, explaining quickly where people have arrived before inviting them to join your party and explore your site.
On my site, most repeat visitors want to find and read my latest blog post. New visitors may want to do the same. They likely have already heard about me, and they probably want to learn more about writing or blogging. New visitors may also want to join my snackable writing course, and for me this is an important task because once I get people on my list, I can build a relationship.
What do you want to tell people arriving on your home page? And what do visitors want to do?
Step 2. Find inspiration and a common language
When you're planning a party with a group of people, you need to agree what a good party is. Do you mean a luxurious dinner party for a small group of intimate friends? Or a huge dance party with loud music? Or cocktails and snacks at 5pm?
When you hire a designer to work for you, you also need to establish a common language:
What do you mean with adding more personality to your site?
How do you think you can increase clicks and conversions?
To create a common understanding, Mark Reynolds, my web designer, and I reviewed a few websites together, including:
LKR social media—this home page has a super-strong focus on gaining email subscribers, but the overall look and feel is a little too corporate for what I want to achieve.
Erika Napoletano—this home page has strong personality, but I wanted a sharper focus on what web visitors should do.
Ian Brodie—I had watched his video on the LeadPages blog explaining how a 2-step opt-in process had boosted his conversions, and I wanted to try the same. I also liked the bullet points explaining the benefits of joining his list. (Note: Ian's home page has changed since this article was written.)
Be careful. When you review other websites, always consider whether they're trying to achieve the same thing as you. You can easily become distracted by nice party hats that don't suit your chic dinner party.
Which websites have similar objectives to you? How can they inspire your home page design? What do you like or dislike?
Step 3. How to increase conversions
In step 1, you defined your top tasks—what web visitors want to do, and what's important to your business.
But how do you get people to take action to explore your site? Rather than turn around and click away?
Take away distractions, boost visitor's confidence, and entice them with your offer:
We can tinker forever
Websites are never finished.
Design trends change. Our business evolves.
And we grow older.
Don't let your website go musty and moldy. Throw out the rubbish from time to time. And polish your site to give it a nice glow.
Then let it rest until your next Spring clean.