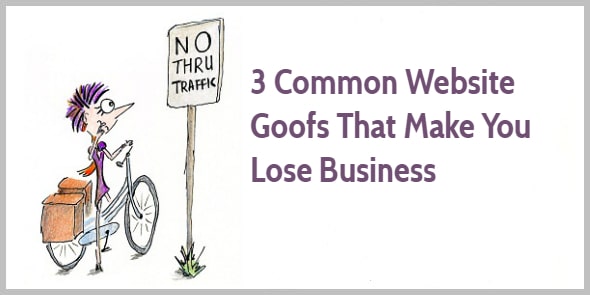 The theory for great websites seems simple enough, right?
You create a good-looking design. You tell people what you offer. You demonstrate your knowledge and skills on your blog.
And when web visitors arrive the till starts ringing; the dough rolls in.
But why don't our websites work like that?
Why do most web visitors bounce away and never come back?
Let's imagine going on a cycling trip across Europe …
You clean your bicycle chain, and check your brakes. You get the most up to date guide for hotel and restaurant recommendations, a detailed route description, and a map. You're ready to set off for your 400-mile adventure to Santiago de Compostela, Spain.
Despite a flat tire, a broken brake cable, a long detour, a closed hotel, and the exhausting heat, you arrive in Santiago two weeks later. Your legs are exhausted. Your back is hurting. And your bum is sore.
But … you arrive with a smile on your face. You made it.
Website visits are like that bicycle trip.
But while you were committed to get to your destination no matter what, your web visitors are less patient. Unclear directions make them turn around and click away. And that's when you might lose them forever.
So how can you create a smooth journey for your web visitors? How can you get them to subscribe to your list so you can nurture a relationship? And how can you persuade them to contact you, hire you, and buy from you?
Let's look at the most common mishaps sending web visitors stumbling around. Avoid these 3 common mistakes and you'll have happy web visitors with a smile on their face. They read your content, send you inquiries, and buy your products.
Sound good?
Website Goof #1: Unsuitable tracks
Ever had to lug your bike up a flight of stairs because the only way to cross a road was to use a footbridge?
It's no fun.
But the same happens on many websites—they assume every web visitor is the same. But it's like treating cyclists like pedestrians.
Web visitors are on different journeys because they're at different stages of the purchasing process and their aims vary.
Some web visitors know who you are. They're reading your blog almost every week. All they want to do is read your latest article without popups obscuring their view.
Other web visitors don't have a clue who you are. They have a problem—perhaps they feel overwhelmed and don't know how to market their business; or they simply want to know how to format their book for Kindle. They've googled their query and arrived at your site. You give them the information they need and invite them on a journey of exploration—perhaps by suggesting related content or encouraging them to join your list.
Yet other web visitors have just found out who you are. They read your latest guest post and clicked on your author byline to find out more. They're ready to join your list.
When writing web content, consider who your reader is and how much he knows about who you are and what you offer. Give him the right content at the right time.
Website Goof #2: No through traffic
It was 2010, and we were cycling newbies.
We undertook our second cycling adventure in the UK: a 4-day trip from Swindon to Cardiff. We'd done fine on our first two days, but the third day would be our longest cycling day.
We set off from Bristol in the morning, aiming to reach Newport in Wales. We crossed the famous Clifton Suspension bridge and enjoyed pedaling along the Avon river. It wasn't even raining.
But soon our journey was rudely interrupted. We had to cross a motorway, but … the bridge was gone. We stared at the cars speeding by, down below us—we had no clue how we could get to the other side. No diversion was indicated.
A big difference exists between cycling adventures and website journeys. A cyclist wants to reach a destination, but that's not her main aim; it's about the journey, and obstacles and hardship are part of the experience.
Your web visitor, however, has a well defined aim—he wants to buy a product, check whether you might be the right coach for him, or simply learn how to get started on Twitter. Your web visitors hate obstacles and hardships; they want to reach their destination as quickly as possible; and that's why they need clear signage so they know where they're going.
Our job as site owners is to show web visitors where to go next. After reading your About page, for instance, consider the next logical calls-to-action. Perhaps join your email list, read your favorite blog posts, or check out your product offer.
Don't let your readers get stuck. Instead, build bridges and show them where to go next—every step of the way.
Goof #3: Unclear signage
On each of my cycle trips, it happens at least once.
We miss a sign post and take a wrong turn.
Worst case, it means a 10-mile detour, exactly on the day you're exhausted and most looking forward to a warm shower, a good meal, and resting your legs.
You might think the sign posting on your website is clear, but your web visitors are in a hurry. Might they misunderstand your directions?
Keep your readers on track:
Don't make readers guess what's behind a link. Give them clear directions to reach their destinations.
A website isn't a collection of web pages
Each web page is part of a web visitor's journey.
So think about your web visitor. Who is he? Where is he arriving? And what would he like to do?
Create dedicated paths for cyclists, walkers, and cars.
Show each of them how to get to their destination.
And make their journey pleasant.
PS Thank you to content strategist Mark Crosling for inspiring this article.