Learning copywriting by yourself can feel like a difficult task. But it doesn't need to be so hard, if you apply a solid learning system.

Learn copywriting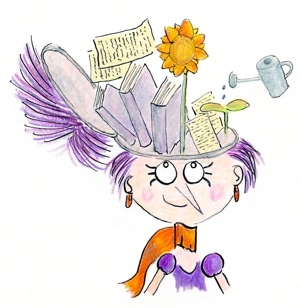 Have you tried to learn copywriting by reading blog posts?
And does it seem hard to apply the tips? As if your knowledge is a little disjointed?
Teaching yourself copywriting can feel like a difficult task.
But it doesn't need to be so hard, if you apply a solid system. A good learning system stretches beyond understanding copywriting techniques. You also need to understand the structure of good copy, how to streamline your writing process, and learn to evaluate your own writing.
In this article, I reveal the 5-step system I used to teach myself copywriting. This system works whether you want to become a copywriter or if you're a coach, consultant, or entrepreneur wanting to write better copy for your own business.
What is copywriting?
Copywriting aims to persuade a reader to take a specific action—to buy your product, inquire about your service, join your email list, download a free report, or follow you on social media. Your copy can appear in emails, on web pages, or in sales brochures.
Blog writing (or content writing) is different from copywriting. In a blog post, your purpose is to educate a reader and encourage him to implement your advice. This is how you build your authority, and how readers will start to trust you.
A blog or content writer writes and publishes articles to answer readers' questions, to help them achieve their aims, and help them solve their problems. When people google their questions, problems, or aims, they find these articles, and that's how your audience and authority grows.
A copywriter is focused on conversion—to get web visitors to download a freebie and join an email list, to get email subscribers or web visitors to buy a product, to get customers buy again.
Step #1. Understand who you're writing for
Good copywriting starts with listening to your clients and stealing their words.
Yes, that's it. Stealing.
When you understand what potential clients are struggling with, when you hear them talking about their fears and dreams, when you appreciate how you can solve their problems, then you're halfway to writing good copy.
How to learn to listen (and steal):
One way to listen is to mine reviews, forum questions and blog comments for copywriting input.
However, my favorite way to understand (potential) clients is to talk to them directly. You often learn more from a few in-depth conversations than from a big survey. When you have an opportunity to talk, ask clients these questions:
Why did they hire you?
Did they hesitate to hire you? If so, why? If not, why not?
What did they expect to achieve when they hired you?
And how did you deliver on their expectations?
What specifically was most valuable?
How has your service had an impact on their business or their life?
If you have direct interaction with clients, you probably know a lot already. Pay attention to the problems they mention, and notice their aims, and dreams. Make a note of the phrases they use so your copy reflects what they're thinking in their words.
When you use their words, they'll feel understood. And when they feel you understand their challenges and wishes, they're more likely to trust that you can help them, too.
Good copy is assembled from what your clients tell you. As legendary copywriter Eugene Schwartz suggests:
Copy is not written. If anyone tells you 'you write copy', sneer at them. Copy is not written. Copy is assembled. You do not write copy, you assemble it. You are working with a series of building blocks, you are putting the building blocks together, and then you are putting them in certain structures, you are building a little city of desire for your person to come and live in.
Good copywriting is less about creativity, and more about listening to your audience and understanding how you can help them improve their lives.
Further reading on listening to (prospective) customers:
Joanne Wiebe explains how she finds compelling sales messages in Amazon reviews.
The book Finding the Right Message by Jennifer Havice explains how to research your copy, and turn your findings into persuasive copy.
Step #2. The 6 basic copywriting principles
When is copy persuasive?
And when does it fail to persuade?
The basic principles of persuasive copywriting are:
Match features with benefits: features are aspects of a product or service; benefits explain why these features matter to customers.

When copy includes a lot of features but fewer benefits, it lacks emotional appeal—people won't understand how a product can improve their lives. In contrast, when copy includes a lot of benefits but fewer features, it lacks substance and sounds wishy-washy—people won't understand how a product will deliver what you promise.

Be specific to boost credibility: Generic statements sound like marketing blurb. In contrast, a specific statement is more credible. So, don't be afraid to include details, even if they seem too technical. Explain the advantage of each detail and clarify how that advantage delivers a true benefit.
Use proof (such as testimonials): As legendary copywriter David Ogilvy suggests: "The reader finds it easier to believe the endorsement of a fellow consumer than the puffery of an anonymous copywriter."
Overcome objections: Why might people hesitate to buy from you? You have to overcome each objection so readers become more eager to buy.

For instance, if they think you're too expensive, be sure to explain how much value you offer. If they are worried they don't have time to commit to your course, explain how the course is designed for busy people so they can study at only 15 or 20 per day.

Nudge people to take action: Buyers suffer from inertia—an unwillingness to take action and a resistance to open their wallets.

So, try to nudge them to take action, for instance, by offering a time-limited promotion or limited availability, or by reminding them how quickly they can improve their life by taking action right now.

Be bossy in your call to action: A good call to action is crystal-clear, making it as easy as possible to click a button, whether that's to buy, to download, or to ask for a quote.
Following the 6 principles of persuasion makes it easier to convert a web visitor into an email subscriber, an email subscriber into a buyer, or a buyer into a repeat customer.
Further reading on the basic principles of persuasive copywriting:
Step #3. Study the copywriting pros
Understanding the basic principles of copywriting is one thing.
But how do these principles work in practice?
By studying the writing of copywriting pros, you can observe how all copywriting elements fit together. This makes writing and structuring your own copy easier.
For instance, when you study a sales page, pay attention to:
What is the purpose of this page? What action should the reader take? Is that action clear?
What arguments are provided for taking that action?
How are features and benefits communicated?
How are objections countered?
How does the page build credibility and trust? Why do you believe the content?
How is the information arranged? Is the most important information communicated first? And the least important information last?
When you study the copy from experienced writers, you learn to detect the patterns of persuasive writing, and it becomes easier to structure your own copy.
Examples of how to study and learn from copy:
You may also like:
Step #4. Streamline your copywriting process
If you want to write persuasive copy fast, then a proven process is a must.
Without a process, copywriting can become a mess.
First, collect all your persuasive arguments—list features and benefits, potential objections (and how to counter them), and proof that can help you establish your credibility. You collect this material by listening to (potential) customers (see step #1).
Secondly, arrange all your persuasive arguments in a logical order—the most important arguments come first. Once you've created order, writing a first draft becomes relatively straightforward.
Thirdly, revise and edit your copy to cut flabby phrases and make your sentences smooth, and, if required, optimize your copy for search engines.
A smooth copywriting process not only helps you write faster, it also helps ensure your copy is complete and persuasive.
Further reading on the copywriting process:
You may also like:
Step #5. Practice and evaluate
The quickest way to learn copywriting is to hire a good coach who can tell you what you're doing wrong and how you can improve.
The next best way is to join a good course that demonstrates with examples how to make average copy more persuasive.
But you can also do this by yourself. It just takes more time.
To learn how to evaluate your own sales copy, start by creating a swipe file. A swipe file is a collection of copywriting examples that you can use to study copywriting techniques and the structure of persuasive copy.
Next, compare your own copy with the copywriting examples you admire.
How to compare?
Focus on one specific aspect of your copy at a time. For instance, underline all your features and benefits, and compare them with the features and benefits in your swipe file examples. Or, only review how credibility is established.
Practice becomes easier when you focus on one aspect at a time.
These before-and-after examples can help evaluate your own copy:
And an in-depth guide on swipe files:
How to learn copywriting
The 5-step system, as outlined above, helped me go from an unknown, burnt-out marketer to a $250/hr copywriter, and then onwards to teaching copywriting.
My main lesson?
Be yourself.
To write persuasive copy, you don't need to turn yourself into a super sales expert. You don't need to become pushy.
Instead, listen to your clients.
And communicate your offer with clarity.
Enchanting Copywriting course
Learn how to write a persuasive sales page
without selling your soul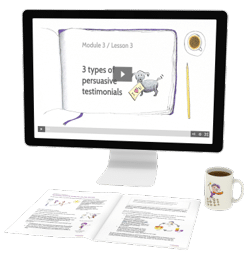 "I have struggled to make my own website for my solo language coaching business for 8 years. I got stuck on the copy every single time. (…) Henneke's course saved me. I loved the recipes that teach you, step by step, how to organize your sales page and what to say in each section. Each section has an objective. Plus, the example layouts for different kinds of businesses were invaluable."
~ Alanna Beach

"As soon as I'd finished the course I pitched for some work writing long-form sales description pages. I would never have done this if I hadn't taken the course. (…) I won the pitch and the client was very pleased with the work."
~ Julia
Reader Interactions