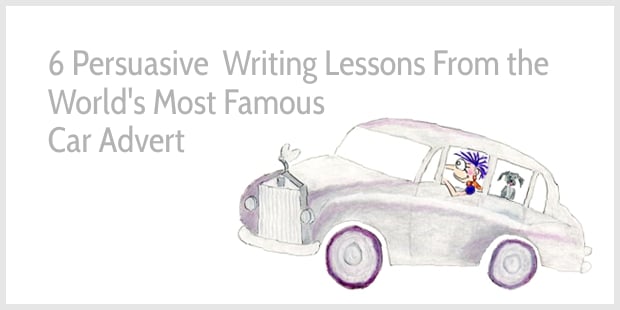 "I love, love, LOVE David Ogilvy," D. said to me.
"You know that Rolls-Royce ad?"
"Yeah," I mumbled.
"An analysis by you would be soooo good," said D. "I'd love to understand what makes his writing so persuasive."
Pretty, please?
I am not a big David Ogilvy fan …
I half-read, half-skimmed his two famous books—the ones that appear on most lists with book recommendations for copywriters.
Ogilvy's books mostly explain how to find a job in advertising, how to get and manage clients, and how to run an agency. I'm more interested in writing, and only a couple of his book chapters teach copywriting.
And furthermore, Ogilvy comes across as a sexist. Just read his sales manual on cookers (1935) and you'll know what I mean.
But okay.
D. is right.
Ogilvy is the father of advertising. He knew how to research and write good copy. Studying his adverts will help improve your copywriting skills.
So, shall we have a look?
Below follow 6 timeless copywriting lessons from Ogilvy's Rolls-Royce advert, probably the most famous car advert ever, still studied by copywriters decades after it first appeared in 1958.
1. Lead with a big idea
A good headline communicates succinctly what's special about the product advertised:
At 60 miles an hour the loudest noise in this new Rolls-Royce comes from the electric clock.
In his Confessions of an Advertising Man, Ogilvy claims that the headline of the Rolls-Royce advert is the best headline he's ever written.
But that's not true.
Ogilvy did not write that headline.
When he won the Rolls-Royce account, Ogilvy spent 3 weeks reading about the car, and the headline is a quote from the Technical Editor of The Motor magazine.
We often think of writing as a creative activity.
But writing sales copy is less about being creative and more about re-using words and ideas from people who know best such as customers, potential customers, product developers, and experts.
Ogilvy's famous Rolls-Royce headline expresses a sense of luxury—a car so well-engineered that it's quiet, comfortable, and a joy to drive. This sense of luxury is believable thanks to the specific fact that the loudest noise comes from the electric clock.
The advert is not selling a car, it's selling a driving experience.
Your copy tip:
To write better copy, consider what kind of experience your readers are looking for. Don't make this up. Speak to customers and read reviews to understand how your product or service can connect with their needs and wishes.
2. Communicate the true benefits
Good copy translates features into benefits.
The features explain specific facts about the product, and the benefits explain why those features matter to customers.
For instance, the Rolls-Royce advert mentions benefits like safety, serenity, and the joy of driving (it's lively):
There are two separate systems of power brakes, hydraulic and mechanical. The Rolls-Royce is a very safe car—and also a very lively car. It cruises serenely at eighty-five. Top speed is in excess of 100 m.p.h.
Sales copy becomes more persuasive when it explains a variety of true benefits. For instance:
Physical and financial needs: The car is safe, as mentioned above.
Social needs: The car is not for modest people: "The Bentley costs $300 less, because its radiator is simpler to make. People who feel diffident about driving a Rolls-Royce can buy a Bentley." (diffident means modest)
Spiritual needs: The car drives serenely and it's lively.
Covering a variety of benefits helps paint the full experience that your product or service offers.
Your copy tip:
To write persuasive copy, consider what your customers truly want. How does your product or service improve their lives? Where possible, cover benefits across physical, financial, social, and spiritual needs.
3. Don't brag without substance
It's never enough to tell readers how good your product or your service is.
Why would they believe you?
Always, ALWAYS back up your statements with proof.
That proof can come in two ways. One way is to borrow credibility from experts and existing customers. Let them explain why your product is so good.
Ogilvy not only quotes the Technical Editor of The Motor magazine. He also quotes a Rolls-Royce engineer:
What makes Rolls-Royce the best car in the world? "There is really no magic about it—it is merely patient attention to detail," says an eminent Rolls-Royce engineer.
Quoting your own employees may be a little iffy. But it works because that statement about attention to detail is backed up with plenty of facts, such as:
The finished car spends a week in the final test-shop, being fine-tuned. Here it is subjected to ninety-eight separate ordeals. For example, the engineers use a stethoscope to listen for axle-whine.
Notice how specific that short paragraph is. The car doesn't just go through a unspecified series of tests. No, the facts about the tests are specific, reinforcing the concept of quality and attention to detail:
Each car spends a week in the final test-shop.
It's subjected to 98 tests.
The engineers listen for axle-whine with a stethoscope.
Each short paragraph in this advert mixes specific facts with true benefits, and that makes it interesting, credible, and persuasive.
Your copy tip:
Want to write better copy, too? Add facts and testimonials to demonstrate how good your product or service is.
4. Explain fuzzy concepts
Communicating the quality of a product helps justify a higher price point.
But how?
Ogilvy refers to the quality of other well-known products to help explain the quality of the Rolls-Royce. For instance:
The seats are upholstered with eight hides of English leather—enough to make 128 pairs of soft shoes.
The target audience of this advert will know the luxurious feeling of an expensive, soft-leather shoe compared to the discomfort of a cheaper, more rigid shoe. The walking experience is completely different, and so is the driving experience.
Ogilvy also associates the quality of car engines with aircraft engines, a far more complicated and expensive proposition:
Rolls-Royce engines power more than half the turbo-jet and prop-jet airliners supplied to or on order for world airlines.
That line also reinforces that Rolls-Royce is a market leader. Nice!
Almost every line in the Rolls-Royce advert helps create an image of a high-quality product built with attention to detail to deliver a luxurious (and safe and easy) driving experience.
Your copy tip:
Think about the image you want to exude in your sales copy, and use specific details to illustrate fuzzy concepts like ease of use, attention to detail, high quality, and excellent customer service.
Let people imagine what it's like to work with you or to use your product.
5. Overcome objections head-on
Before Ogilvy became an advertising man, he worked as a salesman for a British cooker company. He wrote a manual on selling cookers for his colleagues, and a large part of that manual is devoted to overcoming people's objections to buying his cooker.
In advertising, he takes a similar approach.
For instance, at the time the Rolls-Royce advert appeared, people may have been concerned about the difficulties of driving and parking a car. Ogilvy's copy reassures them:
The car has power steering, power brakes and automatic gear-shift. It is very easy to drive and to park. No chauffeur required.
Worried about lack of service? Again, Ogilvy addresses this objection:
The Rolls-Royce is guaranteed for three years. With a new network of dealers and parts-depots from Coast to Coast, service is no longer any problem.
Here's one key to Ogilvy's success … He only wrote adverts for products he believed in. When the quality of Rolls-Royce cars nose-dived and 500 defective cars turned up in the US, he resigned the account.
But when he wrote his famous Rolls-Royce advert? He believed in the product, and that belief shines through the copy. He was comfortable taking on any potential objections. No need to pussyfoot around.
Your copy tip:
Consider why people might might hesitate to buy your product. How can you overcome those hesitations in your copy?
6. Be interesting
While reading Ogilvy's advert, I feel like I'm learning something about Rolls-Royce cars. The facts are interesting and precise, and Ogilvy clarifies why the facts matter:
By moving a switch on the steering column, you can adjust the shock-absorbers to suit road conditions. (The lack of fatigue in driving this car is remarkable.)
One way to be interesting is to educate readers by explaining a string of feature–advantage–benefit, like the line above does:
The feature is the switch.
The advantage of the switch is that you can adjust the shock-absorbers to suit road conditions.
The true benefit of adjusting the shock-absorbers is that you don't get fatigued driving.
Ogilvy educates readers with interesting tidbits about the car. The information is technical, but never feels too technical. As Ogilvy suggests, "You cannot bore people into buying your product; you can only interest them in buying it."
Your copy tip:
Technical details can make your sales copy more interesting. Explain the advantage of each detail and clarify how that advantage delivers a true benefit.
Why was Ogilvy so successful?
In June 1986, Joel Raphaelson interviewed David Ogilvy for Viewpoint, the Ogilvy & Mather magazine.
Raphaelson asked Ogilvy what made him successful, and Ogilvy mentioned the following 3 points:
"I'm the most objective man who ever lived, including objective about myself." (Ahum, really?)
"I'm a very, very hard worker."
"I'm a good salesman."
As writers, we often worry about creativity. But good copy is assembled from research.
That assembly process needs some creativity but not a lot.
Ogilvy doesn't mention creativity as one of his strengths. He even says:
I had a reasonably original mind, but not too much so. Which helped, not being too original.
Ogilvy's experience in sales and in research helped him become one of the world's best copywriters.
He put in the hard work of gaining a deep understanding of both products and customers.
And that understanding helps make his sales copy interesting, credible, and persuasive.
PS
Thank you to vocal coach Dylan for inspiring this post.
PPS
Here's the Rolls Royce advert (click on the image to enlarge):