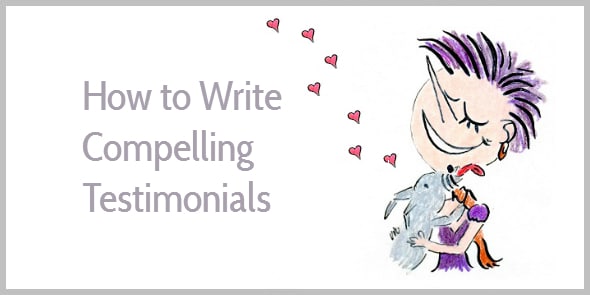 Imagine going to your local business fair.
You're hoping to pick up one or two new clients.
If you're like me, it would be a day from hell. I went to one local business fair and promised myself: Never. Ever. Again.
I love talking to people. But I hate selling my services.
Now, imagine your favorite client joining you to the fair. You bring a book along to read because you don't need to do anything. Your client does all the talking. And at the end of the day? She's persuaded a handful of visitors to hire you.
Selling becomes easy when others vouch for your services
Powerful testimonials add credibility and boost your persuasiveness. They sell your services for you, so potential clients become eager to work with you.
It's a pity that most testimonials online suck. I'm sure you've read ineffective testimonials:
Henneke is a wonderful teacher.
I've learned so much from Henneke!
The workshop Henneke organized was fab.
*Bleergh*
These testimonials are far too sugary to be believable. They don't help to sell a service. Not at all.
Want to know how to write compelling testimonials instead?
Testimonial tip #1: Demonstrate a benefit
How does your service improve your client's life?
A persuasive testimonial demonstrates what impact your service has had on a client. It shows potential clients why they should care about hiring you, too.
Here's an example of how Blazen Web Marketing transformed a business:
Their work on our website and Internet marketing has made a significant different to our business. We've seen a 425% increase in quote requests from the website which has been pretty remarkable – but I'd always like to see more!
This testimonial for Case Study Buddy shows how they transform a daunting task:
Writing case studies was a daunting task for us. We didn't know where to begin or what questions to ask, and clients never seemed to follow through when we asked.

Case Study Buddy did everything – with almost no time or effort for me! The best part was that I could completely trust their team to represent our company professionally with our clients.
To get a persuasive testimonial, ask your customer why they wanted to hire you. What was the problem they were struggling with? Then ask them how you've helped. What impact has your work had on them?
The easiest way to structure such a testimonial is to write a 3-act business story.
Testimonial tip #2: Overcome objections
Demonstrating how you help clients is only part of your selling job.
To get hired, you also need to overcome objections. For instance: prospects may think you're too expensive. Or they don't trust you. Or perhaps they think they don't need to hire an expert because they could do the work themselves. Such objections may stop them from contacting you.
This testimonial for Valuable Content refutes the objection that the company might just be talking to talk:
When it comes to digital marketing there are loads of commentators that talk a good game, but Sonja and Sharon help you make it happen. They have enabled me, coached me and given me the confidence to share Wealth Horizon's story widely. It's engaging customers and industry commentators alike, and bringing our new business great results.
This testimonial for sales email experts SalesFolk demonstrates why you do need to get their expert help:
As a sales gamification company, we were skeptical to work with a consultant to optimize our sales emails, but Salesfolk was highly recommended by many other Y-Combinator startups we knew. Salesfolk helped us run a ~6 week email campaign that brought us more leads than we had ever seen for a single effort.
And this testimonial for my business blogging course helps overcome the "too expensive" objection:
The price tag of Enchanting Business Blogging was hefty. Would it be worth the money?

I can confirm that it definitely was.

The course covered a lot of information, delivered in concise chunks that were easy to absorb. The structure was clear, logical and effective. Henneke has obviously put a lot of thought and expertise into designing it.

But it wasn't just about the new knowledge. The main benefits came from doing assignments, receiving individual feedback and interacting with Henneke and other participants.

This format gave me the confidence to implement new techniques on my blog immediately, in contrast to my past failed attempts. I didn't just learn "how" to write – "what" and "why" also became much clearer.
Everyone hesitates before spending money. Persuasive testimonials overcome such hesitations because they demonstrate how others overcame their objections to hiring you.
To write a persuasive testimonial, ask a client why they were hesitant to hire you. Then ask to explain what their experience was with you.
Testimonial tip #3: Be specific
The easiest way to make your testimonials less sugary and more credible is to focus on details.
This testimonial for Unbounce clearly demonstrates their value to a business:
We were able to test our way from a 5% conversion rate, all the way up to 20%. Without driving any more traffic, our client is getting four times the leads that he was getting before.
Can't measure the impact of your work? Or perhaps your client doesn't want to share figures? Your testimonial can still be specific. The following testimonial for my Enchanting Copywriting course includes specifics on what was learned and what the result was:
I signed up for Enchanting Copywriting hoping to improve my business website …

But I left with vastly more.

I learned how to write specifically for my niche. I learned writing formulas I can apply to anything from a simple email subject title to a full blown ebook. I learned how to use content to engage web visitors and get them on my email list, so I get an opportunity to sell our Point of Sales services (which is not a quick buying decision).

I've published the new copy on my website; and it has already increased both calls and leads coming through the web form. I can't wait to start writing my email series, which I'm sure will further help grow my business.

Not only was the course both fun and challenging but Henneke's direct feedback for improving my writing was invaluable. She has a calm and logical method of teaching that truly connected and inspired me. I can't speak highly enough of this course.
To avoid sugary and ineffective testimonials, make sure to include specifics. Check out these 6 questions recommended by Sean d'Souza, and be sure to ask your client to give examples and to explain exactly why she liked working with you.
Testimonial tip #4: Use the selling power of testimonials
Too many websites hide their testimonials on a dedicated page that get rarely visited.
To boost the selling power of your testimonials, integrate them with your sales copy everywhere:
On your home page
On your about page
On your service and product pages
In your sales emails
On LinkedIn
Don't be afraid to ask
Asking for testimonials seems hard.
I've been there, too. Why bother a client with such a request?
But I was wrong.
Most clients are delighted to help you with a testimonial.
So, next time you finish a project, ask your client whether they're happy with your services and whether they'd recommend you to other people.
Do they say "yes?"
Ka-ching! This is your opportunity to get a persuasive testimonial. And win more clients.