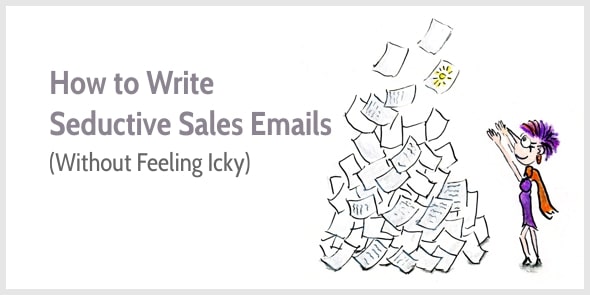 After many years of writing pain, Hannah has started to enjoy writing.
She loves sharing her ideas. She loves inspiring her readers. She loves blogging.
But there's one writing task she hates.
And that's writing sales emails.
Writing sales emails makes her feel pushy and brash. As if she's not herself. As if she's betraying her readers.
But Hannah has written a new ebook, so she has to write a sales email.
After tidying up her desk, doing her bookkeeping, and cleaning her kitchen windows, she sits down. No more excuses, she tells herself. Write! Just write! Just do it!
But how can she write her email without feeling so icky?
Note: all examples below are from
AppSumo
, a business thriving on their email writing prowess. AppSumo team up with other businesses to send heavily discounted offers on tools and apps to "help you succeed in business and life." They have more than 750,000 email subscribers.
Step #1: Be yourself
Don't change your voice because you need to sell something.
Your readers have come to trust and like your voice, so be yourself.
Whether your voice is friendly or authoritative, fun or serious, write like you always write.
AppSumo, for instance, consistently uses a chummy and jokey voice:
What's one of the most effective ways to get your product in front of potential customers without breaking the bank?
(If you said standing on the street corner, twirling a sign in your tighty-whities, you are right, but that's not the answer we are looking for.)
And:
We all know how engaging a good whiteboard animation video can be. And since engagement = customers, this is muy bueno. (Money money money money, money!)
But like pimpin', making animations ain't easy.
And:
If you're in advertising, you probably wet your pants when Facebook announced it was unrolling a "Lead Ads" feature. (I did.)
A fun and irreverent tone doesn't suit everyone and can alienate your users, as user testing by Nielsen Norman suggests. So don't feel you need to be as fun as AppSumo. Instead, find your own voice and stay true to it.
Step #2: Start with a problem
Which problem does your book, workshop, course, or product solve?
To write a persuasive sales email, highlight this problem and explain how your product helps solve it. Copywriterscall this the "Problem – Agitate – Solution" (PAS) formula, and it's probably the most useful copywriting formula you'll ever learn:
Describe a problem
Agitate by highlighting the emotions going with the problem
Offer your solution
PAS is powerful because problems can attract even more attention than benefits. People want to avoid pain, hassle, risks, glitches, and problems.
AppSumo uses the PAS formula, for example, to sell a smart app which helps create invoices, file expenses, track time, and manage projects. Here's how the email begins:
What experienced freelance consultants know is that doing the actual client work is easy – that's the fun part.

Where most freelancers get bogged down, is the tedious paperwork – invoicing, chasing payments, expense tracking, sorting tax deductions, etc. (Ain't nobody got time for that!)

So we decided to get you something that will save you time and money and let you concentrate and what you do best.
And below you see the same formula applied to an app for creating wireframes:
Are you wasting your precious time going back-and-forth with your web developer?
That's because you missed our WireframeApp deal and don't have the tools you need to easily get you and your developer on the same page.
Luckily for you, we are giving you one more chance to grab WireframeApp before it disappears.
Applying the PAS formula helps you write your emails way faster because you know you can start with highlighting the problem your product solves. Plus sales success is almost guaranteed—as long as you highlight a problem that's a real issue for your readers.
Step #3: Bat away hesitations
Which objections might derail your reader's intention to buy?
Being seductive requires more than offering solutions to problems. You also have to bat away reader objections.
For instance, in a sales email for creating a business plan, AppSumo doesn't pussyfoot around the objection that business plans are a waste of time:
I know what you're thinking: business plans are a waste of time. They become outdated the second they're finished.
And for the most part, you'd be right. Old school biz plans can suck up months of time better spent creating awesome businesses.
But as the ancient Hawaiians say, "You can't hit what you don't aim for".
To sell, you need to explain why people would care about your offer, and then take away their hesitations to buy. In an honest way.
Step #4: Provide proof
Are your readers ready to buy once you've dealt with their objections?
Perhaps not quite yet.
To nudge them towards the buy button, prove why they can trust you.
Every AppSumo email includes social proof—usually reviews from two or three AppSumo email subscribers (called Sumo-lings):
Sumo-lings are jacked up about this SitePoint deal
[two screenshots with 5-star reviews]
(Sumo-lings aren't the only ones. There are over 300,000 people using SitePoint!)
Another way to show proof is to use a testimonial story—like in the email below for a freelancing course:
Yael was working 80+ hours a week as a freelance writer and editor but was making nowhere near the amount of money she should have been (like most of us).
She tried various strategies to increase her financial situation, including having her work promoted by influential people, but nothing worked.
She knew she had to revamp the way she was doing business.
It was then that she decided to take the Monthly1K course.
After taking the course, her career and financial situation skyrocketed.
The testimonial above would have been more persuasive if it included specifics on how much her career and financial situation had skyrocketed, but it's still pretty persuasive as it is.
Don't have testimonials yet? Ask a few beta readers or set up a trial.
Step #5: Sum up in style
You know bullet points are a great way to communicate information at a glance, don't you?
This is why AppSumo summarizes its offer at the end of each email with a series of bullet points. For instance, these bullet points sum up an offer on DataDeck:
Code-free, one-click connections to any real-time data source
Unlimited dashboards with widgets from separate Google Analytics accounts
Data integrations with Mailchimp, Stripe, Salesforce, MySQL, Google Analytics, Google Sheets, Google AdWords and Ptengine
No limits on data sources, dashboards, and folders
Create folders per clients and share each dashboard to an email address and protect with a password
The "secret" to writing persuasive sales emails
Want to write a persuasive email without feeling icky?
Stop thinking you have to sell.
Simply highlight a problem, offer a solution, bat away objections, prove you can be trusted, and then nudge readers to make up their mind with a persuasive offer.
Selling doesn't require pushiness.
Because readers would love to know how your product can help solve their problems.
So be honest. Be clear. And be yourself.