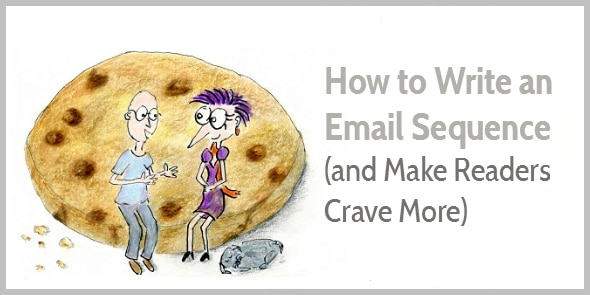 Do you ever feel like you're writing for faceless pixels?
Working online can feel lonely and anonymous.
You work your socks off to write entertaining blog posts chock-full of your best advice.
But who is reading your content? What do they think of it? And what else are they looking for?
Finding out those answers may feel like an impossible task. But getting closer to your readers may be easier than you think.
An email sequence or autoresponder series can help you:
Get more email subscribers because you can promote your email sequence as an opt-in bonus—a "free course"
Learn who your subscribers are because you can ask them questions as soon as they sign up—you can start conversations
Establish a relationship because readers don't have to wait until you publish your next blog post
Grow your authority because everyone receives your most useful tips—they don't have to dig through your blog archives to find them
Allow readers to get to know you by sharing a personal story
Get more sales because you can promote your products at the end of a sequence of related tips
Sound promising, right?
What is an email sequence?
Unlike blog updates, email sequences are not sent out at a specific time to the whole list but one by one depending on when people sign up.
They're also called follow-up or autoresponder emails. My snackable writing course is an example of an email sequence.
Popular email providers like AWeber, Mailchimp, GetResponse, and ConvertKit allow you to schedule email sequences.
Shall I explain how to create an email sequence and feel more connected to your readers?
1. Give readers a cookie
What makes subscribers open your emails?
The principle is easy: Reward readers for opening your email; give them a cookie every time.
A cookie?
Yes, a virtual cookie: a tip they can implement straightaway, a dash of inspiration, a feeling of connection or belonging, reassurance they're on the right track. These are all forms of reward—they make your reader's life a little better.
As Sonia Simone suggests, treat your readers like dogs and reward them for good behavior.
2. Give one cookie at a time
Who doesn't feel overwhelmed these days?
Life seems to go ever faster, throwing more distractions on our path. More podcasts to listen to. More blogs to read. More social media platforms. More forums. A longer to-do list.
Don't make life even more complicated for your readers. Follow a simple rule:
1 email = 1 cookie
Before you write your email, decide what you expect your reader to do. How will each email make his life better?
This simple formula is handy for defining the purpose of each email:
Learn [how such-and-such works],
so you can [achieve so-and-so]
For instance:
Learn how to cut sentence bloat, so you can keep your readers spellbound
Learn how to get rid of distractions, so you can become a more productive writer
Learn how to use powerful words, so your content becomes more persuasive (and you can sell more)
Readers only start appreciating your authority when they implement your tips to improve their lives. And to get them to implement your tips you need to persuade them why they should do it and explain how to do it.
And that's when they start craving more.
3. Ditch the sucky welcome email
Your welcome email is like your first date.
A reader has said they're interested in having a drink with you. What impression do you want to make?
Are you boring them with a bland welcome? Or are you using this opportunity to take your relationship a step further? How about asking what people expect to learn from you? Or what they're struggling with?
In her welcome email, Ann Handley asks people why they've signed up and what they expect to learn. She gets a 60% response rate (as Aaron Orendorff reports here). How's that for engaging your readers?
When building a relationship with your readers, every gesture you make counts.
4. Add a personal story
Which email do you prefer to open: An email from your best friend or from a company you know?
As small business owners and solo-flyers, we have a distinct advantage compared to bigger companies: rather than be a faceless company, we can establish a strong personal connection with our readers.
In my snackable email series, for instance, I share a vacation picture, a glimpse into my life, before explaining a writing tip: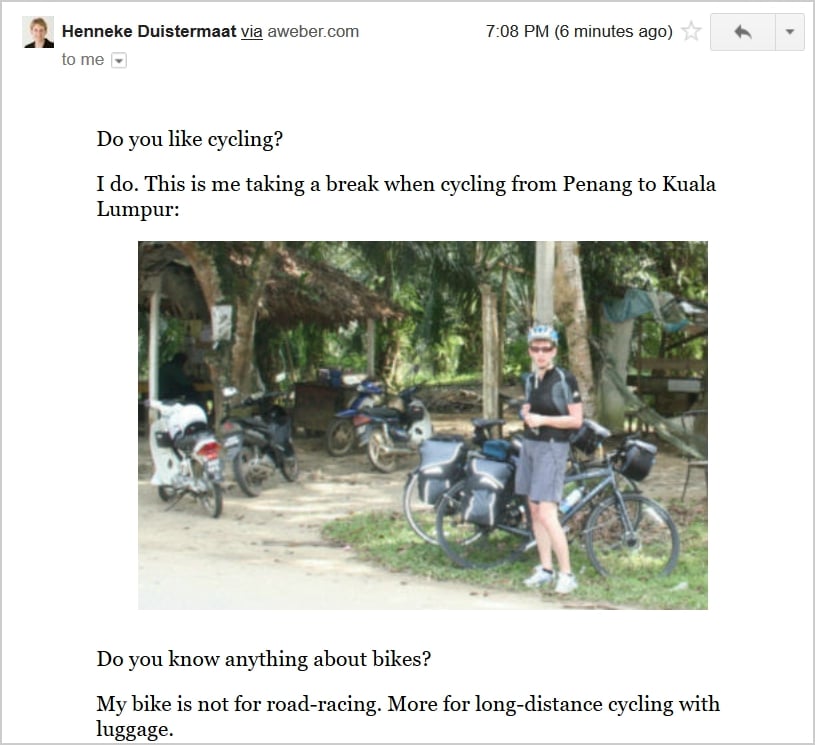 (To understand how my cycling is related to writing, you have to join my snackable course 😉 )
5. Offer a box of chocolate
Everyone knows you need to make money, too.
So don't feel nervous about suggesting people hire you or buy one of your products—this works best if your offer is connected to the tips you've shared.
Danny Margulies, for instance, shares 5 Upwork Hacks before pitching his Upworker course. Ben Settle pitches products in each of his daily emails. I mention my guide on writing About pages in snack #15 of my free email series and suggest you buy my Kindle books after 21 snacks.
Which balance between tips and sales pitches feels right to you?
Remember: Once people have seen the value of your free cookies, they're more likely to buy a box of chocolates from you.
Here's how to create your email sequence
Step 1: Define your topic

Think about your audience's struggles. What problem can you solve for them?
Then consider the first hurdle they face in their struggles. How can you help them jump over this hurdle?
Make sure your tips are easy to implement. You want to make readers feel better immediately—each email has to provide a quick win, a cookie.
Step 2: Schedule your emails

How much insight do you need to share before people can implement your tip?
Play with frequency and length:
If your tips require longer emails, then send them less frequently, perhaps twice a week.
If shorter emails are fine, consider sending them daily or every other day.
Full articles or links?
If your tip is short, the choice is easy: put the full text in your email. But if your text is longer than say 300 words? No strict rule exists. Some people prefer reading long emails, while others prefer reading the text on a site. Both options have advantages and disadvantages as Karyn Greenstreet explains in this post.
How to build a long-term connection and sell more
Everyone's inbox is overflowing.
Nobody wants to receive more email.
So, feel honored people have joined your list; it's a vote of confidence.
But be careful. That confidence is easily lost.
In each of your emails, prove your value to your email subscribers.
Share your home-baked cookies. Be generous. And allow readers to get to know you, like you, and trust you.
That's when you earn the opportunity to offer your products and services, and grow your business.
PS Thank you to Brian Friedman of Winter Garden Yoga for inspiring this post.