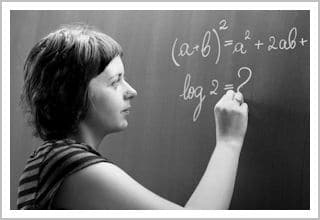 Do you ever wish that there was an easy formula for writing persuasive web copy?
What if you could just follow a few rules to write web copy that converts web visitors into buyers?
Or just drop a few words into a machine and your seductive copy rolls out at the other side?
Well, I don't have a robot that automatically generates copy that sells. But I have a couple of lesser-known formulas that will help you write more persuasive copy. And I have a warning about a smelly formula that leads to disaster and possibly chases your web visitors away.
Shall we start with the stinky formula?
AIDA – the eternal princess of copywriting formulas
AIDA is the best-known copywriting formula.
American advertising pioneer Elmo Lewis developed the formula around 1900 for designing and writing adverts.
The idea behind AIDA is that an advert has to
attract the Attention of its audience;
create Interest and Desire;
encourage people to take Action – e.g., request a brochure, send in a coupon, or call to buy.
Most copywriting formulas are reincarnations of the eternal princess AIDA. They follow a similar process:
ACCA (Awareness – Comprehension – Conviction – Action)
AIDPPC (Attention – Interest – Description – Persuasion – Proof – Close)
IDCA (Interest – Desire – Conviction – Action)
AAPPA (Attention – Advantage – Proof – Persuasion – Action)
PPPP (Picture – Promise – Prove – Push)
If you haven't given up yet, you can read about 27 more copywriting formulas here.
Mindblowing eh?
But they're all just variations of good old AIDA.
What's good about the AIDA formula? And why do I say this formula is a bit smelly?
Of course AIDA is a simple formula. That's good. And it's easy to remember as she's an Ethiopian princess in a famous opera with the same name.
The process AIDA describes seems to make sense, too.
But does it?
The web is not like an advert in a magazine.
When people land on your website, you already have their attention.
This is an important distinction with old-fashioned advertising. Many advertising agencies still think they need to draw attention with a fancy, flashy presentation on their home page – but instead they're just annoying their web visitors.
You don't need to draw attention to your website like you need to draw attention to an advert in a magazine. Your web visitors already clicked through to find out more about you. Your task is to create interest and desire.
And that's the problem with the rather stuffy princess AIDA. First she chases web visitors away if you follow her suggestion to focus on drawing attention. And then this decaying princess doesn't explain much about how to create interest and desire.
I only like the last A of AIDA because action is important on the web. Each web page needs a clear call-to-action that stands out and that encourages your web visitor to take the next step.
But let's go back to the I and D of AIDA…
How to create interest and desire on the web
Remember:
On the average Web page, users have time to read at most 28% of the words during an average visit; 20% is more likely. ~ Jakob Nielsen
People don't read web pages. They scan web pages.
To get your web visitors interested, you need a value proposition that entices a scanner to start reading. You need a clear and credible headline, bullet points, and an image. You need to let web visitors know they're in the right place. Tell them there's a strong possibility they'll find what they're looking for. Draw them into your story so you can create desire for your product.
You create interest with your value proposition; and then you describe your service to create desire. That's when my two favorite copywriting formulas become useful: FAB and PAS.
A powerful copywriting formula: FAB
FAB stands for Features – Advantages – Benefits.
FAB reminds us to always focus on customers. Our customers aren't interested in features, and they aren't interested in specifications, they don't even care about advantages. All they want to know is what you offer to them. How do you make them happier or richer?
In my book How to Write Seductive Web Copy, I use the following example to describe the difference between features, advantages, and benefits:
Imagine you're selling an oven. One of its special features is a fast preheat system. The advantage of this system is that the oven heats up to 400º F (200º C) in just five minutes. The benefit is that a cook doesn't have to hang around until the oven is finally warm enough. It makes cooking less stressful and you have a much better chance to get dinner ready in time even if you're extremely busy.
To create interest in and desire for your product you need to pinpoint the benefits you offer to your reader.
Have you read product descriptions on Zappos.com? Most include a feature or advantage with a benefit. Take, for instance, this description for a pair of sandals:
Adjustable buckle strap [feature] allows for a secure, personalized fit [benefit].
100% caoutchouc lite outsole [feature] with shock absorber heel [feature] reduces the jarring effects [advantage] for comfortable stride [benefit].
Or take the headlines for the Copywriting Academy of Andy Maslen:
How to be a better copywriter and make more money in 2013.
Do you want the respect, the rewards and the results you get from being a successful copywriter?
Andy Maslen focuses on benefits in his headlines. Features of his offer – like video-based course, 5.5 hours of video, 33 exercises, 2 marked assignments and a 300-page manual – are described later in the copy.
An alternative copywriting formula: PAS
PAS stands for Problem – Agitate – Solution; and Dan Kennedy says this:
"When you understand that people are more likely to act to avoid pain than to get gain, you'll understand how powerful this first formula is. (…) It may be the most reliable sales formula ever invented." ~ Dan Kennedy
PAS is powerful because problems can attract even more attention than benefits. People want to avoid pain, hassle, risks, glitches, and problems.
How does the PAS formula work?
It's simple: First you describe a problem, then you agitate by highlighting the emotions that go with the problem, and then you offer your solution.
The Premise landing page (discontinued) shows how to use the PAS formula—it describes several pain points that online marketers experience and goes on to show how Premise provides solutions. The agitation might be light, but it works well. For instance:
Problem and Agitation:
To get action, you need a clean, great looking, landing page with effective copy, but finding a good designer on short notice is next to impossible and hacking code is no fun.
Solution:
Premise empowers you to quickly and easily build custom, graphically-enhanced landing pages without cost, code, or hassle. Plus, copywriting advice is delivered directly into WordPress for each landing page type.
The harsh truth about copywriting formulas
No copywriting formula can guarantee that your copy will sell.
You can write the most beautiful copy in the world, but if your copy doesn't address your web visitors' needs and problems, you've wasted your time with writing.
The only way to write powerful web copy is to understand what makes your reader tick. Use the PAS and FAB formulas to translate features into benefits your customers care about, and into problems they want to avoid.
Know the pain points you can solve. Understand the fears you need to overcome. Appreciate the desires you can fulfill.
The secret to writing good copy isn't about picking the right formula; it isn't even about choosing the right words; and it isn't about using short sentences.
What you write is more important than how you write it.
Understand your customer as if you can read his mind. Know how to sell to him. And your words will flow almost naturally.
Enchanting Copywriting course
Learn how to write a persuasive sales page
without selling your soul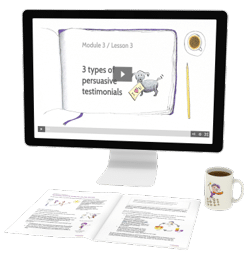 "I have struggled to make my own website for my solo language coaching business for 8 years. I got stuck on the copy every single time. (…) Henneke's course saved me. I loved the recipes that teach you, step by step, how to organize your sales page and what to say in each section. Each section has an objective. Plus, the example layouts for different kinds of businesses were invaluable."
~ Alanna Beach

"As soon as I'd finished the course I pitched for some work writing long-form sales description pages. I would never have done this if I hadn't taken the course. (…) I won the pitch and the client was very pleased with the work."
~ Julia